A growing toddler or a child needs to be taught about different topics; hence, the process of learning needs to be slow and handled patiently while keeping them attentive. Using worksheets with fun activities and elaborate games can help the kids learn quickly in a playful manner.
The below compilation of 25+ worksheets on All About Me is easily downloadable printables that can be customized using their PDF format. These exercise sheets have different interactive activities which help the children learn and practice while having a good time.
While a stagnant pattern of learning might bore most children and make them uninterested or lose interest, presenting an attractive way to learn is using worksheets with their simple designs alongside vivid playful exercises. These help the kids to find excitement in studying instead of getting frustrated or bored.
The printables enlisted in this collection have different activities on each of them that can be utilized for evaluating, testing or helping the kids practice language, spelling, imagination and creativity. They are fun to use and can keep the children attentive with their unique approach.
1. Where I live: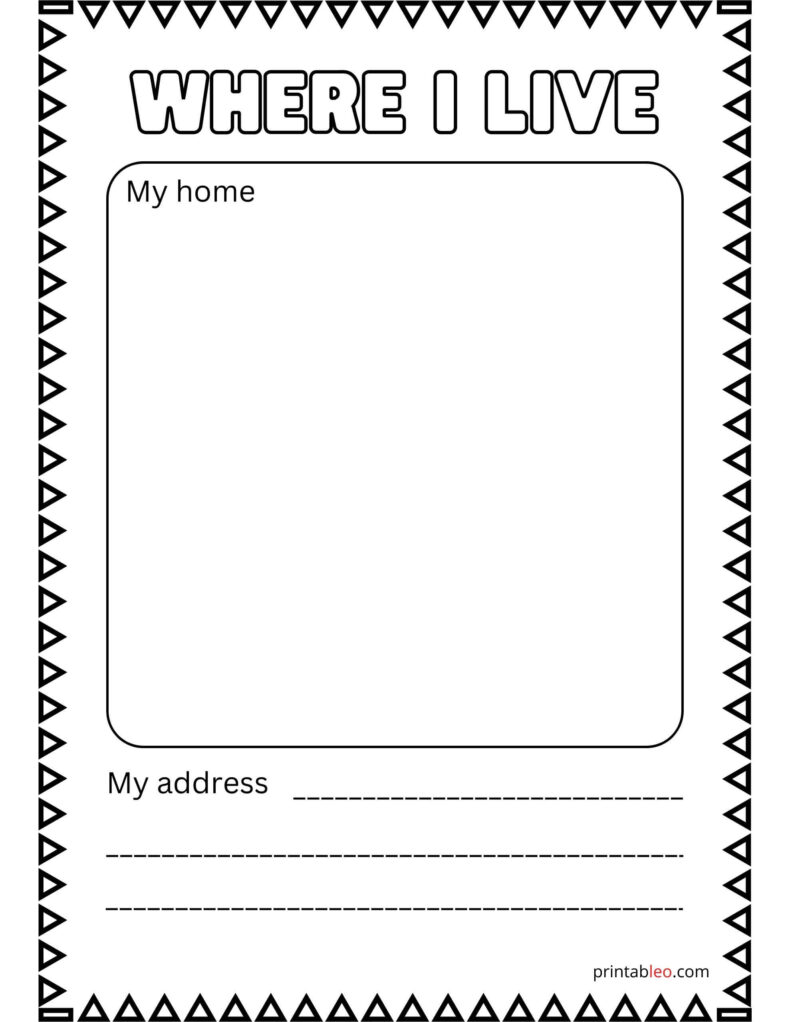 The Where I Live printable is based on a child's self-elaboration, testing their memory and skill to write about the place they live in. It has a box to input the details about the participants' homes, where they can be imaginative and explain their thoughts in their own words.
The worksheet also provides a space for the children to write down their addresses, which helps them rem
ember and practice their residential identity. The said activity can help in increasing knowledge skills as well as secure the children by allowing them to remember their home location.
2. All About Me Free Worksheets: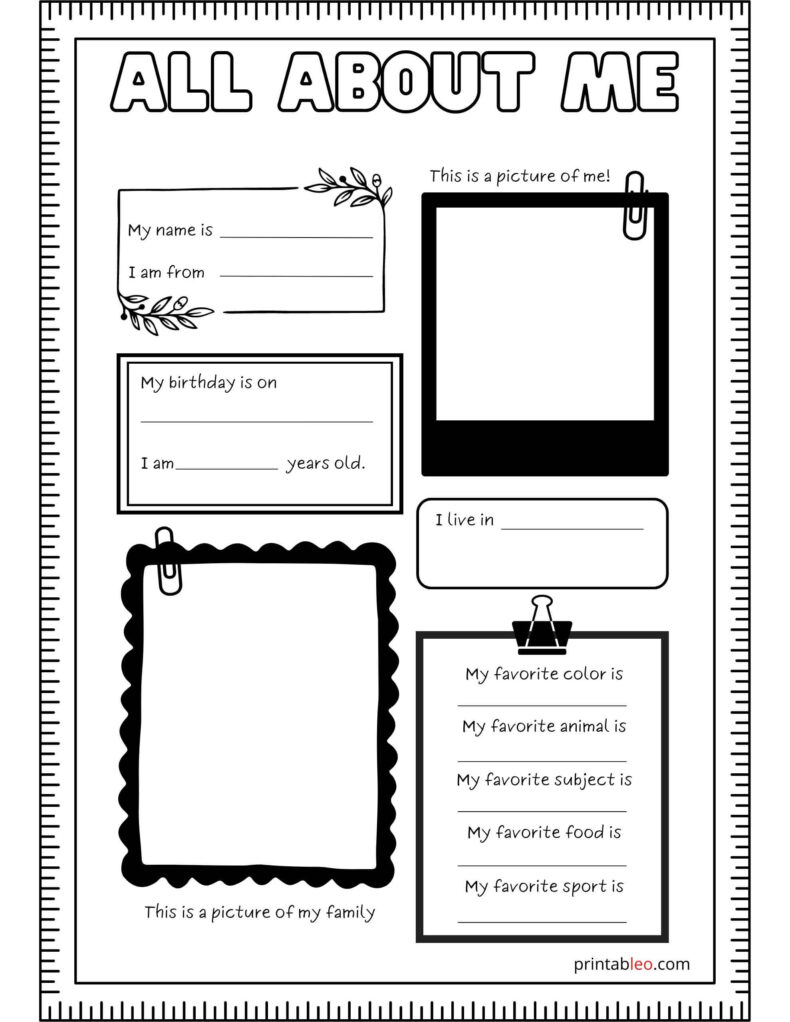 This worksheet has a vivid set of questions that asks the children about different personal information, which can help to keep them interested in the activity. The simple questions can be answered by thinking and writing down the answer in the given spaces.
The All About Me Free Worksheets also provide a box space for the children to paste their pictures in it; such playful exercises can help them maintain their attention on the worksheets.
3. All About Me Journal Cover:
The All About Me Journal Cover portrays a line drawing of a human body. This worksheet can be used to teach the children about the different parts of our bodies; where they can label the different portions and even color them to make the activity more fun. It successfully teaches them using simple and interesting techniques.
4. All About Me Kids Worksheets:
This worksheet has a varied set of questions with separate boxes for each, where the children place their answers after reading and understanding the topic. The All About Me Kids Worksheet helps the children to explain about themselves clearly and learn alongside.
5. All About Me Printable Worksheets:
The printable on All About Me Printable Worksheets has a separate space to put your photo in it, giving it a fun and personalized look. It has simple questions for the children who can answer them to express themselves. Fun questions like My wish for this year and My favorite subject are included in it.
6. All About Me Worksheets For Kids:
7. All About Me Worksheets Free: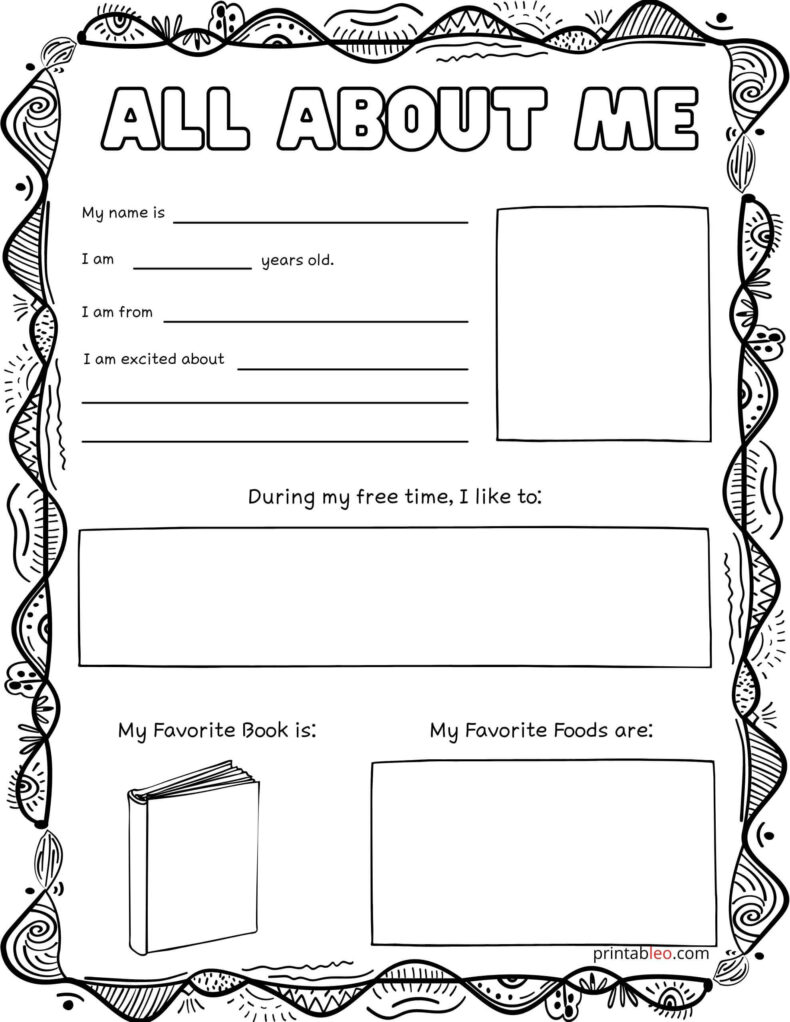 8. All About Me Worksheets Kindergarten: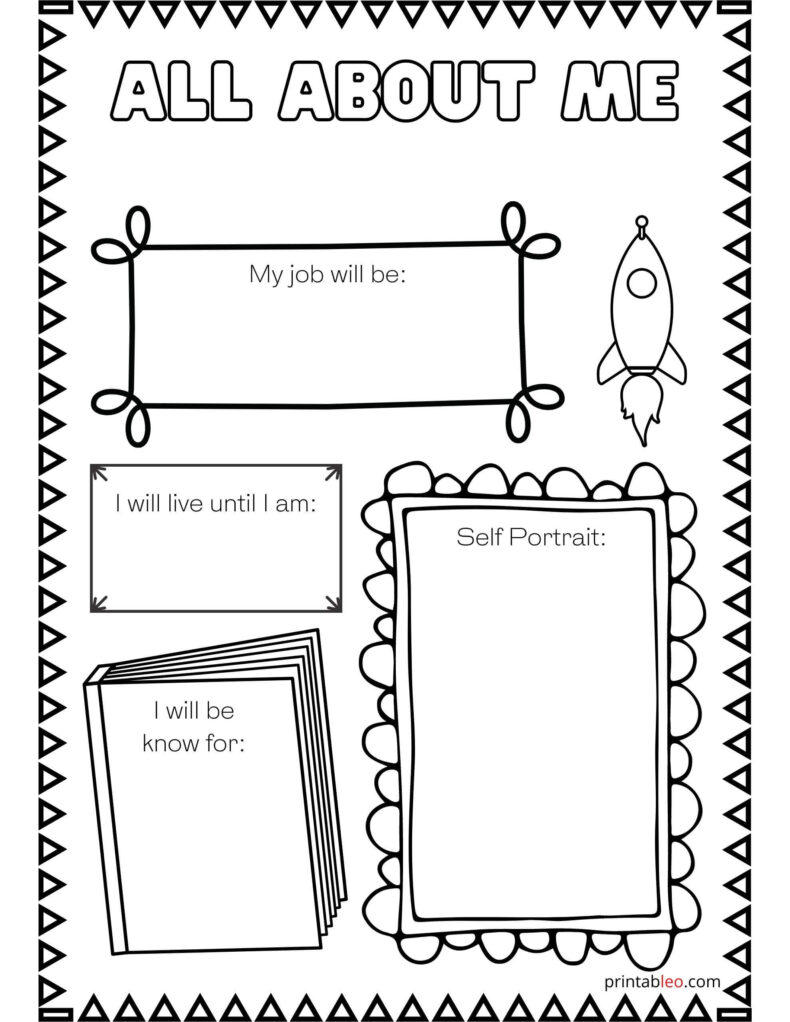 9. All About Me Worksheets PDF: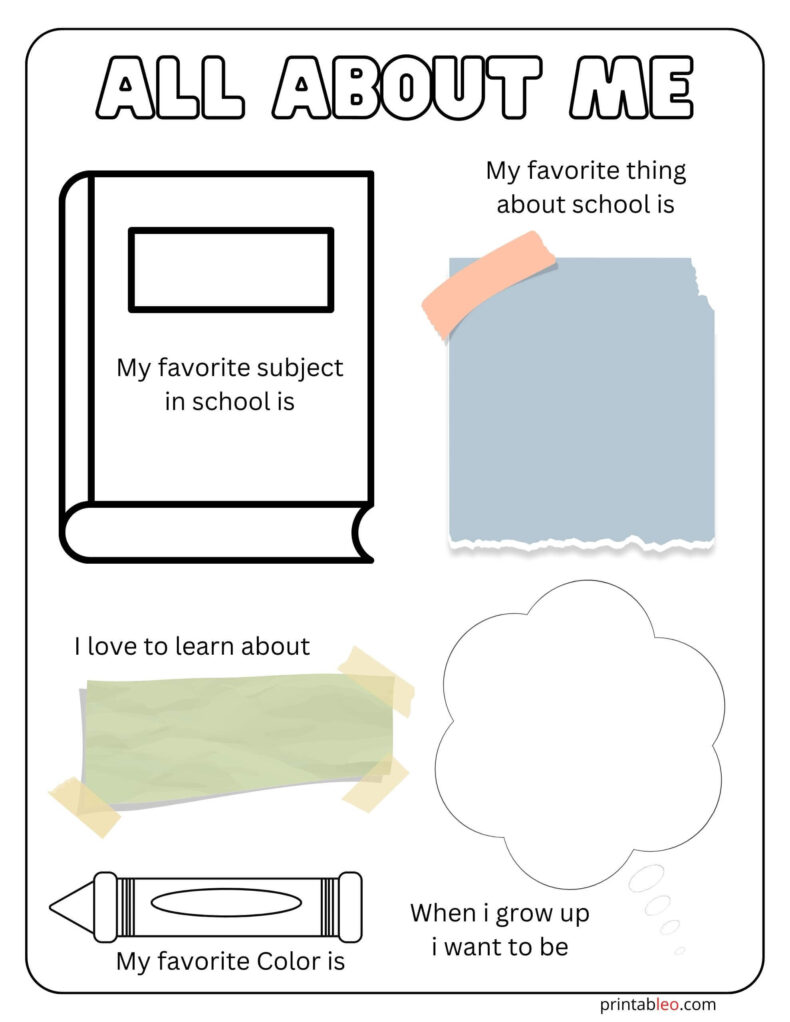 10. All About Me Worksheets Preschool:
11. All About Me Worksheets Printable:
The All About Me Worksheets Printable has different spaces to place your name, your age, your photo and lastly, your fingerprints. This activity set is entirely based on personality expressions, making it suitable for children who can playfully fill it up and even paste their pictures in it.
12. All About Me Worksheets: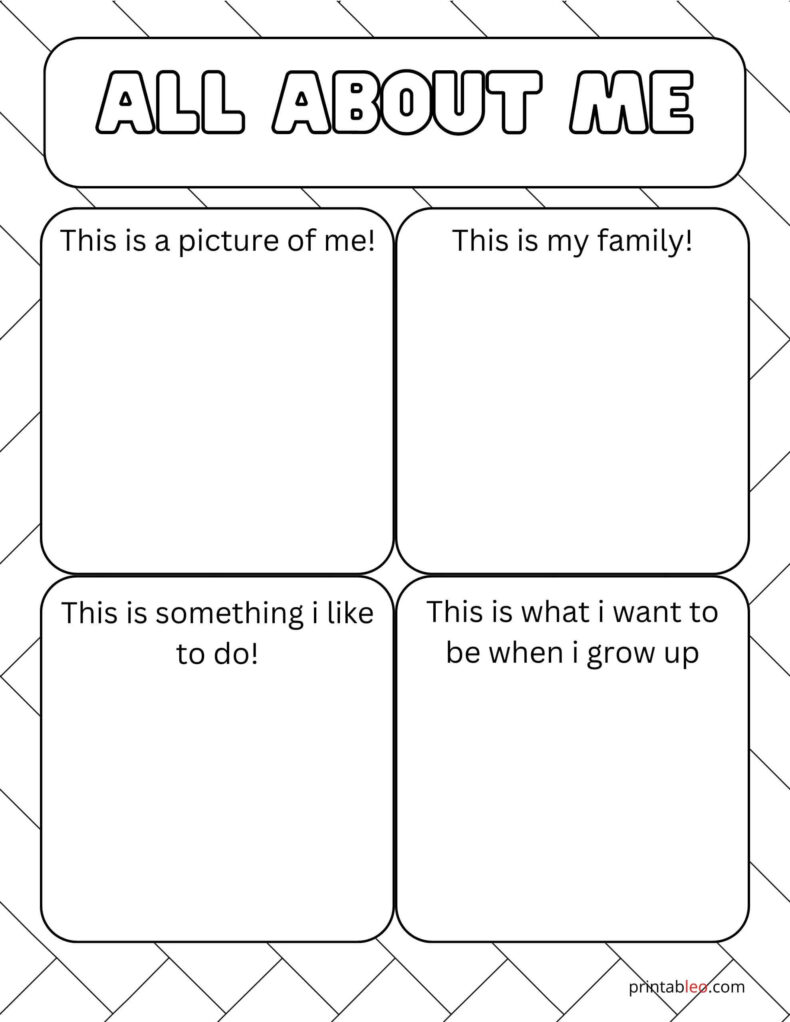 This worksheet on All About Me Worksheets is a downloadable printable that provides 4 separate spaces, with a question in each of them. The sheet activities can be filled out with different pictures, where the children can paste their favorite pictures under the given topic.
The sheet asks for a picture of the kid, their family, their favorite activity and their dream location. The space provided is enough for pasting photos and elaborating on each of them in a few words.
13. All About Me:
The above-listed printable worksheet on All About Me has different animated contents that can successfully gain the attention of any kid. It asks them to mention their eye color, hair color, birth date, and height. They can learn about dates and months from this worksheet, alongside learning about inches and feet.
14. My Best Day Ever:
This My Best Day Ever worksheet has two separate spaces, one with a box and another with a series of lines. You can paste a picture of the memorable day in the box and later elaborate on the day in the succeeding lines provided. You can explain how the day was and what made it special.
15. My Birthday:
The My Birthday printable is a worksheet on your birthday that depicts a line drawing of a cake. It has some instructions which help the kids to learn while having a sound interest in the exercises. The animated cake can be colored and decorated to add to the fun.
16. My Dad Is…:
This printable is on your dad and has several activities based on the topic. The My Dad Is worksheet includes 7 questions to describe your dad where you can elaborately state your thoughts and views while practicing writing, spelling and your skills to form a correct statement.
17. My Family:
The My Family worksheet has a huge box in it where you can fill in details about your family using your creativity. The kids can put up pictures, write about the members of their family, the names of the members and also a few lines about each of them. This activity has no fixed instructions, and it allows the children to use their minds.
18. My Favorite Things:
Every child has a list of their favorite things and people, including their favorite food, color, toy, animal, person, game and so on. This My Favorite Things worksheet has 5 different spaces to name the different favorites of the participants, where they can write about the topic and even paste pictures.
19. My Friends:
We make friends in nursery schools and kindergartens, who are usually the first friends we get in our lives. This worksheet, named My Friends, is based on discussing your friends; where you have to write their names and why you like them, and it has a huge space where you can paste pictures of your friends.
20. My Hand Print: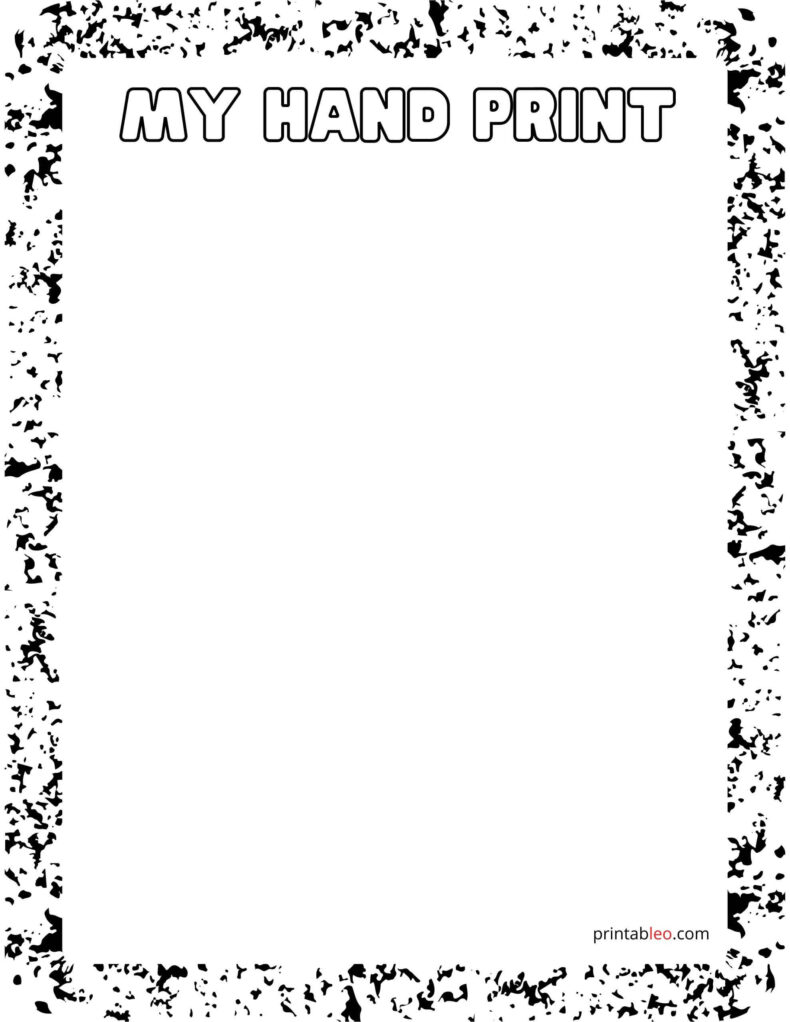 The My Handprint Worksheet has a space to print your hand on it. This activity can be unique and fun for most kids, who have to place the palm of their hands in ink or color, and then print their hand on the worksheet by pressing on it with color or ink.
21. My Mom Is…:
This My Mom Is Worksheet has a set of 7 elaborate questions on your mother, asking different things about her. Children can fill this sheet using their imagination in their own words; hence, they get to express themselves while practicing writing and language.
22. My Pet Is…:
The printable on My Pet Is has a box to paste the picture of your pet, with some questions below that ask a few things about the pet. The kids can simply fill them out and add pictures of themselves with their pets in the box above.
23. Preschool All About Me Worksheets:
The Preschool All About Me Worksheets has different questions in it, with simple animations to elaborate on each of them. The cute and uncomplicated graphics alongside the spacious lines to fill up your information make this design a perfect worksheet printable for kids.
24. Things I Know:
During the years when children grow up, they get exposed to a lot of information on various topics. The printable Things I Know worksheet includes a set of 7 different questions that evaluate your knowledge; it can be used as test papers or practice sheets in schools and tutorial centers.
25. What I Like To Do: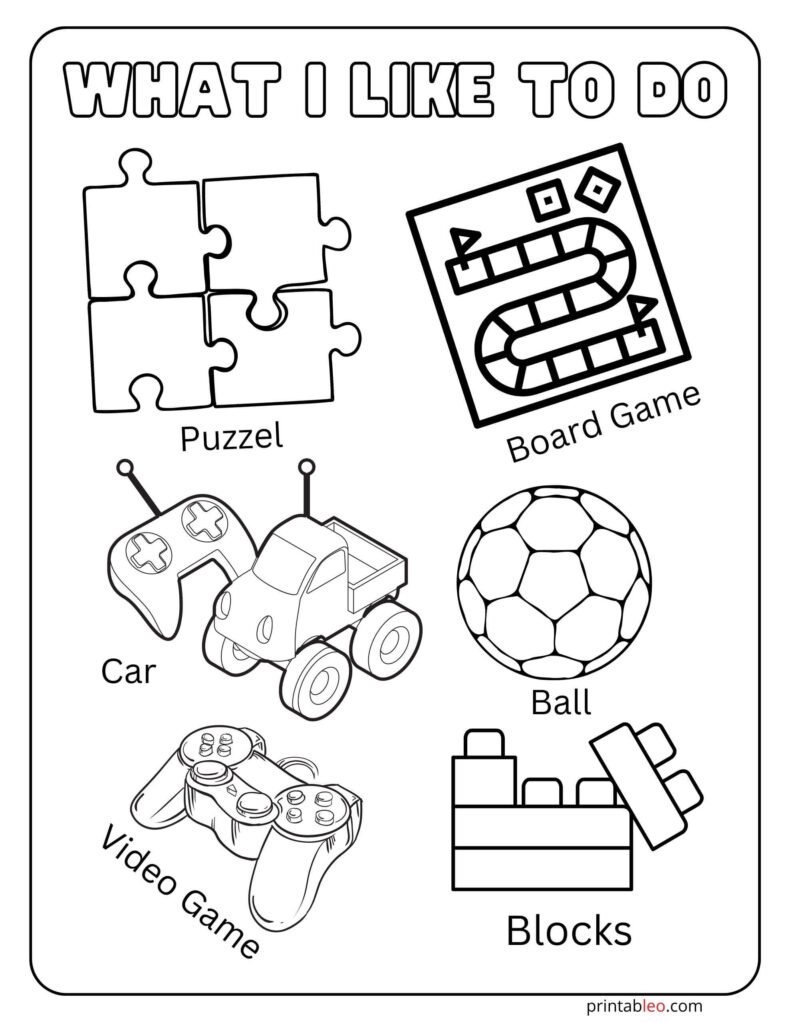 This What I Like To Do printable worksheet portrays several indoor and outdoor games with their pictures and names enlisted in it. You can choose your favorite ones and color them using your imagination and creativity, making this sheet quite a fun one.
You can also color all the games and their animated visuals, and simply mention your favorite ones by circling, ticking or listing them alongside.
The elaborate list of the different enlisted worksheets with various activities and games have unique designs with individual importance, and can be downloaded together using the click-to-download feature or you can choose your individual worksheets as per your requirements and download them. These printables can be customized and further modified, where you can add more details like name and date spaces.