In today's market, competition has increased, and the limits are in the sky. The way to survive is to make a lasting impression on your customers. One of the most attractive ways to keep your audience on their toes is by using spectacular 'Open Soon' and Coming Soon' signs.
These signs help arouse the curiosity of the people passing by and work as a prominent tool for building brand awareness among the target audience. With this article, we will assist you with how to make some eye-catching "Open Soon" and "Coming Soon" signs. The key to this is to understand the psychology of the audience and create what they are looking for. Whether you are new to all this or an established and successful businessman, these signs will help you all to keep your audience attracted towards your products. Now let's get into the tutorial. but before that, here's a free gifts for you in the form of 20+ Printable Open Soon Or Coming Soon Sign.
1. Black And white Coming Soon Sign:
2.Open Soon Or Coming Soon Sign:
The Psychology Behind 'Open Soon' and 'Coming Soon' Signs
A) These 'Opening Soon' and 'Coming Soon' signs excite the audience and make them curious about the expectations of something new. These signs give people hope that something new is about to happen, which helps build a solid audience for the new beginning.
B) Provoking the interest of people is a talent. You attract people with just a few words without revealing the entire information. These signs let the passerby know some basic facts about your business and thus attract a new audience for the grand opening.
C) These signs also give your business a vibe of exclusivity. Offer something new and valuable for your customers. This will make the audience feel the urgency to experience the new offerings. This gets your audience waiting even before the gates are open.
3. Shop Opening Hours Sign:
4. Reopening Soon Sign:
5. Printable Coming Soon Sign:
IV. Designing Effective 'Open Soon' and 'Coming Soon' Signs
Visibility and Readability
Font size and type:

Choosing the fonts is a vital step. You have to Choose such fonts that can be read easily by everyone. It is of no use if people can not read the signs properly. So choose fonts that are read and understood by a vast range of people.

Color contrasts

:

Similarly, use such colors that are visible even from far. Compare and contrast the colors of the font and the background for a better result.

Placement and positioning:

It is as important as the previous two effects. After you have chosen the right fonts and right colors, the next part is the placement of the quotes properly. Then placing the signs in a good location is also necessary. Choose a location from where many people can easily see it from all angels to reach the maximum number of people.
Consistent design elements:

Keep an eye out for the other business's signs and be familiar with the trends. So that your signs stand out and becomes easier and recognizable.

Incorporating business logos and colors:

Now, incorporate your business logos to make them more remarkable. This also gives a professional look.

Creative and eye-catching designs:

Use eye-catching elements like cool shapes, graphics and several more elements. This will give your designs a really interesting look.
Key information to include
Opening date

: Provide the very necessary pieces of information like the opening dates, locations and more.

Business name and contact information:

Clearly state the business's name and location, and contact information. Share the official Phone number, websites, and mail id so that they can contact you if they have any queries.

Teasers or promotions:

S

hare tiny and provoking details about your products to pique the interest of your audience. This helps you keep your audience on their toes for the upcoming products.
6. Opening Soon Under New Management Sign: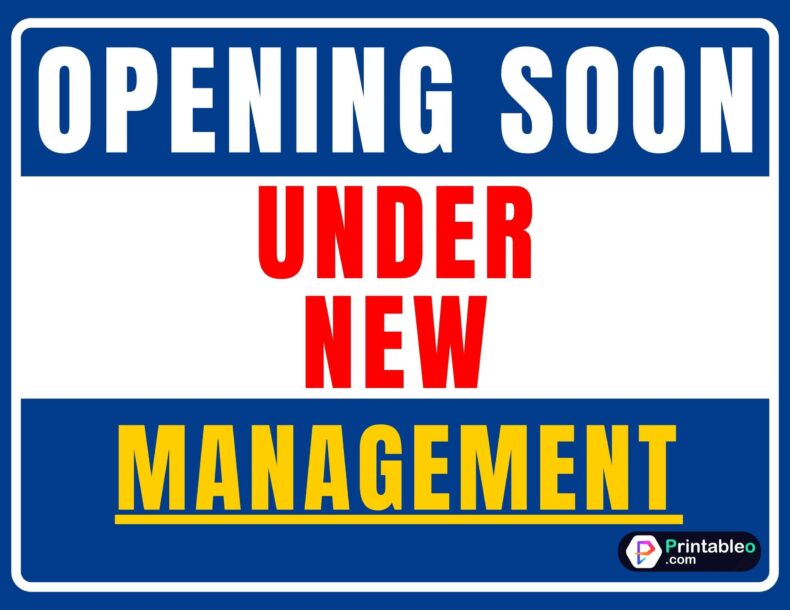 7. Opening Hours Sign:
8. Opening Soon Sign PDF:
9. Opening Soon Restaurant Signs:
10. Open Soon Bar Sign:
V. Innovative 'Open Soon' and 'Coming Soon' Sign Ideas
A. Digital and interactive signs:
Use such designs that will engage the audience in an interactive manner. Some exclusive elements are countdown timers, the loading icon and many more.
B. Social media integration:
Social media integration: Make the signs digitally interactive. Attach poles, use hashtags and generate unique QR codes. This helps you create a buzz around the opening.
C. Environmentally-friendly options:
Environmentally-friendly options: Try to use eco-friendly options. This creates a positive vibe for both your business and the products. Besides, it is also sustainable and good for the environment.
11. KFC Opening Soon Sign:
12. Gym Opening Soon Sign:
13. Grand Opening Sign:
14. Coming Soon Store Sign:
15. Coming Soon Sign Template:
16. Coming Soon Restaurant Sign:
17. Coming Soon Printable Sign:
18. Come Back Soon Sign: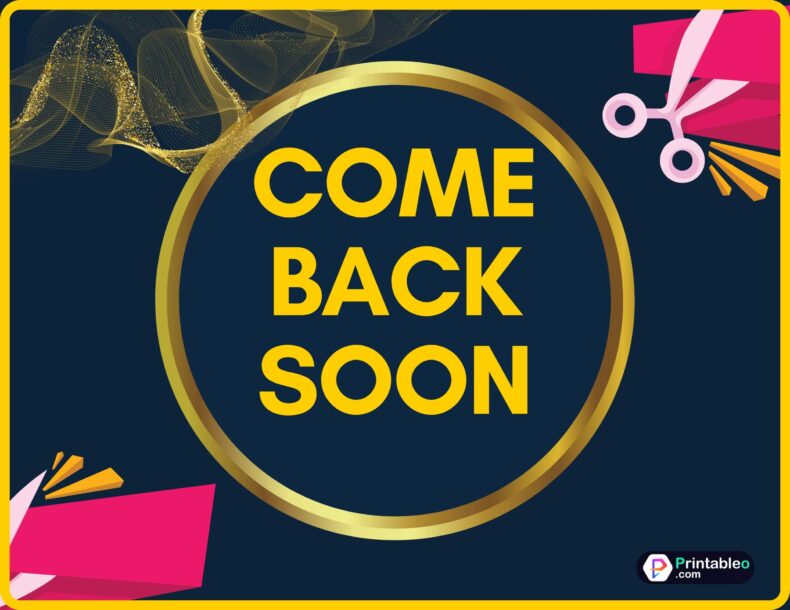 19. Business Coming Soon Signs:
20. Business Coming Soon Sign:
Conclusion
In conclusion, You can use these 'Open Soon' and 'Coming Soon' signs to generate excitement, curiosity and exclusiveness for the opening. This also fosters a sense of loyalty for the customers and gives your brand recognition.
Understanding the psychology of the audience is necessary to promote your business. So carefully create your own customized 'Open Soon' and Coming Soon' signs to ensure the grand opening. Now go ahead and make your own and spread the news over social media.