Sudden disturbances can be very irritating, be it you're busy in a meeting or enjoying a sound sleep. It is commonly known how frustrating a situation can get if any individual barges in during private or important work hours.
Such unwanted circumstances can be prevented using a simple Please Knock signs or do not disturb signs, which can specifically deliver your needs and help you maintain your suitable ambiance. It puts up a polite reminder on how to cause lesser disturbance and maintain stability. They can be used as door hangings, posters and stickers for preventing any form of disturbance during classes, meetings, resting hours, or simply to avoid unwanted disturbances.
These signs help people understand your instructions with their effective designs. The list below has 20 unique Printable Please Knock Signs that can be downloaded and used as per your requirements. They are customizable and can be used in different situations based on your needs.
1. Please Knock Sign Printable:
The Please Knock sign can be used to prevent people from barging in suddenly. It gives you the time and space to be ready to receive them. This sign has a clear message where it depicts a symbolic hand to knock, followed by the desired instruction.
The sign is easily readable because of its perfect balance of graphic and textual content.
2. Welcome Please Knock Signs: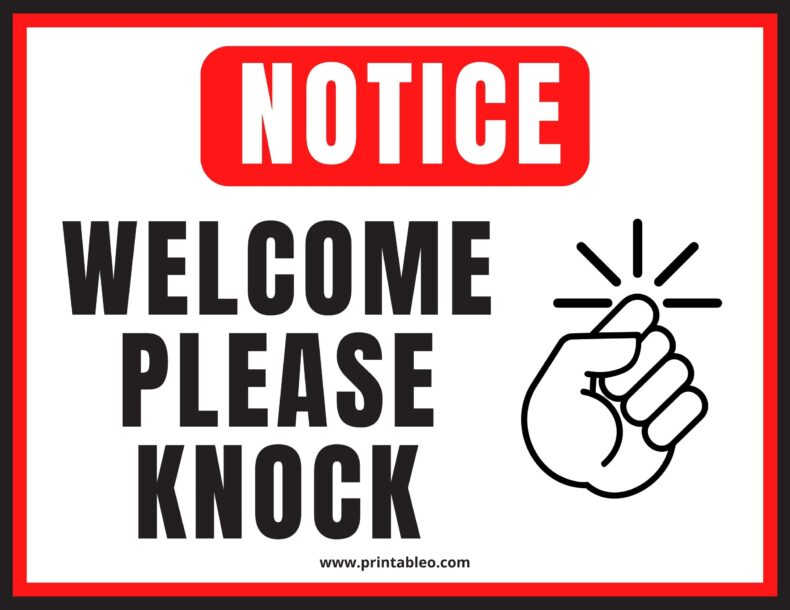 There are times when you welcome guests and do not want any unnecessary chaos. This sign can help in maintaining stability during such circumstances, where the person feels welcome but is reminded the courtesy to knock before entering.
3. Baby Sleeping Please Knock Sign:
Putting a newborn to sleep can be a hard job, and frustration might strike if your effort gets ruined by a sudden noise, waking up the baby and creating chaos. This is where the 'baby sleeping, please knock notice sign' comes in very handy.
You can put this sign as a door hanging or a sticker, and people shall be informed to be careful before entering the space and creating any loud noises. The sign effectively spreads the message of knocking before entering, alongside automatically warning the people to stay calm.
4. Door Is Locked Please Knock Sign:
This sign can be used when the door is not accessible from both ends, so that people do not keep trying to pass in vain. The notice alerts you to knock, thus informing the people on the other side to unlock the door.
5. Doorbell Broken Please Knock Sign: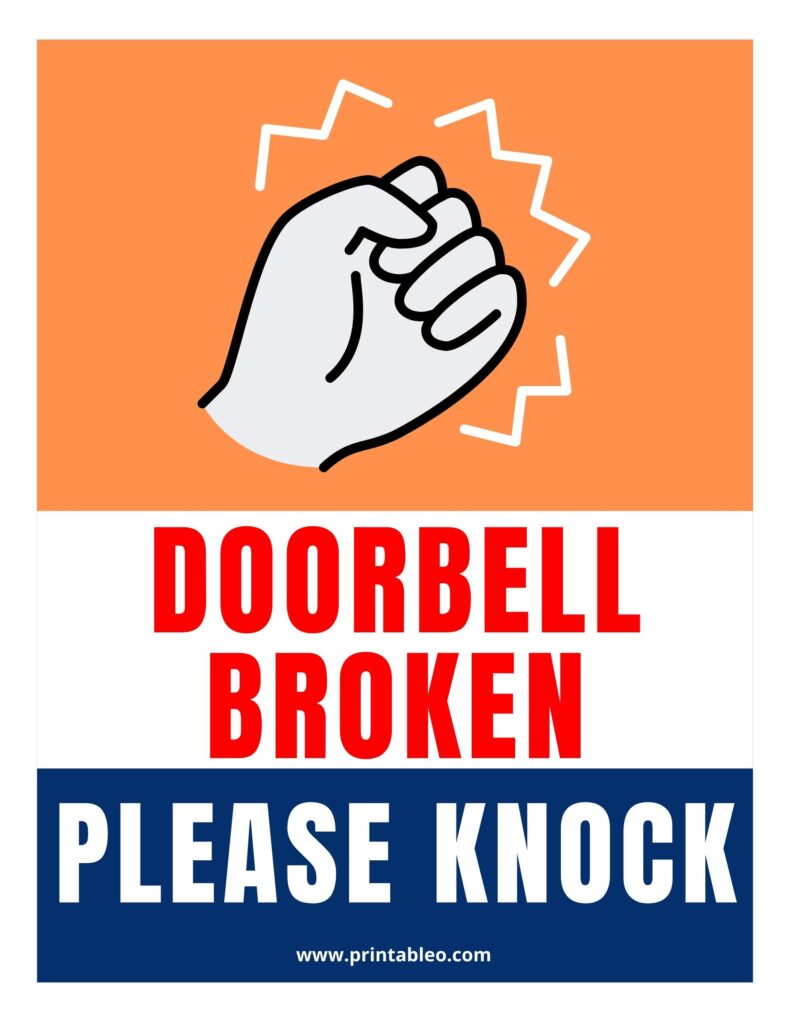 It can be very frustrating if you're visiting someone and they do not open even after you've used the doorbell several times, just to know later that it was not working! No one wants their guests to face such harassment; hence, they can use this sign to prevent such unwanted misunderstandings.
6. Knock Before Entering Sign:
7. Knock First Door Sign:
8. Knock Loudly Sign:
This sign clearly states to knock and mentions to do it loudly. You can use it for situations where barging in might cause you trouble, but you are in an online meeting or watching a movie, so you cannot hear a fade knock. It meets some specific requirements for situations having such needs.
9. Knock On Door Sign:
The graphical portrayal of knocking adds to the instructions given in this sign, making it clear for everyone. It can be used as a notice sticker on the doors of meeting rooms and other workplaces that require maintaining stability.
10. Please Do Not Knock Baby Sleeping Sign:
Most babies wake up even to the slightest disturbance, which can ruin your entire effort of putting them to bed. This sign shall help if you do not want any disturbance around the baby, even a knock. This sleeping sign has clear descriptions, which makes it easy to understand for people.
11. Please Do Not Knock Or Ring Bell Sign:
This sign forbids people from causing any disturbance, even asking them not to ring the bell. It can be used when you require optimum placidity.
12. Please Do Not Knock Sign:
13. Please Knock Baby Sleeping Sign:
14. Please Knock Before Entering Printable Sign:
15. Please Knock Before Entering Sign:
16. Please Knock Do Not Disturb Sign:
The Do Not Disturb sign is meant for scenarios where you don't want any individual to enter your space; adding the instruction 'Please Knock' on this sign gives out the idea of only knocking on the door for permission to enter and not to cause any other form of disturbance.
17. Please Knock First Sign:
18. Please Knock For Assistance Sign:
The above sign can be used in workplaces by the management or administration sections, who provide help to the employees. They can simply knock and ask for assistance, getting the job done without any sudden approach.
19. Please Knock Loudly Sign:
This is a simple please knock loudly sign with very little graphical elaboration. Such uncomplicated signs can be used for professional uses, as it portrays the message firmly without any excessive visual distractions. The contrasting colors in the design also help in quickly gaining attention to the main idea of the sign.
20. Please Knock Sign PDF: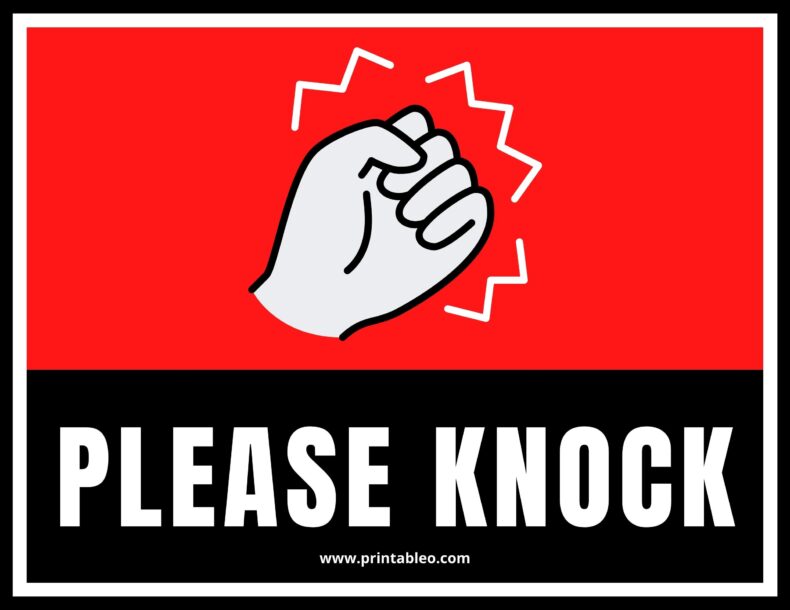 21. Black and White Please Knock Sign:
22. Printable Please Knock Sign:
All these Printable Please Knock Signs could be easily printed and super easy to use. You can simply hang them on door or frame them to decor or customize according to your preference.