We all know how frustrating it is when someone all of a sudden barges into the meeting room without any prior intimation. It not only breaks the season's rhythm but is also pretty annoying at the same time.
Another scenario that comes close to being invaded in the meeting room is people being too noisy, talking and laughing more loudly outside the meeting room than they are supposed to. It becomes extremely difficult to concentrate and also makes the office atmosphere unprofessional. This is where a meeting in progress sign is extremely useful to request people to be quiet and not disturb the ongoing meeting. You can also put no smoking allowed sign to discourage people from smoking outside the meeting room as well.
In this compilation, we have included more than 20+ printable unique Meeting In Progress signs covering each and every unwanted situation that you might face during the meeting and want people not to disturb you. All the listed signs are in PDF format that can be printed and used as you will.
1. Quiet Zone Meeting In Session Signs:
You are right in the middle of a meeting discussing something important, and all the participants are attentive toward the subject matter. But all of a sudden, you hear loud laughing and talking outside the door, which makes it impossible for the meeting participant to concentrate.
I know it rings the bell. We all at least once might have faced this unwanted situation, but this happens almost in all offices. The practical way to deal with this is by hanging or displaying a notice quiet zone – meeting in progress sign. This sign is attractive and conveys the message in a clear way.
2. Zoom Meeting in Progress Sign:
After the Corona Virus pandemic, a lot has changed, starting from our health, habit, to our work culture. Work from home is a new trend which flourished and is no longer an option now. There are so many companies who adopted this culture permanently even after the pandemic was long being controlled.
Offices conduct meetings every now and then to address different matters. Zoom meeting is the most effective and viable option for performing remote meetings.
If you are in an important Zoom meeting and want other people to stay quiet so that you can concentrate, displaying a Zoom meeting in progress sign is the way to go. Even people who are unaware of the fact you are engaged in a meeting would be notified, and they won't disturb you by mistake.
3. Black And White Meeting In Progress-Not Allowed Sign: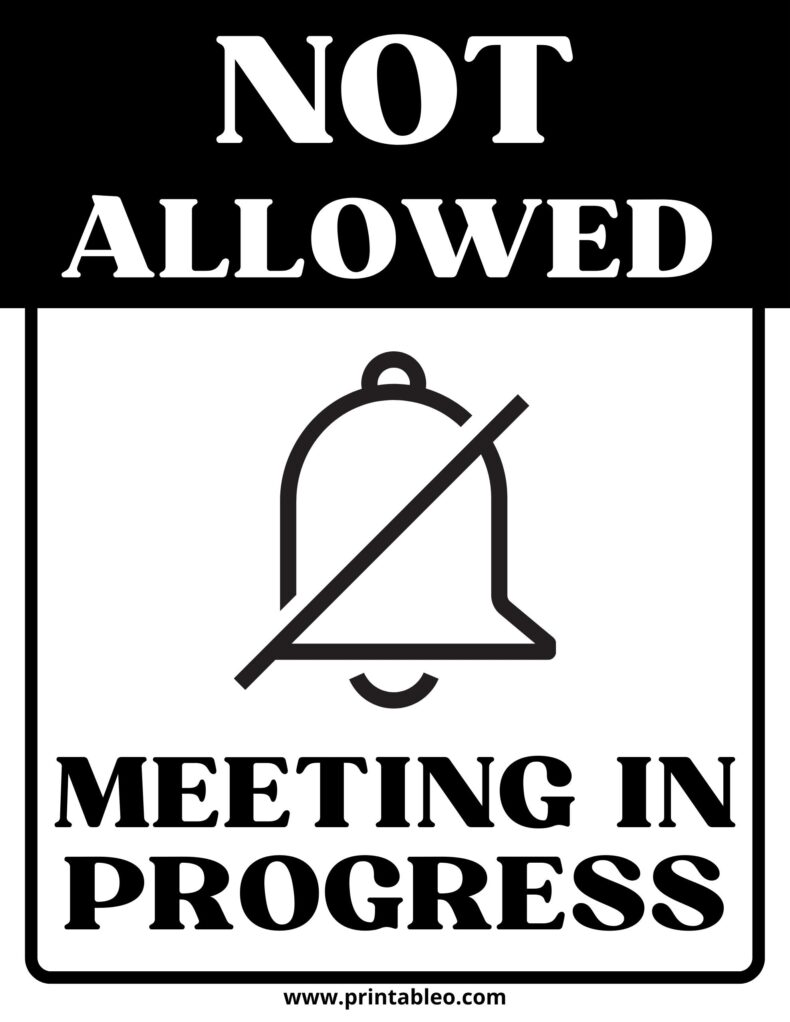 4. Do Not Disturb Meeting In Session Signs:
5. Join A Zoom Meeting In Progress:
As we promised to make this list diversified, here we have another variant of the zoom meeting sign, which can be utilized to invite participants to join the Zoom meeting. This printable sign can be utilized not only in printable format but you can also use it onshore as well.
You can customize the sign by adding the time when the meeting is going to start or the overall meeting duration. To make the customization, download the editable PDF file and include the details you want.
6. Meeting In Progress Signs – Silent Please:
7. Meeting In Progress Sign Do Not Disturb: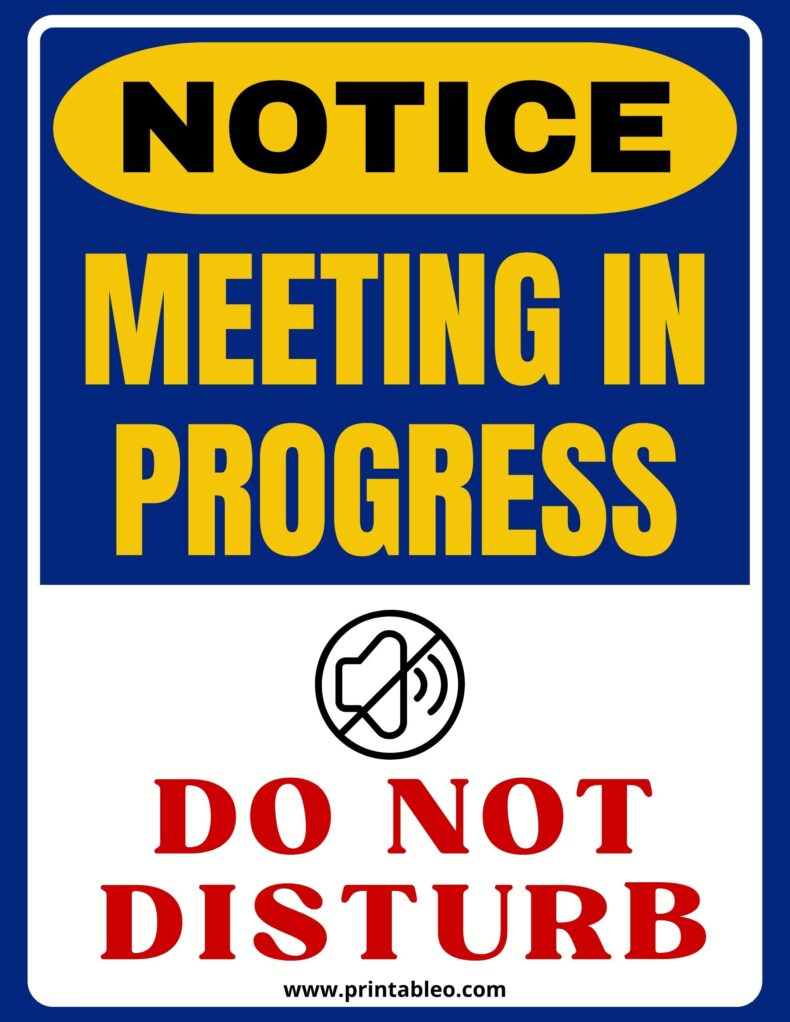 8. Meeting In Progress Do Not Disturb Sign:
9. Meeting In Progress Door Sign PDF:
If you want to give your staff, employees and workers a peaceful meeting environment where no unknown visitors barge in without notice,
If you want to give your staff, employees and workers a peaceful meeting environment where no unknown visitors barge in without notice..
10. Meeting In Progress Door Sign:
Door signs are quite useful when it comes to displaying and conveying the message. They are hard to overlook and easily noticeable. We have included 2 different meeting-in-progress door signs, which are professionally designed without making to too flashy.
For this particular design asset (in progress door sign), we have not used any border so that it does not look odd. You can simply print and affix the sign on the office door, and it will still look totally natural.
11. Funny Meeting Is Going on Do Not Disturb Door Sign or Hanger:
If you want to make this sign a little more creative, you can simply add any funny statement to it. A little humor always lights up the mood, even when we are requesting people not to do something.
12. Meeting In Progress Sign Printable:
13. Virtual Meeting In Progress Signs Template:
14. Office Meeting In Session Door Sign: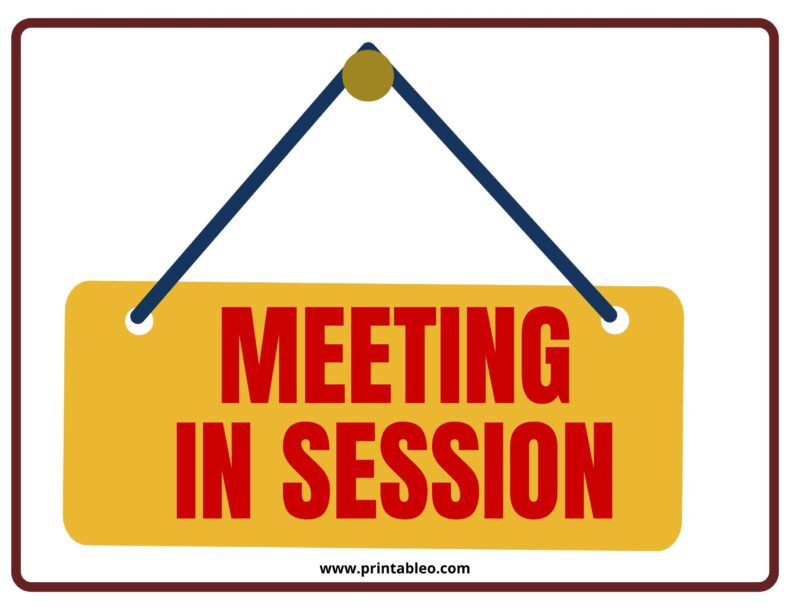 15. Meeting In Session Keep Silent Sign:
The listed signs have both orientation, portrait and landscape. Choose the one according to the space available, and the sign designs look perfect by complementing the display orientation.
16. Meeting In session Not Do Not Disturb Sign PDF:
17. Meeting In Session Please Keep Quiet Signs: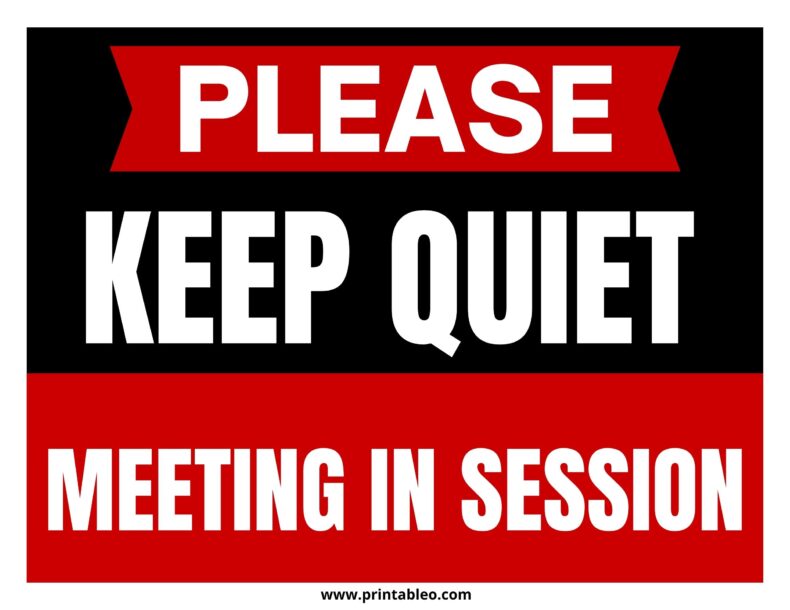 18. Please Keep Quiet Meeting In Session Signs:
19. Please Shut Your Mouth-Meeting In Session Signs: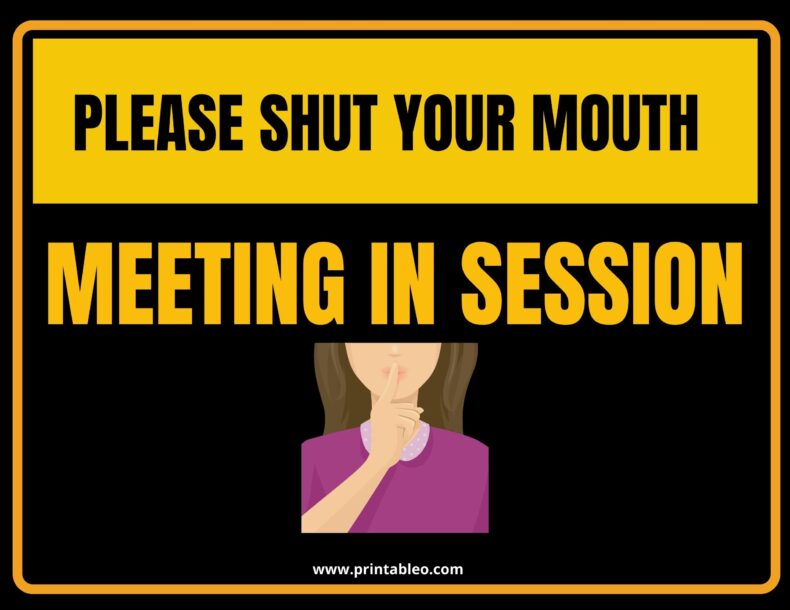 20. Quiet Meeting In Progress Sign:
This particular template is one of my personal favorites in this Meeting In Progress Signs compilation. Simple yet professional design that can effortlessly convey the main message. We have included the editable PDF version. Download the file if you want to add any personalized notes like and you can make it something like conference call in progress sign. Open the downloaded file in any PDF editor, selects the section and type your meeting details or any note you want.
If you do not want to make any changes, simply open the file in a new tab, and from there, you can take the printout or save it on your local computer for future use.
21. Do Not Disturb Zoom Meeting In Progress Sign:
22. In A Meeting Do Not Disturb Sign: