Mathematics helps us build the centerpiece of our intelligence to help the children understand the world around us better and form a strong core in basic math skills. One way that you can improve the basic skills is Skip counting. This is a technique where you count the number with more than the usual gap. Here one has to count by increments of two or five, or tens. This unique and powerful benefits us to grasp advanced concepts better and faster. It also helps us strengthen our mental math skills and enhances the child's number sense.
Skip counting worksheets are a crucial yet fun way to learn the process. Whether you are a parent or a tutor, or an educator, knowing how to make worksheets is essential to engage your learners. This article is to guide you on how to make effective worksheets, some creative ways to make them engaging, and explore the benefits of these worksheets.
Besides, we will also talk about how to tweak some new strategies in the assessment system to meet the needs. With the help of these articles, we will assist you in creating some quality materials that will help your learners understand mathematical problems.
Not only that, we have also included professionally created 40+ Printable Skip Counting Worksheets in PDF format which you can download and make your young ones' practice.
1. 2nd Grade Skip Counting Worksheets:
2. Skip Counting By 5s Worksheets:
3. Skip Counting By 5 Worksheets:
4. Skip Counting By 5 Worksheets pdf:
5. Skip Counting By 5 Worksheets For Kindergarten:
Understanding Skip Counting
Skip counting is a very vital mathematical skill that includes counting in a fixed interval that is not the usual interval. Some examples of these exercises are – intervals by two (2,4,6,8,10….), fives(5,10,15,20…), and tens (10,20,30,40….). Likewise, they can be done- like threes, fours and even longer numbers.
This is important to learn in many ways. This is the initial and very essential step for advanced mathematical concepts. When a kid learns how to skip counts b two or five at once, they will understand multiplication processes faster and better. Similarly, they can distinguish the difference between dividends and divisors, and quotients.
Multiplication and divisions are concepts that we need for our entire life and the foundation for these concepts is sowed in our very childhood. And practicing these skip-counting worksheets makes our concepts clear, which helps us in the future. Children, while practicing these sorts of worksheets, become more patient and can easily solve complex problems. So their number sense gets enhanced.
This is the ideal exercise for the age group of 5 to 7. The worksheets have many levels, and depending on their understanding and growth, assigning the right assessment is necessary too. So, Skip Counting is introduced to them in the very beginning, and this lays a strong foundation for the next advanced concepts.
6. Skip Counting By 4 Worksheets:
7. Skip Counting By 3 Worksheets:
8. Skip Counting By 3 Printable Worksheets:
9. Skip Counting By 2s Worksheets:
10. Skip Counting By 2s Worksheet:
11. Skip Counting by 2's To 20 Worksheets:
Creative Ways to Engage Learners with Skip Counting Worksheets
To engage your audience and make it a fun activity for them, you can make the worksheets enjoyable. Here, in this article, we will provide you with some ideas to make your worksheets fun and effective for learning.  Keep reading to know better-
Improved Graphics: This is the single most thing that can instantaneously create the engaging ability of your worksheets. The improved visual can gain the attention of the young learners, and they will be more engaged in the activity.Bonus tips: Try to use themes like Animals, sports, Autumn, winter, festivals like Christmas, etc. Kids can relate to the theme and will enjoy more while learning.
Real-life Examples and Word Problems: Another engaging way to make worksheets relatable and meaningful is to incorporate real-life situations and problems. If young learner finds themselves in those situations where they have to solve problems to be on the other side of the puzzle, they will love the idea and will be more engaged in learning..
Games, and Interactive Activities: This is somewhat related to number two. In addition to traditional worksheets, you can sprinkle games and Interactive Activities that will enable learners to practice skip counting while also developing their problem-solving and critical-thinking abilities. In our free template worksheets, you will find a lot of examples like, number crosswords, skip counting mazes, and board games where young learners have to follow the instruction and complete the worksheets by connecting numbers in a skip counting sequence.
12. Skip Counting By 2's 5's 10's Worksheets pdf:
13. Skip Counting By 2 Worksheets:
14. Skip Counting By 2 Worksheets pdf:
15. Skip Counting By 2 Worksheets For Kindergarten:
16. Skip Counting 10 Worksheets:
17. Math Skip Counting Worksheets:
18. Grade 1 Skip Counting Worksheets:
19. Free Skip Counting Worksheets:
20. Free Printable Skip Counting Worksheets:
21. Skip Counting By 10 Worksheets For Kindergarten:
22. Skip Counting By 10 to 100 Worksheets:
23. Skip Counting By 6 Worksheets:
24. Skip Counting Worksheets PDF:
25. Skip Counting Worksheets Kindergarten: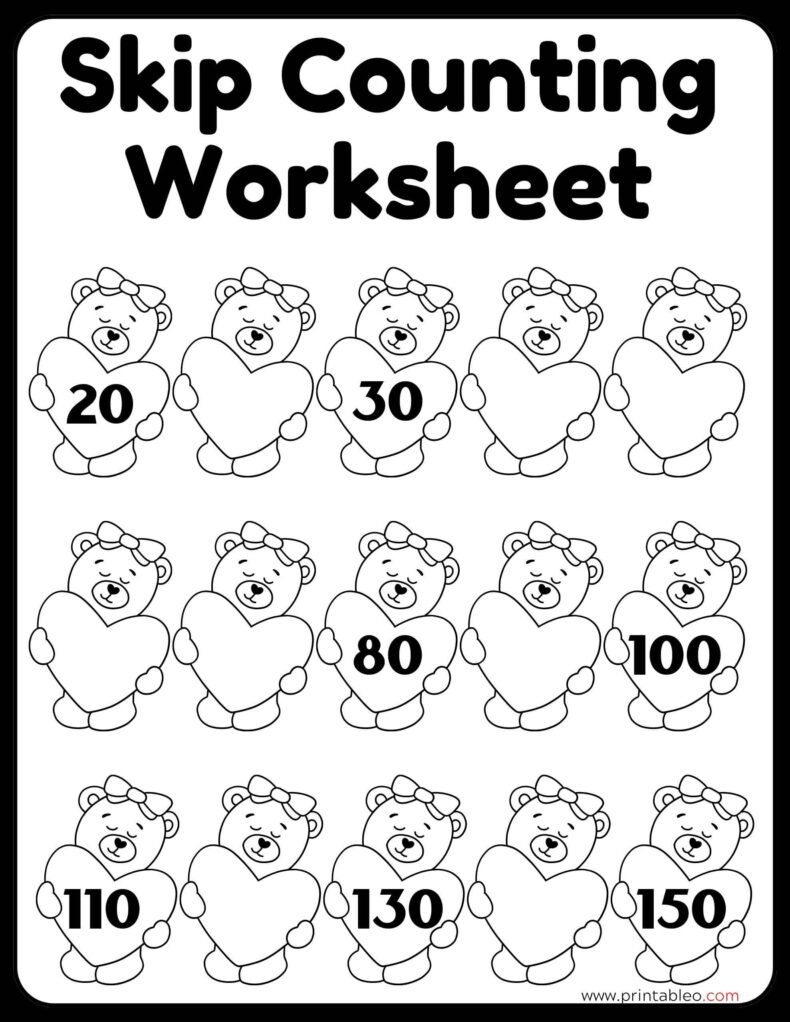 26. Skip Counting Worksheets Grade 2:
27. Skip Counting Worksheets Grade 1:
28. Skip Counting Worksheets Free: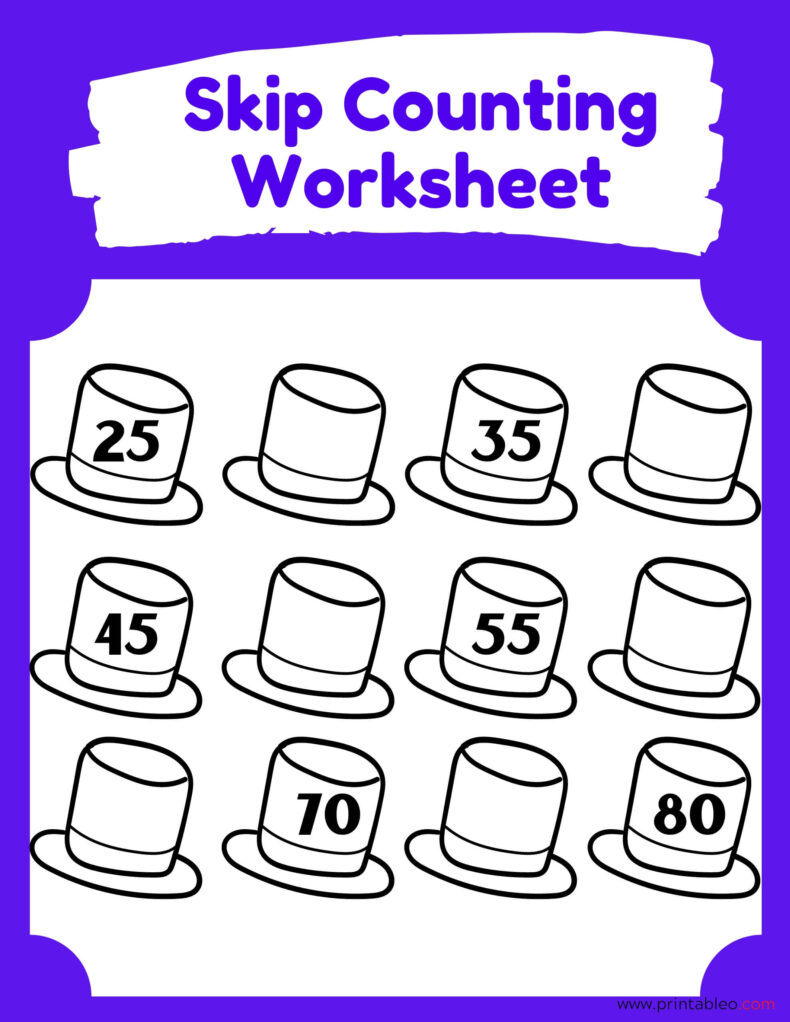 29. Skip Counting Worksheets For ukg:
30. Skip Counting Worksheets For Kindergarten:
31. Skip Counting Worksheets For Grade 2:
32. Skip Counting Worksheets For Grade 1:
33. Skip Counting Worksheets By 2:
34. Skip Counting Worksheets 2nd Grade:
35. Skip Counting Worksheet: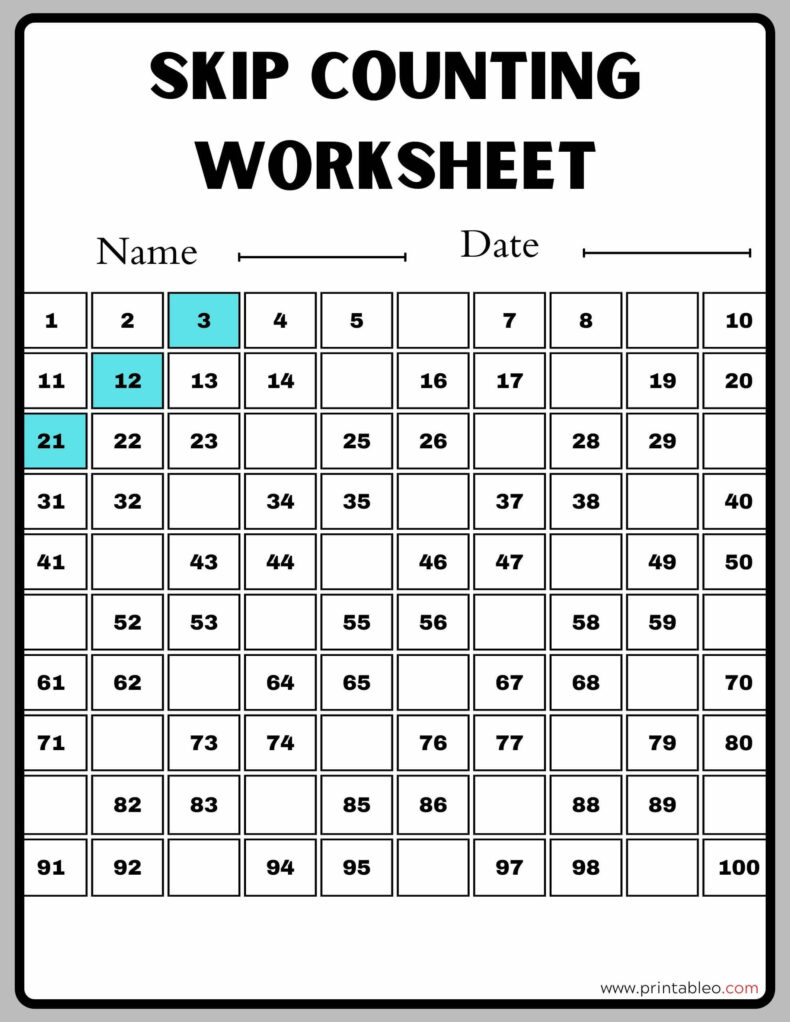 36. Skip Counting Kindergarten Worksheets:
37. Skip Counting By 100 Worksheets:
38. Skip Counting By 100 Worksheets Printable:
39. Skip Counting By 50 Worksheets:
40. Skip Counting By 10 Worksheets:
Wrapping Up:
In this article, we have provided plenty of (to be precise 41) worksheets and practical suggestions to help teachers and parents build comprehensive and captivating skip counting worksheets that they can use to teach and practice young ones' skip counting in the most convenient manner.
By regularly practicing, your child will gain a solid understanding of skip counting and develop the confidence to face more advanced mathematical skills like Decimal Division Number in the coming days.