Lately, the number of transportation has increased a great deal which has made shipping things from one place to another quite easy. But ensuring the safety of these packages is a great deal. One effective way to make this happen is by applying "Handle with Care" signs that are easily readable and visible. These signs are a vital element in communicating with handlers; giving out clear and readable instructions to handle certain packages with extra care is necessary for convenient, hazard-free and safe transportation.
Nowadays the customizable and printable "Handle with Care" signs have become more in demand as it is the most cost-efficient and agreeable method that allows the businesses to gain more creative with these customized signs.
In this article, we will tell you all about how to make easy and beneficial printable "Handle with Care" signs and use them appropriately that will serve their purpose perfectly and not only that, but we have also included 8+ Printable handle with care sing to this list which you can download for free.
Also check:
1. Printable Handle With Care Sign:
2. Please Handle With Care Sign: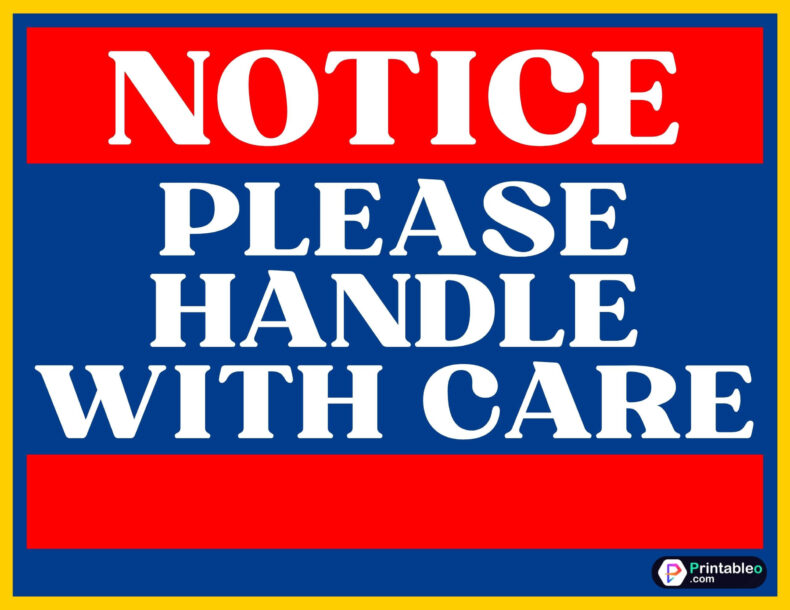 Reasons to use printable "Handle with Care" signs
Protecting fragile and valuable items: These signs play the role of a reminder to the handlers to treat certain packages with care, which decreases the risk of damage during transportation.
Ensuring safe handling procedures: Handling many packages may be difficult at times, so these signs are a reminder for the workers to know which packages need a little extra care. It helps to create a safe environment for working.
Communicating effectively with handlers:  A good sign of "Handle with Care" serves its purpose beyond the language and linguistic barriers. This ensures that the handlers from different backgrounds understand the message that is trying to get communicated and helps them take caution for the packages.
Preventing damage and reducing costs:  Using these printable "Handling with Care" signs can prevent major damages and loss of valuable goods. This saves both the parties, customers' and business's , money and time.
3. Pass With Care Sign: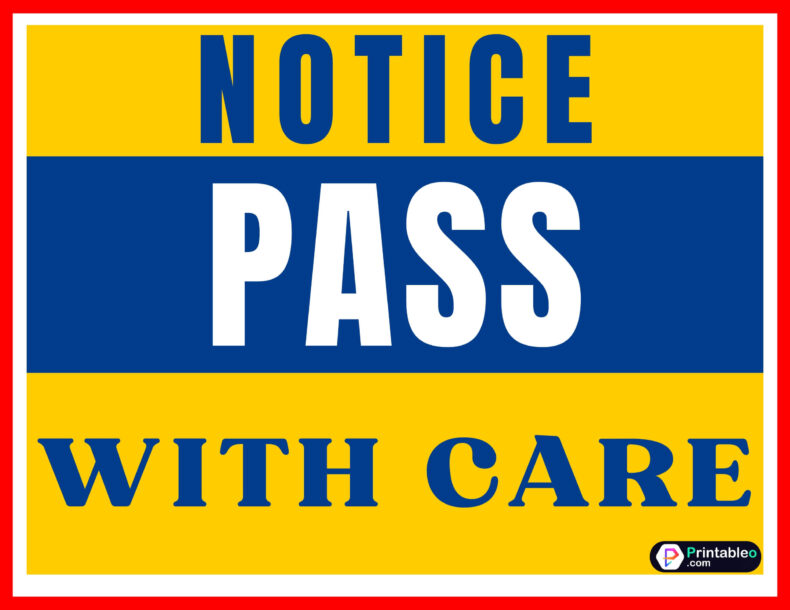 4. Handle With Care Sign Clip art:
Printing tips for durable and effective signs
Selecting the appropriate paper or material: While preparing for the design, select solid and durable materials. Using good materials ensures the quality of your work and is most effective. Use thick papers or adhesive labels so that it lasts till the end of.
Laminating or reinforcing for added durability: It's one step ahead to keep your designs  from getting wet or tearing. For this, You can laminate your designs using clear tapes and reinforce the safety of the edges.
Choosing high-quality inks for longevity

:

Go for the high-quality and fade-resistant links to make sure that the signs are vibrant and high-quality prints so that each word is clearly readable.
Considering weatherproof options for outdoor use: Depending on the location and time needed for transportation, you can go for waterproof options to prevent it from getting destroyed easily. In this case, selecting the proper materials for printing is a necessary step to make it durable.
5. Free Printable Handle With Care Sign:
6. Fragile Handle With Care Sign:
Placement and visibility of "Handle with Care" signs
Positioning on packaging or containers: Place your signs on spots with the maximum visibility, such as the top of the box or the container.
Ensuring signs are easy to see and read: Ensure that the signs are clear and easily readable, even from a distance, to make it easier for the workers to handle.
Attaching securely to avoid detachment: This is as important as the previous steps. Making sure that the signs are securely placed with tape or adhesives so that it does not get lost during the transportation process, which will affect them from serving their purpose.
7. Caution Handle With Care Sign
8. Black And White Handle With Care Sign:
Conclusion
In the end, I would add that using these "Handle with Care" signs is an easy and unique way to make effective and efficient transportation. And these customized signs ensure that your packages get delivered with proper attention and is handled with care at all cost.
The importance of a good and effective "Handle with Care" sign is unavoidable. If the signs are well created and properly visible, it increases the value of the package, and it gets more care. With this note, we urge you to prioritize the safety of your packages by applying these printable "Handle with Care" signs.