A Tracing line worksheet is one of the most effective tools that comes in practice sheet format designed to help your kids develop hand-eye coordination, fine motor skills and beautify handwriting. These practice sheets consist of a series of simple lines or shapes that your youngsters can trace with a pencil (preferably that they can erase when needed and repeat the activity for perfection) or pen.
In this compilation, we have included different Tracing line worksheets, which feature lines that are straight, curved and a combination of both. To give them a more dynamic look and make things interesting, we included lines that have different thicknesses or complexity as well.
These Tracing line worksheets are designed to fit in various settings and are not only limited to classrooms or homes. They can alternatively be used in therapy sessions as well for special circumstances and needs. This list features different types of tracing line worksheets so that you can take advantage of using them for children of different ages and skill levels.
In addition, these worksheets come in customizable PDF format so you can modify the parameters to meet the specific needs and goals of the individual child or a specific group.
1. Kindergarten Tracing Lines Worksheets For 3 Year Old:
2. Tracing Worksheets Lines:
3. Tracing Lines Worksheets:
4. Tracing Lines Worksheets Printable PDF:
How to use these Tracing Lines Worksheets?
Tracing line is a preschool kids' activity. So these worksheets are designed with simplicity. You can simply give these worksheets to your child and ask them to trace the lines & shapes as accurately as possible with a pen or pencil. You can also instruct them to start at a specific point and follow the line to the end.
It is better to hand-guide them initially so they get accustomed to the process and can comprehend what to do. Once they know what to do, ask them to repeat and trace lines & shapes multiple times so that they improve their control and precision.
As a mentor, teacher or therapist, you should continuously monitor the kid's activity and progression. Use your best judgement to figure out child-specific needs and provide guidance to the child so that they can improve their tracing skills.
5. Tracing Lines Worksheets PDF:
6. Tracing Lines Worksheets For 3 Year Olds:
7. Tracing Lines Worksheets For 3 Year Olds PDF Download:
8. Tracing Lines Worksheet:
9. Tracing Line Worksheets:
10. Tracing Line Worksheets PDF:
Tips for making tracing line worksheets more engaging:
We have made sure to include different types of tracing line worksheets that you have sufficient variants to use but if you want to make them more engaging, here are a couple of pointers you can follow:
Use a variety of line types and thicknesses: Play with varieties. Do not just simply use only straight lines or only thin lines; Instead mix things up by a little bit so that your young ones find them interesting. Include curved lines, thick lines, and thin lines of different lengths and shapes.
Feel free to add a creative element: Why only practice tracing lines? You can ask your kids to add their own designs or decorations to the traced lines. Alternatively, you can add stickers or other embellishments to make them look more colorful and kids will love tracing those shapes as well.
Repeat the tracing procedure multiple times: "Practice makes a man perfect". If you guide your kids to practice tracing the same sheets and lines multiple times, they will surely gain more precision and the output will be more beautiful.Additional Tip: Want to try a more creative way? Ask your kids to trace the lines with their non-dominant hand. Instead of using only pens or pencils, give them different writing instruments, like crayons or markers.
Make it a game: o instill competitiveness, simply make it a game by adding time and challenge the child to see how many worksheets they can complete in a certain amount of time.
11. Tracing Line Worksheet:
12. Straight Line Tracing Worksheets:
13. Printable Tracing Lines Worksheets For 3 Year Olds:
14. Preschool Tracing Lines Worksheets: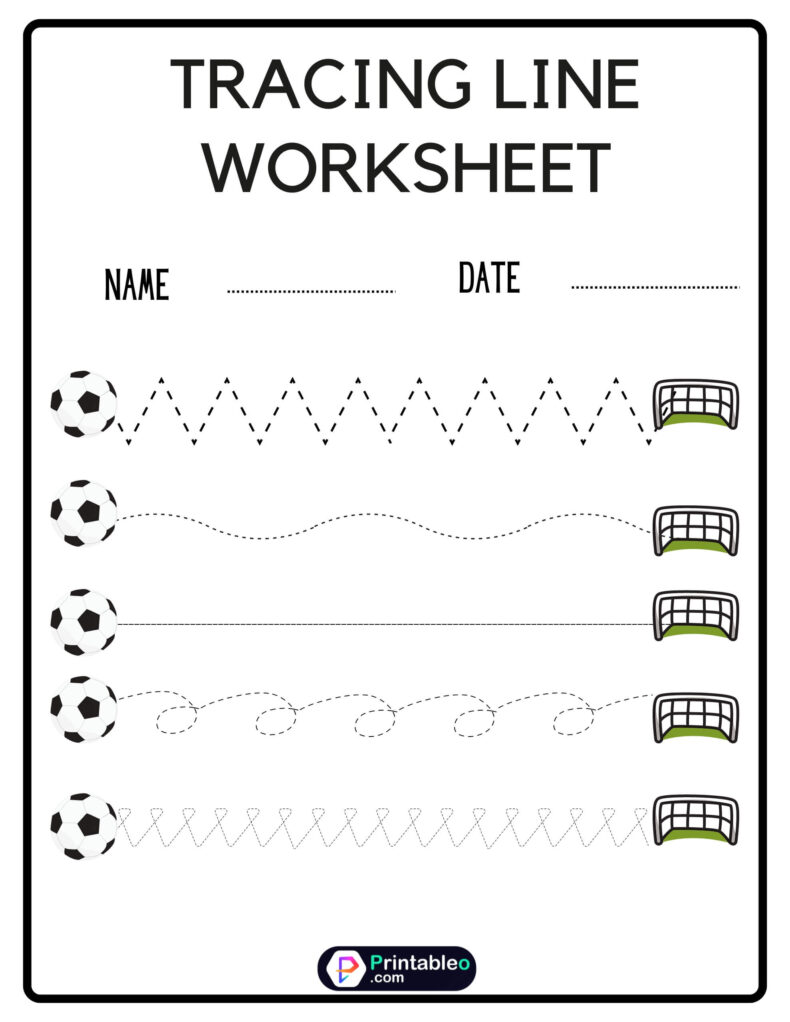 15. Preschool Tracing Lines Worksheets For 3 Year Olds:
16. Preschool Line Tracing Worksheets:
17. Line Tracing Worksheets:
18. Line Tracing Worksheets Preschool:
19. Line Tracing Worksheets PDF:
20. Line Tracing Worksheet: