When workplaces like educational institutes, official sectors, business hubs and commercial sites undergo a reasonable break in their daily workflow due to emergency situations or work leaves, the day of rejoining the venue can be evident to several individuals visiting the premises for a new beginning after a long pause with a fresh outlook.
A returning day can be overwhelming for most people. It might include positive as well as negative vibes among the visitors. In order to encourage them to begin with a new approach and improve morale inside the premises, you can put up a simple and straightforward Welcome Back Sign that politely acknowledges every individual and greets them with a welcoming tone.
You can make posters, banners, stickers, signals, signboards, flyers, cards, placards and several other contents using these well-designed and unique printables that are relevant to the matter. This compilation has several printable designs to choose from, and you can download the selected ones based on your specific requirements for use.
The below-enlisted collection of 25+ Welcome Back Signs has covered a huge variety of relatable subjects connected to the main subject matter that are perfectly applicable for use in various different venues. The printables have unique and informative designs that can successfully spread the message, getting the job done with accuracy.
1. Back To School Welcome Signs:
The above-listed printable on Back To School Welcome Signs is a downloadable sign that is applicable for schools, preschools, kindergartens and other educational institutions. It is applicable for the day that marks the students and the faculties returning to the premises after a long break, including vacations and emergency scenarios like the Covid pandemic.
This sign spreads the message using a visually attractive outlook that includes distinct textual notes clearly conveying the matter alongside animated implementations which enhance the design through a playful and positive approach. The printable can be used to encourage the students and improve their morale in order to conduct the workflow smoothly.
2. Welcome To Our Backyard Signs: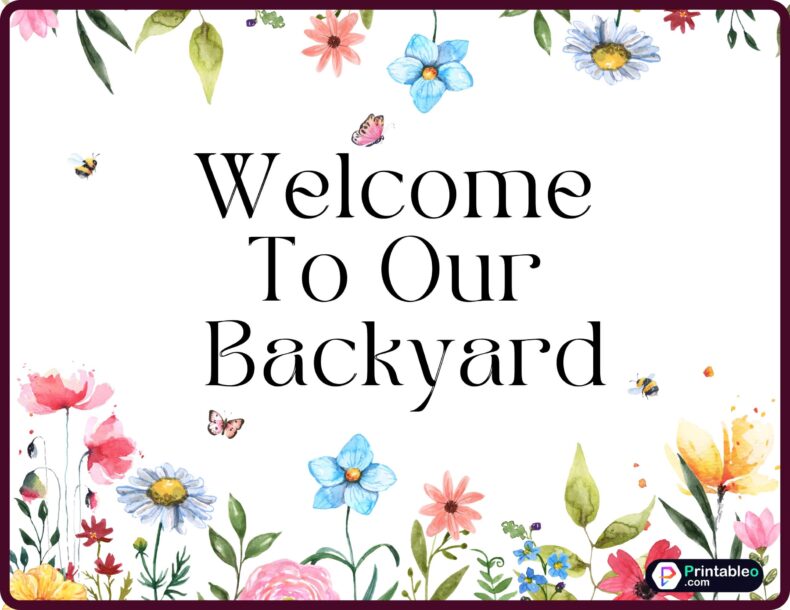 This Welcome To Our Backyard Signs printable is applicable for private properties and venues that grant access to the backyard of the premises. The informative and clear sign can be used to inform the people to arrive for occasional gatherings, festive organizations and other important reasons that require the visitors to accumulate in the relevant backyard area.
You can make posters, banners, stickers, signals, signboards, flyers, cards and placards using this printable design and spread them across the area, including the entrance passages and nearby spaces that can help the people understand the matter. The sign has a visually appealing outlook that easily gains the attention of the people passing by when posted.
3. Welcome Back We Missed You Sign:
When a venue acknowledges individual members returning to the premises after a long pause, this printable on the Welcome Back We Missed You Sign can come in handy to greet the concerned persons and warmly welcome them back to the property with a positive and encouraging tone. The sign can be made into a variety of informative textual content.
This printable design has a vividly decorated outlook that adds visual appeal to the subject matter. It also spreads the overwhelming emotion related to the returning members through a heartfelt message that acknowledges the importance of the relevant people, conveying the word using bold and distinct textual notes alongside animated implementations.
4. Welcome Back To Work Signs:
When employees return to their workplaces after a long break, they are usually greeted with warmth and positivity by the other members of the premises. Most of these leaves are due to medical causes, like maternity leaves, surgeries, and other health-related involvements. When an individual gets back to their work after such pauses, they are cordially greeted for returning.
The above printable Welcome Back To Work Signs has an aesthetic design that clearly spreads the message using uncomplicated textual notes and animated demonstrations, which add visual appeal to the printable outlook. You can post this sign to encourage returning members and allow them to rejoin with a fresh and happy approach.
5. Welcome Back To School Sign:
When an academic year comes to an end, the new session usually starts after a break of a few days. This can help in improving morale among the students and allow them to enjoy their vacation and start the new year with fresh and positive thoughts. The Welcome Back To School Sign is perfectly applicable for such scenarios and can get the job done with perfection.
This printable design conveys the message using bold and visible texts that greet the students with affirmation on their return day. It includes animated characters that represent the students, adding a playful essence to the printable, making the sign suitable for children and applicable to be posted in every relevant educational institution on the returning day.
6. Welcome Back To School Sign PDF:
7. Welcome Back Teacher Signs:
8. Welcome Back Teacher Sign: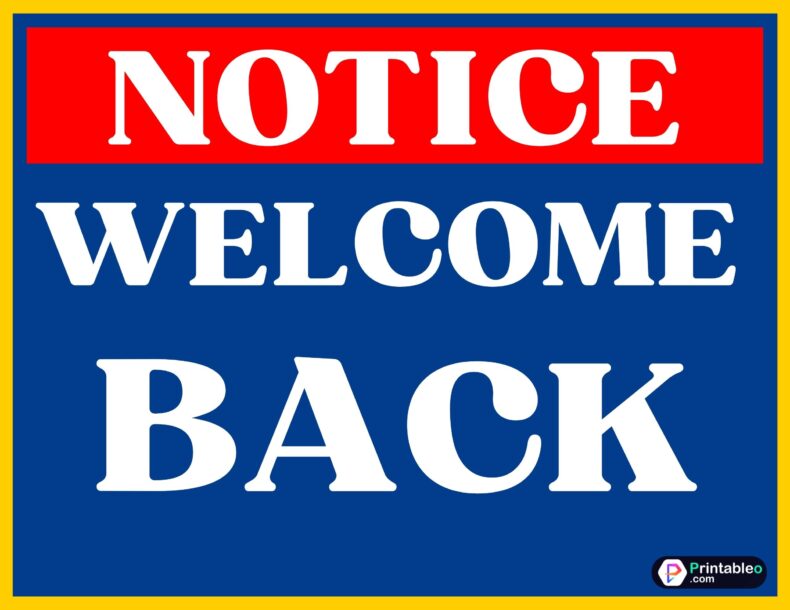 9. Welcome Back Students Signs:
10. Welcome Back Sign To Print:
The Welcome Back Sign To Print is a downloadable and customizable printable that conveys the message using a simple and uncomplicated design. It presents easily understandable and readable textual notes that greet the people on returning to the premises by heartily welcoming them back. The sign can be used for making different textual content.
This printable has a straightforward note without any unwanted complexities, and can be used for a variety of venues and different relevant situations. It can also be customized using the PDF format of its presentation if you are willing to modify the entire design or simply want to add more specific details to the sign that can meet your specific requirements with accuracy.
11. Welcome Back Sign For Coworker:
12. Welcome Back Military Signs: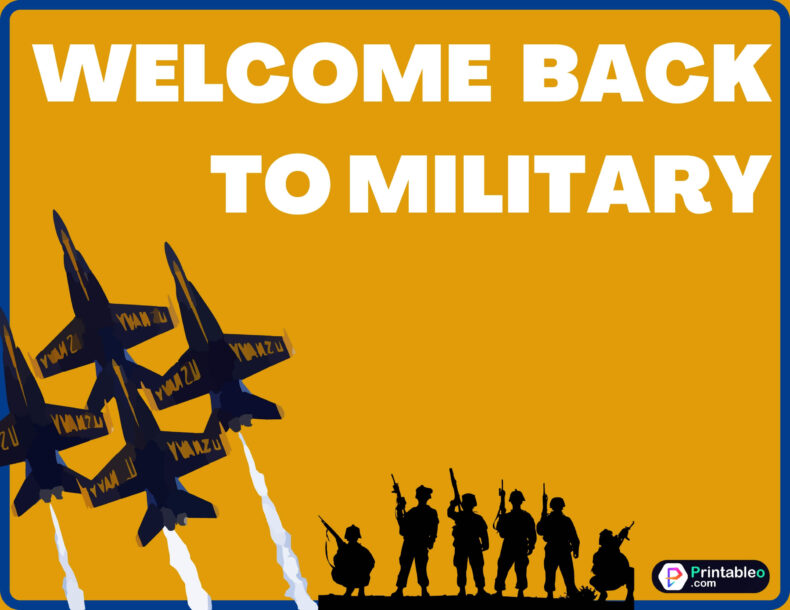 13. Welcome Back Home Sign:
The above printable design is applicable for the people who are returning to their homes after a long break, especially due to work pressure or distant working venues, and have excited family members eagerly waiting for their arrival through decorations and festivities. This Welcome Back Home Sign can be made into posters, stickers, cards and other contents.
This printable uses an aesthetic design to convey the message with warmth. It has photographic demonstrations implemented in the outlook that enhances the subject matter and adds a visually attractive essence to the design. The sign can be placed at entrances and near the concerned residential property that is welcoming a family member returning to the building.
14. Welcome Back From Prison Sign:
15. Welcome Back Airport Signs:
Several people have to stay far away from their families due to their work, and the distance can be huge enough to keep them apart for long periods of time. Hence, the day marking these people's return to their hometowns can be overwhelming to their family members, who might eagerly wait at airports to receive the concerned persons with warmth and love.
This Welcome Back Airport Signs printable is a downloadable content that conveys the message through an easily understandable and readable approach. You can make posters, banners and placards from this printable and put them up in your hands when you visit the airport to receive your near and dear ones who are returning after a long time.
16. Welcome Baby Sign:
The birth of a child marks an important event in the family, and the day when the mother and the baby return to their home is a special day of happiness and positivity for the family members, who usually greet them warmly and welcome the baby through love and blessings. This downloadable printable design on Welcome Baby Sign can be used in these scenarios.
The above posted printable sign has a visually attractive design that is perfectly applicable for every house that is welcoming a baby inside the premises for the first time. The sign can also be customized using its PDF format to add more specific implementations, like a genuine photograph of the baby in place of the previously included one, which adds a personalized look.
17. Printable Welcome Back Sign:
18. Printable Welcome Back Sign: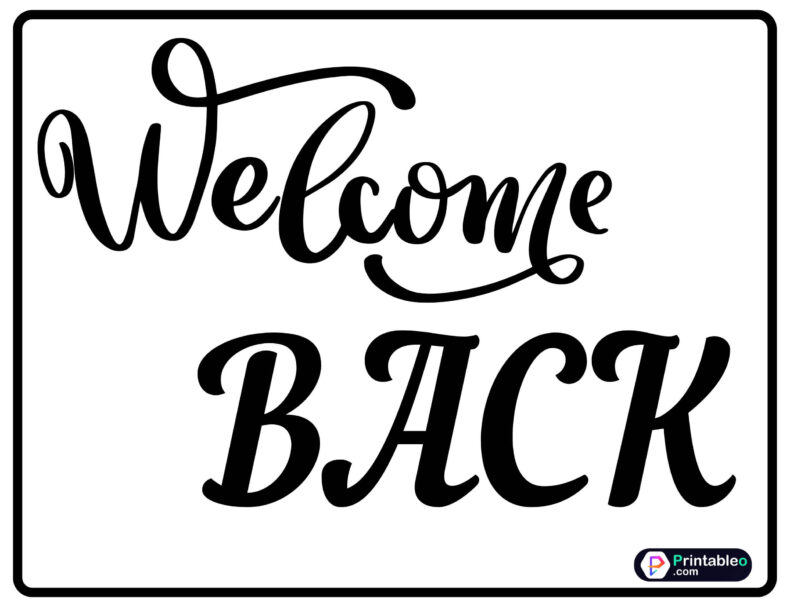 19. Funny Welcome Back Signs:
20. Funny Welcome Back Signs For Work:
21. Funny Welcome Back Airport Signs:
22. Free Welcome Back Sign: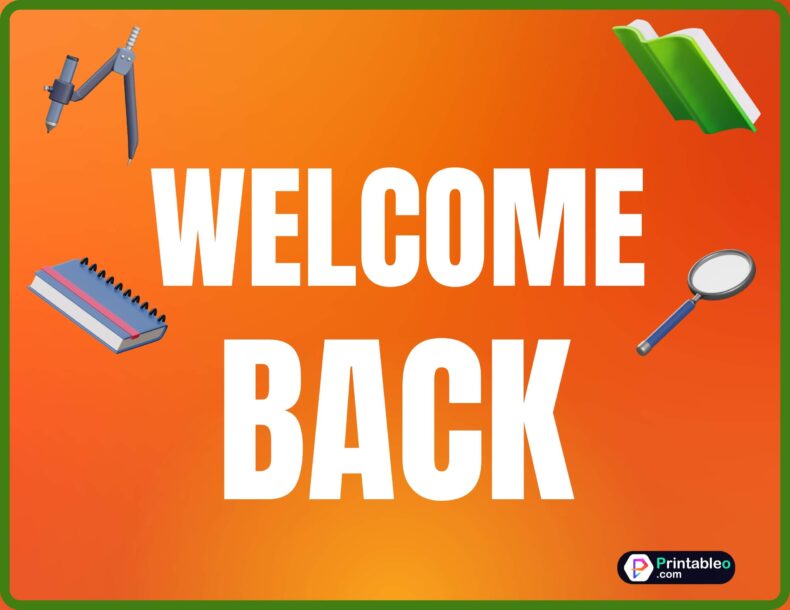 23. Free Printable Welcome Back Sign:
24. Cute Welcome Back Sign:
25. Black And White Welcome Back Sign: