The festive season is just about to kick in, and here we are. Happy Halloween, everyone!
Are you planning to make this Halloween special like nothing before? I am quite certain you are!
After the dreadful pandemic, people are in a cheerful mood, and we all truly want to go back to our old happy days enjoying and celebrating festivals rather than being locked in a home frightened by an unknown fear.
To make this occasion truly memorable, we have included more than 60+ Printable Halloween signs that you can utilize to decorate your home and front doors. You can even announce that our store will be open or closed during Halloween; you will organize a Halloween Party, organize a trick or treat, and even enrich your Halloween costume and much more.
Let's Spread the Season's Greeting with these Halloween Signs
Here are some adorable Halloween décor accents which could be used to simply wish people happy holidays. These whimsical signs feature monster crews, scary pumpkins, spooky cats, and haunted skulls that are perfect for a Halloween decoration as well as for wishing people.
These designs come in standard paper sign measurements with instant PDF print mode. Print them out, and you can simply use a hanger to place them on a wreath, front door, or front lawn. We have included 6 printable assets under this category.
1. Modern Halloween Monster Sign
2. Printable Happy Halloween Signs:
3. Spooky Halloween Sign: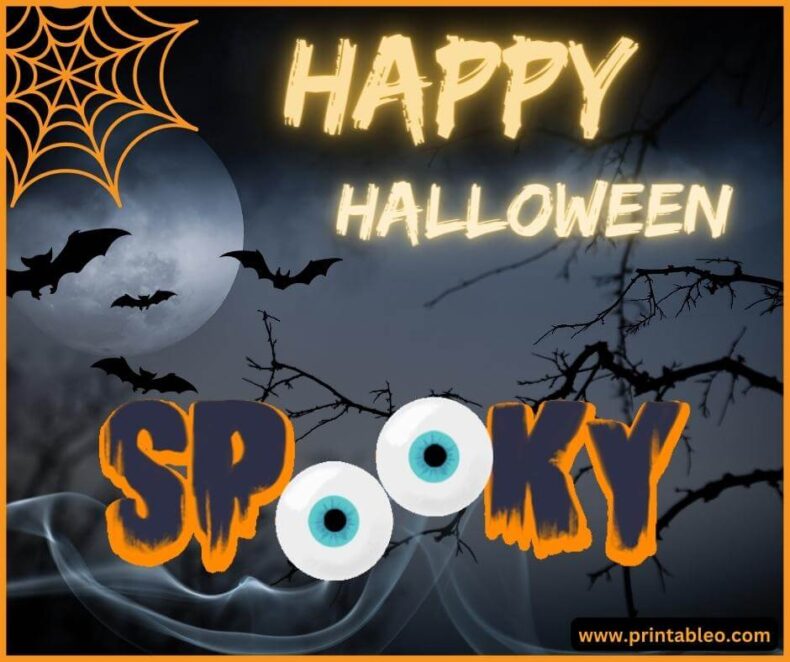 4. Creative Spooky Halloween Sign:
5. Black Orange Illustrated Printable Halloween Signs:
6. Black And White Halloween Sign: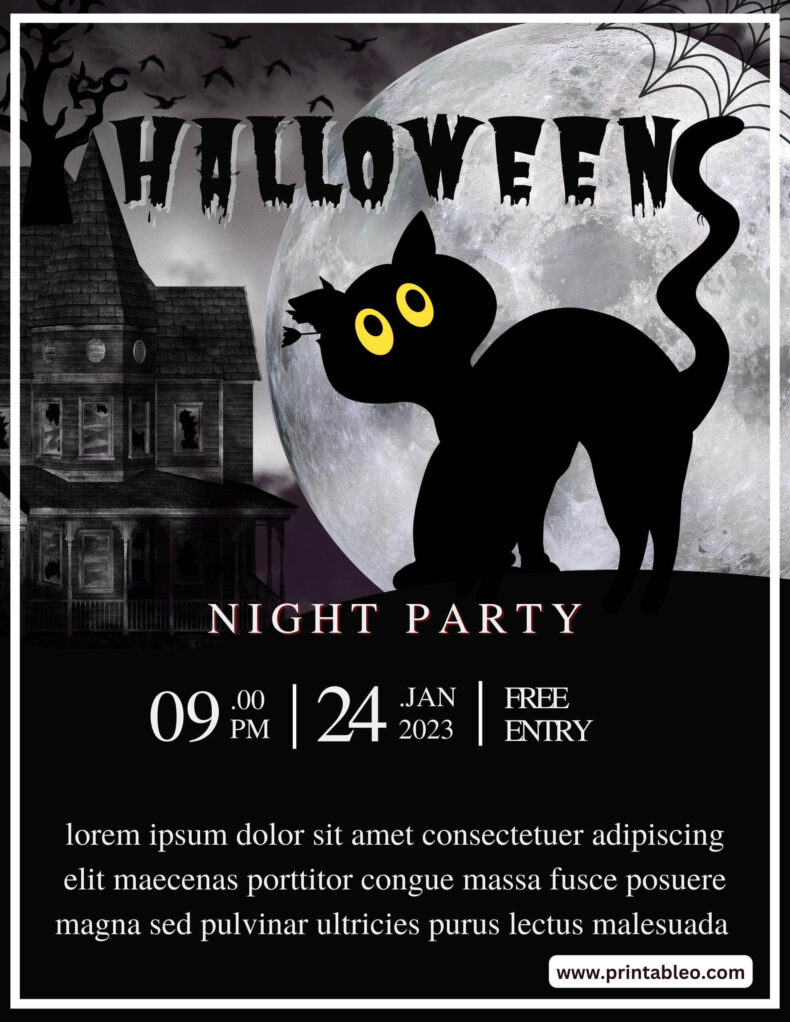 Let everyone know about your Halloween party with these printable signs:
If you are planning a Halloween party for your children or an adult event, it's extremely critical that you spread the news by posting Halloween Party Hours Signs at key locations. These diversified printable designs consist of different information like where and when the party is going to take place, how your guest can get into the party along with where to wait in line to enter the main event place.
The party hours sign will convey exactly how long the place will be open and also if they would need a ticket for the ticketed event.
7. Black Halloween Haunted Party Sign:
8. Purple Happy Halloween Sign Template:
9. Happy Halloween Party Hours Signs:
These Halloween free party hours sign templates will give you wings to customize the design and text so that they will be unique and serve all the purposes rightfully. Using a PDF editor, you can change the font size, style, and color combination to make the design stand out and attractive.
All the designs come in a printable version that can be printed with a click but you can also use them on social media pages or postcard promotions.
10. Green Black Halloween Party Starts Hours Signs PDF:
11.
Celebrating Halloween Party Hours Sign:
12.Celebrating Halloween Spooky Party:
13. Purple And Orange Happy Halloween Party Sign:
14. Halloween Party Poster Sign:
15. Green Spooky Halloween Party Invitation Sign:
Customizing a Halloween Costume Party Sign
One of the main attractions of celebrating Halloween is indeed a costume party. How imaginative one can be with their unique and weird party costume is the ultimate goal, and we all love this to the core. Are you planning to arrange a costume party this year? Then consider these listed pintables we have included in this.
Crafting your own customize Halloween Costume Party Sign is easy and you can effortlessly do that even if you're not a graphic designer. Open any of the below-listed pintables with a PDF editor and create a unique Halloween costume party sign.
Bonus tip:
To add a little spice to your Halloween party, you can encourage your guest to dress up according to the party theme and deep dive into the Halloween spirit. Make sure to set up some props, extra dress-up items, crafted ornaments, etc.
You can even have a costume box for backup. Anyone who couldn't make it to the party event dressing up will have no excuse to get in the mood for the holiday.
16. Green And Black Halloween Costume Party Sign:
17. Colorful Halloween Costume Party Sign: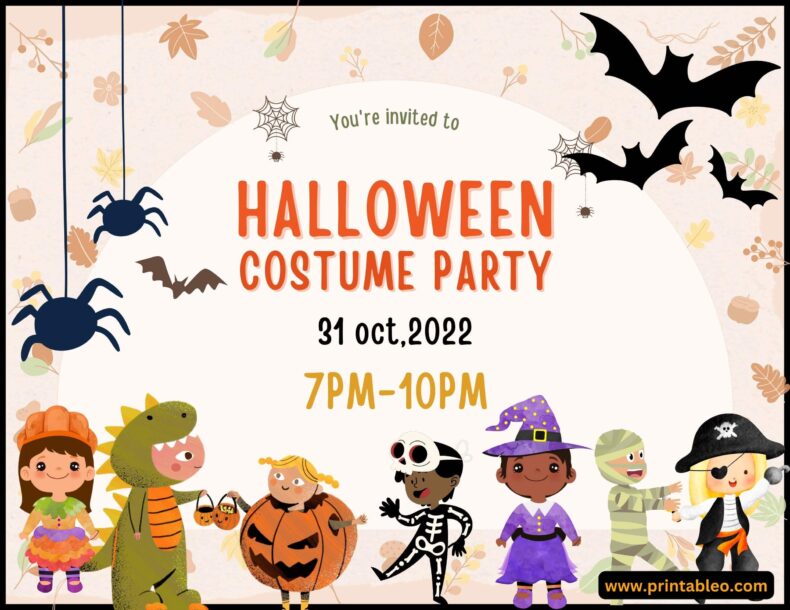 18. Halloween Costume Party Sign: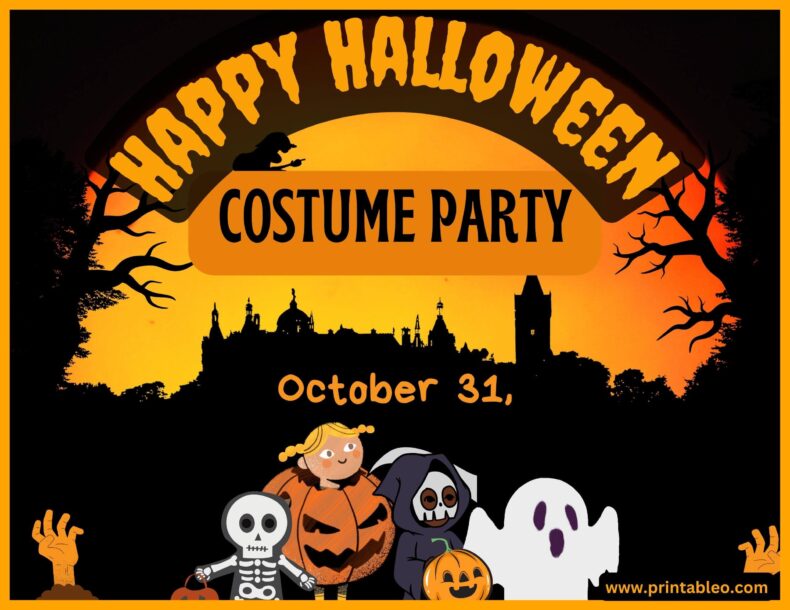 19. Happy Halloween Costume Party Sign: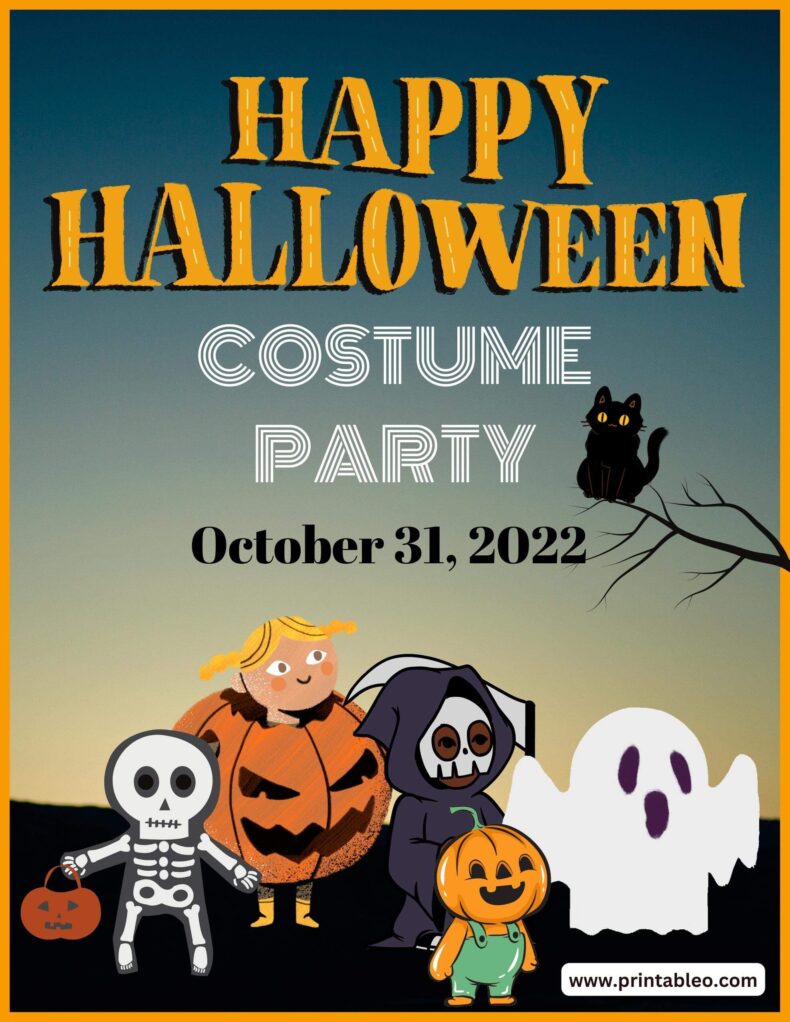 20. Halloween Party Time Signs:
21. Free Orang Halloween Party Sign:
22. Dark Purple Halloween Party Starting Hour Signs: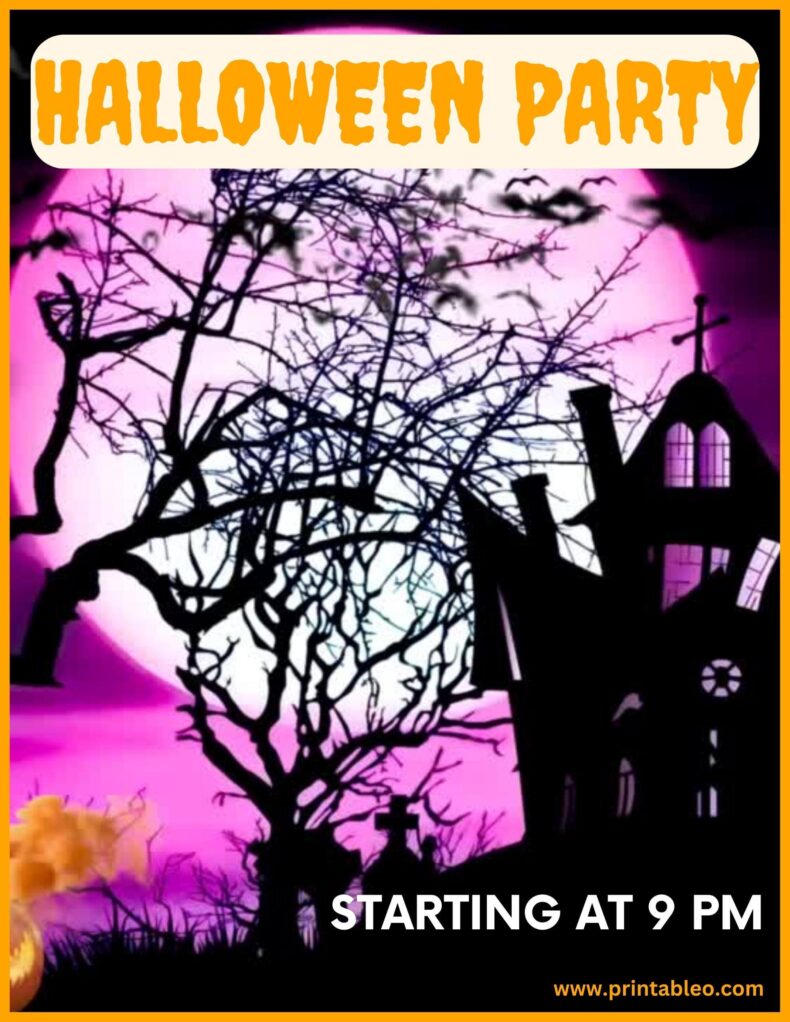 Open & Closed Halloween Sign:
If you own a local business and decide to keep your business premises or shop open on Halloween, you can post Open on Halloween Day sign. On the other hand, you can also use the "our office/shop will be closed for in the event of Halloween" to let people know about your availability.
Open & Closed Halloween signs are suitable for commercial sectors that have fixed working hours; such places can use these signs to inform the masses about their availability while spreading celebratory vibes in the workplace through Halloween-themed signs and decorations.
Some places stay closed on Halloween; they can post We Are Closed On Halloween signs to ensure that people are aware of their attainability and won't be misinformed about the said topic. These Halloween signs are well-designed to vibe with the Halloween theme.
23. We Are Open On Halloween Day Sign:
24. We Are Open Halloween Sign: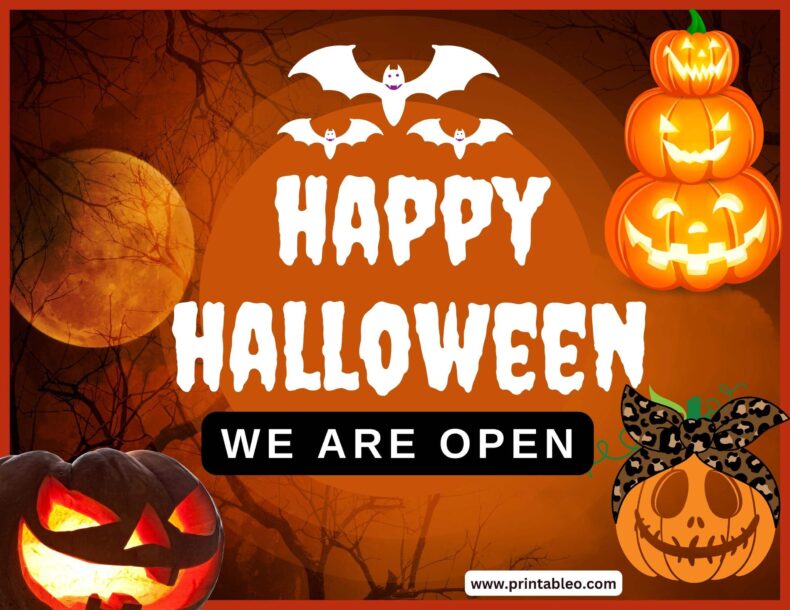 25. We Will Be Closed On Halloween Day Sign:
26. We will be open Halloween Day hours Sign Printable: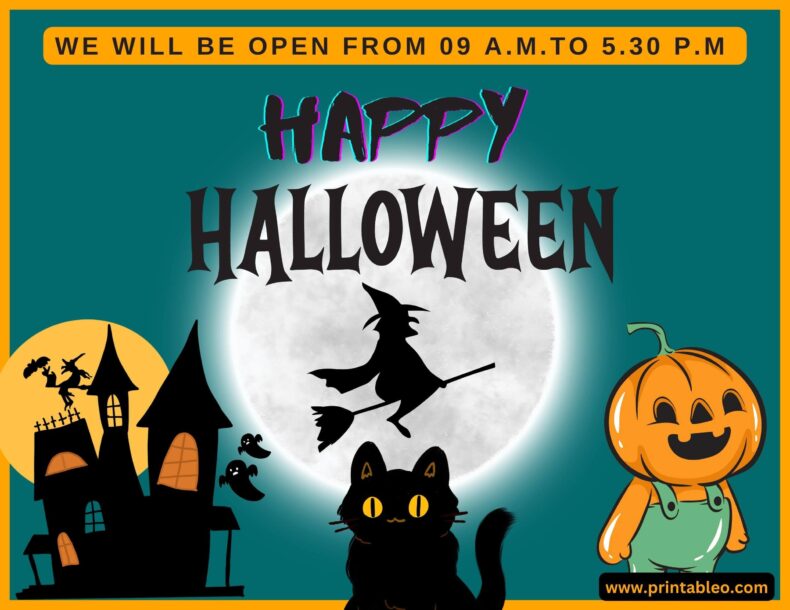 27. We will be open on Halloween Day From a .m_ p. m_ Sign:
28. Shop Will Be Open From A.M to p.m. Halloween Day Sign:
29. Closed For Halloween Day Sign:
Sale

Signs For Promoting Halloween Offers:
Several businesses have offers and sales on Halloween to utilize this festive opportunity to attract more people and increase profits. They have Halloween-oriented coupons, gift cards, and bonus offers that are applicable for a fixed time period, and people can enjoy these facilities on Halloween.
Such markets and stores can put up Halloween Sale signs to inform people about their Halloween offers, which can attract more customers and increase sale rates. Moreover, the listed sale signs have vivid Halloween-themed graphics and texts, enhancing the spooky mood.
Halloween sales are common in malls, shops, boutiques, and marketplaces, where customers get special discounts or gifts for the festival. Making banners, posters, and flyers with these Sale signs can promote a business while celebrating the essence of Halloween.
If you own a business and want to attract customers during the Halloween days, these Sale signs can be pretty useful. They are perfect to be used as stickers and posters, and you can decorate your area with these signs to spread the message.
30. Happy Halloween Sale Sign:
31. Halloween Sale Sign PDF:
Making A Halloween Based Trick Or Treat Sign:
Halloween traditions include several activities, one of them being going around neighborhoods for trick or treating. Most children, teens, and adults participate in this activity, where they go from house to house asking for treats on Halloween. It is a fun activity for children.
Putting up a Trick Or Treat sign lets the visitors know that you have treats for them, so they never feel disheartened on treat-less visits. You can download these printables and make them into posters, banners, stickers, and décor to hang outside your entrance.
The below-listed signs cover a varied range of Trick Or Treat messages, informing people about the treats, host availability, and even for circumstances where the host has a shortage of candies. These signs even wish the visitors for Halloween to uplift the celebratory vibes of this festival.
The signs can be downloaded easily, and you can use them as Halloween decorations since they match the spooky essence of Halloween perfectly through the graphics and animations.
32. Blue Dark Happy Halloween Trick Or Treat Sign:
33. Trick Or Treaters Welcome Signs: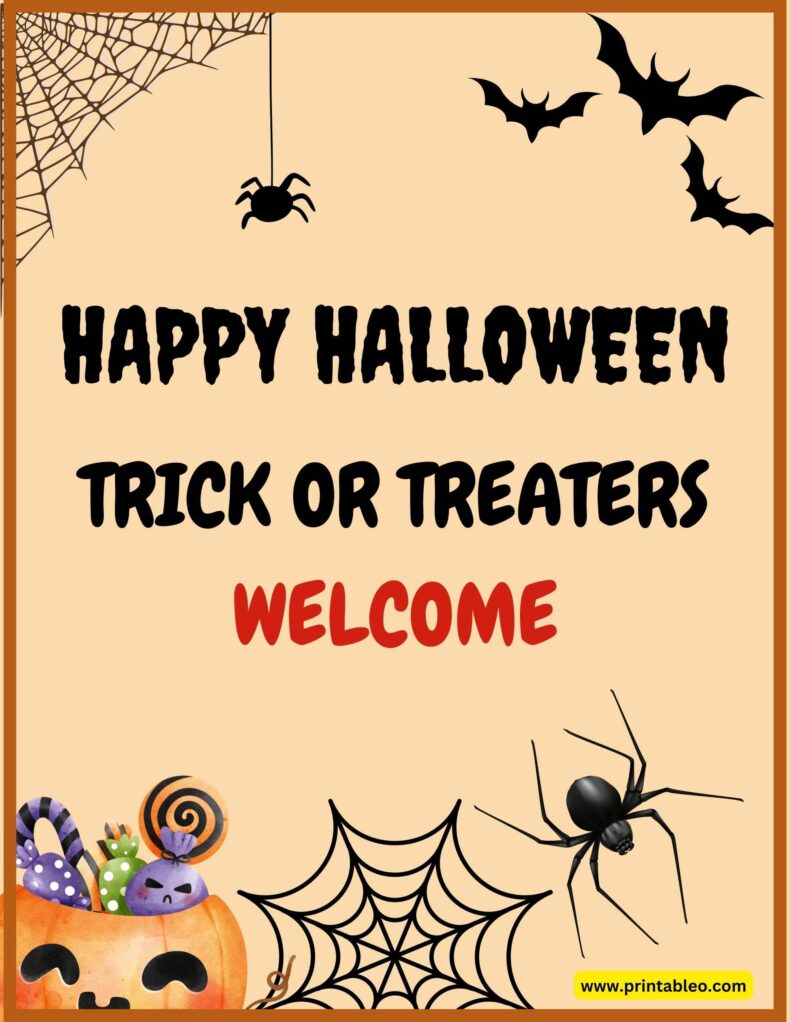 34. Trick Or Treaters Welcome Signs PDF:
35. No Trick Just Treats Signs: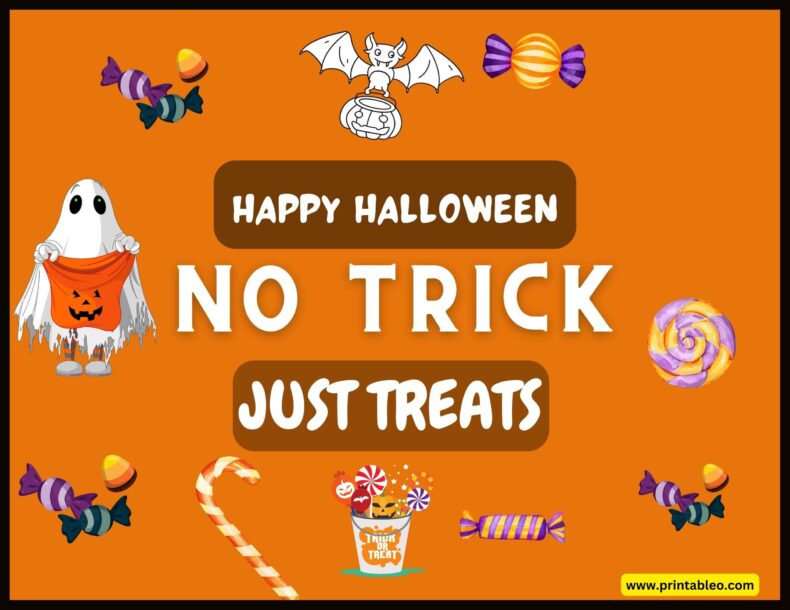 36. Gone Trick OR Treating Signs:
37. Gone Trick OR Treating Signs Template:
38. No Tricks All Treats Sign:
39. Halloween Trick or Treat Sign PDF:
40. No Trick Or Treaters Sign:
41. Gone Trick Or Treating Signs PDF:
42. We Are Out Of Candy Sign:
43. Trick or Treat Sign PDF: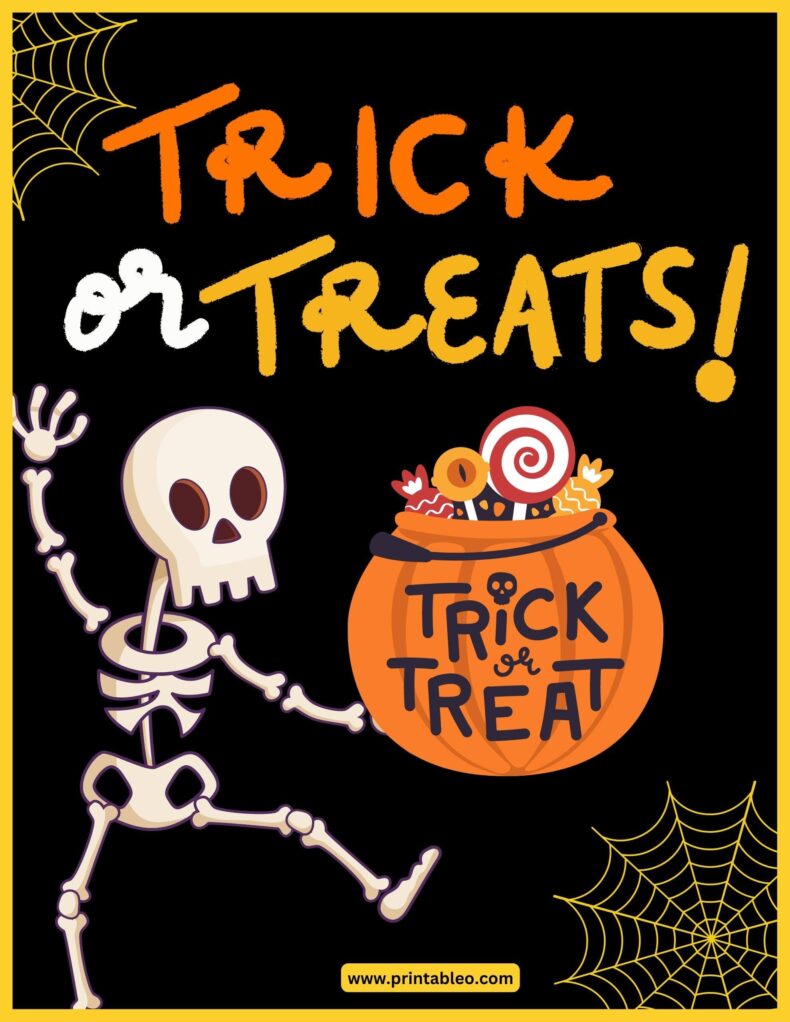 44. Trick or Treat Sign Template:
Custom-made Halloween Take One Sign:
Most private properties keep candies, cookies, chocolate bars, and other sweets on Halloween to offer to the visitors when they arrive for Trick or Treats. However, there are situations where unplanned treat distributions or too many visitors arriving might end the treat stocks.
To ration the treats equally and ensure more people can get them, you can put up a sign that states the visitors to take a fixed number and leave the rest for others. Such well-planned, polite rationing helps you to satisfy more visitors and prevent unwanted situations where an individual feels left out.
You can customize the treat count for each visitor as per your choice and put up banners, posters and stickers stating the instructions clearly while wishing them on Halloween. These signs can come in handy when you have a budget and do not want to spend extra on treats.
45.
Please Take One Candy Sign
: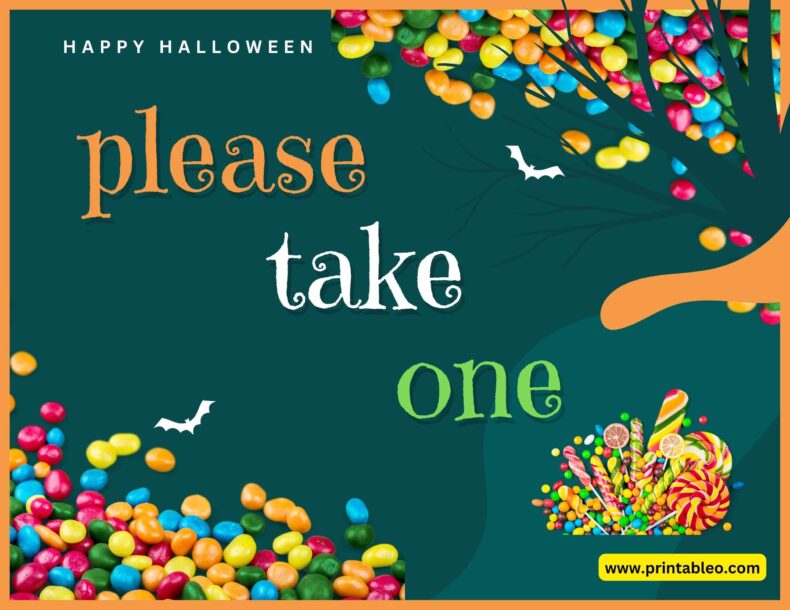 46.
Please Take One If You Dare Sign
: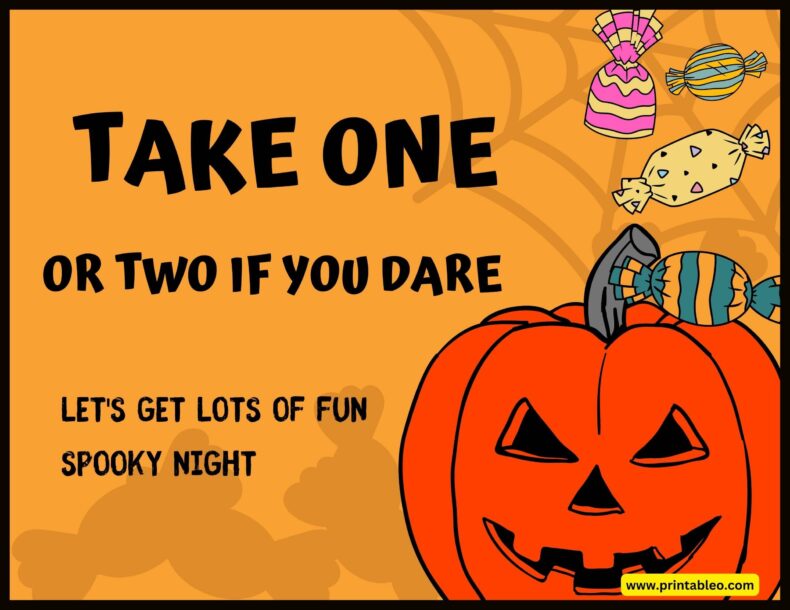 47.
Please Take One Sign PDF
:
48. Please Take One Signs:
49. Please Take Just One Treat Halloween Sign:
50. Sorry, No Candy Here Sign:
51. We Are Out Of Candy Halloween Signs:
52. Sorry, We Don't Celebrate Halloween Sign:
min.pdf" target="blank" size="6″ center="yes" icon="icon: download"]Print[/su_button]
Halloween Invitation Signs For Partying With Your People :
The Invitation signs listed below are appropriate for a host property that is celebrating Halloween. The Halloween-themed signs are great to be used as stickers, posters, decorations, banners, and invitation cards. Each of these printables have unique features, and you can choose as per your needs.
53. Dark Purple Halloween Party Invitation Signs:
54. Black Halloween Invitation Signs:
55. White and Purple Modern Halloween Night Party Invitation Sign:
56. Purple Halloween Invitation Sign:
57. Orange Black Spooktacular Halloween Party Invitation Sign:
58. Halloween Night Party invitation Sign Template: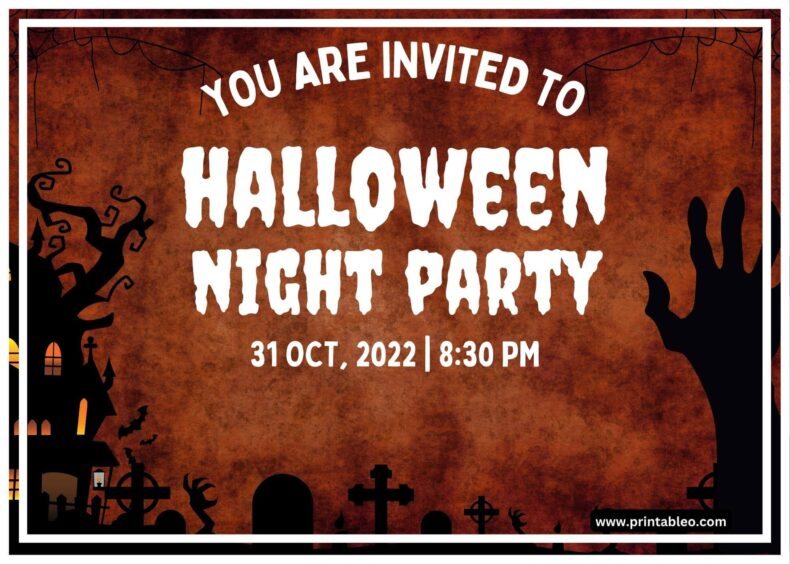 59. Creative Happy Halloween Sign: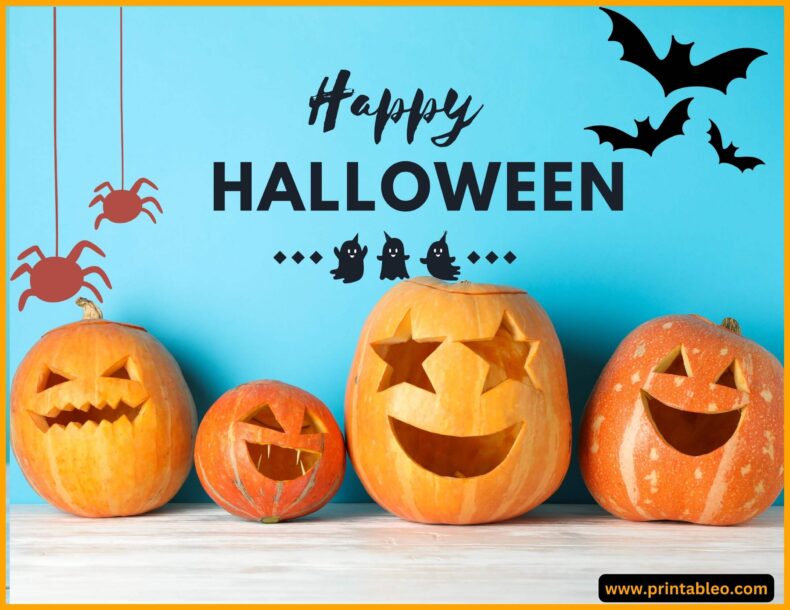 60. Creative Happy Halloween Flyer Sign:
You can print these signs in any quantity you want and distribute them in your area as posters, banners, flyers, stickers, and cards. They are free to download and available as pdfs. The signs can be made into wonderful Halloween decorations and displayed for parties and get-togethers,
To give them a festive touch, you can try printing the signs on hard paper bases, which increases durability and portrays a better appearance as Halloween décor items. Once you've printed the sign into a Halloween celebratory decorative, you can hang it on your porch or any place near your entrance for the guests to see it.