Important venues with high-priority workloads, like official sectors, businesses, hubs, educational institutes, medical grounds, commercial sites, industrial areas, and so on, have numerous employees working in them, with individual office spaces for different sections. They operate with perfection if the working areas have proper instructive signals.
If you assist other team members in your work or have a leading position that requires you to guide other employees or simply serve the clients. In that case, your presence is absolutely necessary in the working area, and in case you are unavailable, the right thing to do is to inform everyone. This problem can be easily solved using an Out Of Office Sign.
When an employee is away from their workstation, there can be uncalled miscommunications and increased chaos if the people are not informed about the same beforehand, who might face harassment and trouble while trying to reach out to the person on leave. Hence, a simple and understandable printable can be placed to get the job done with accuracy.
These printables enlisted in the below compilation on 20+ Out Of Office Signs can be used to create various informative content like posters, banners, placards, stickers, boards, signals, and so on. The printables are easily accessible as they are presented to you in a simple PDF format, which also lets you customize the designs.
1. Black And White Out Of Office Sign:
This Black And White Out Of Office Sign is an uncomplicated printable design that uses a bicolored approach to spread the message among the viewers. It includes bold and specific instructions that are implemented using distinct textual notes, which can quickly gain the attention of the people passing by the sign.
The simple outlook of this printable makes it perfect for every possible venue, including official sectors, commercial areas and also for professional units. You can use it in customer service sectors, management team sections, administrative offices and other important places that require uninterrupted assistance for clients or employees and send across the message clearly that that assistance is out of the office and will be back in due time. Till then, they should wait here.
2. Stepped Out Of The Office Sign:
When you have your meal break or bio break and need to inform about your absence in your office or cubicle, you can easily put up an informative sign that allows everyone to learn about the scenario. It works perfectly as a precautionary measure to avoid unwanted miscommunications and also helps in reducing commotion effortlessly.
The above printable on Stepped Out Of The Office Sign can quickly spread the note using its straightforward design that is easily understandable and clearly readable. Using bright and vibrant colors like blue, yellow and red for the textual content make the printable design visually attractive. You can create a huge variety of content using this sign.
3. No Smoking Room Sign: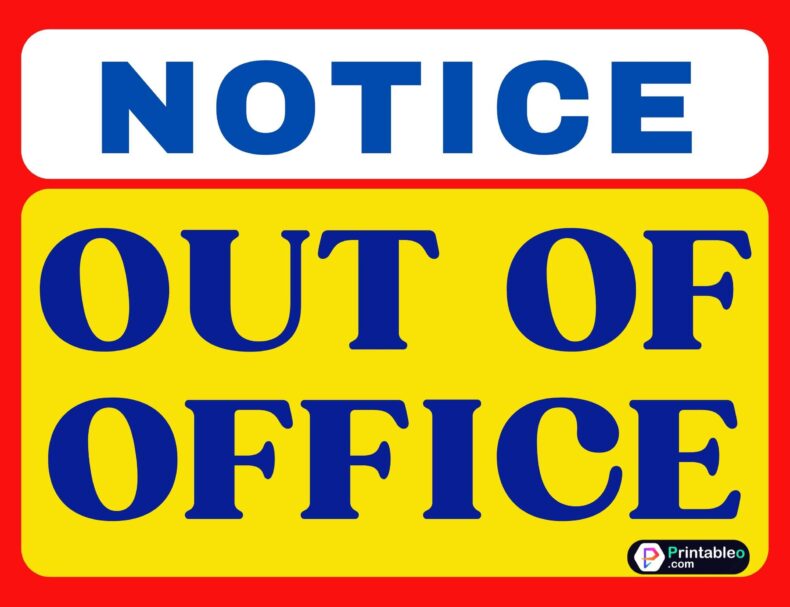 4. Printable Out Of Office Sign:
This printable uses highly contrasting colors that complement each other to make an efficient printable design. The sign is visible as well as can be read from far away through its simple outlook that uses contrasting tones for its content. The distinct and clear texts add clarity to the subject matter, making the sign perfectly applicable for various venues.
The clearly visible warning note on the top of the Printable Out Of Office Sign helps in gaining the attention of the viewers, successfully spreading the message among more people at the same time. You can make posters, banners, placards, stickers and signboards from this printable and place them accordingly based on your needs.
5. Out To Lunch Signs For Office Door:
Places that have constant workflow ongoing inside the premises have to keep the load balanced and inform the people if there is any pause in the working hours. Each of these venues have lunch hours, some with a fixed schedule while others allow the individuals to choose their meal time as per their mood.
If an employee or an executive leaves their workstation for meal breaks, they are unavailable for the time being and any person trying to reach them during those moments might face harassment and frustration on being unable to communicate. Putting up this Out To Lunch Signs For Office Door can be used to inform everyone with ease.
6. Out To Lunch Sign For Desk:
7. Out Of The Office Signs:
8. Out Of The Office Sign:
The Out Of The Office Sign is a downloadable printable that clearly spreads the idea using a straightforward design. It portrays contrasting tones that highly complement the design, making it visually appealing and helping to gain the attention of the people. By using bright tones for the text and dark background, this sign can easily get the job done.
You can download this printable using the simple click-to-download feature of these PDFs. The format of these signs allows you to customize them further if you want to add more specific details or modify the entire outlook to match your individual requirements. A variety of textual contents can be made from this sign, like posters, stickers and placards.
9. Out Of The Office Door Sign:
10. Out Of The Office Clock Sign: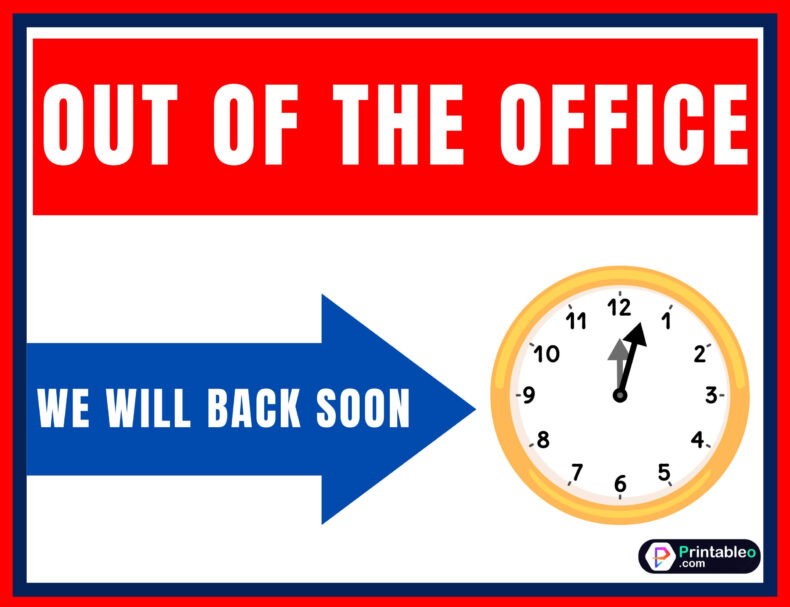 11. Out Of Office Will Return Signs:
A clear and understandable printable design allows the viewers to stay informed about the subject matter without any unwanted complexities and misconceptions. This Out Of Office Will Return Sign can help you to convey the message about your unavailability, depicting the note in an easily readable manner.
Bold and vibrant tones are used in the printable to add visual aids to the design. The symbolic representation enhances the main idea. It also includes a clear note regarding your availability along with a specified timing of return mentioned vibrantly in the printable outlook. You can customize the design to add a specific timing that suits your needs.
12. Out Of Office Will Return Sign:
13. Out Of Office Sign Template:
The Out Of Office Warning Sign Template is a simple printable design that can efficiently convey the message using a straightforward approach. It has visually distinct textual notes alongside symbolic demonstrations that add further clarification to the subject.
Posters, banners, stickers, signals, signboards, flyers and various other informative contents can be created using this sign. The easily downloadable feature of these printables allow you to quickly access and print them to make different textual notes that can be placed in a variety of different venues that have similar circumstances.
14. Out Of Office Sign For Door: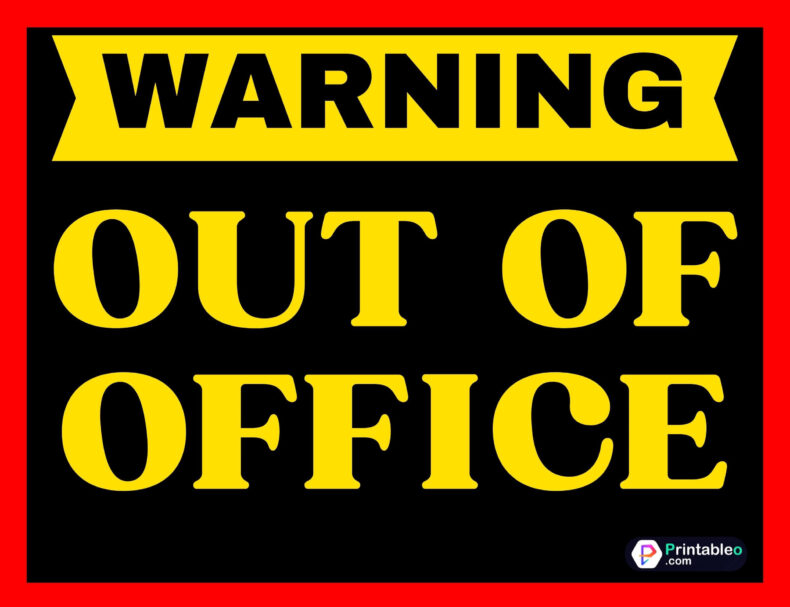 15. Out Of Office Door Signs:
This simple printable on Out Of Office Door Signs can be easily understood and read by the viewers as it conveys the message using a straightforward textual note that is bold and visible through its enormous font size that spreads throughout the printable space.
The sign is applicable for different public sectors, official grounds, medical centers, business hubs and other areas that have high priority workflows ongoing inside the premises and possess an urgent requirement to keep the people updated about their availability.
16. Out Of Office Door Sign:
17. Out Of Office Desk Signs: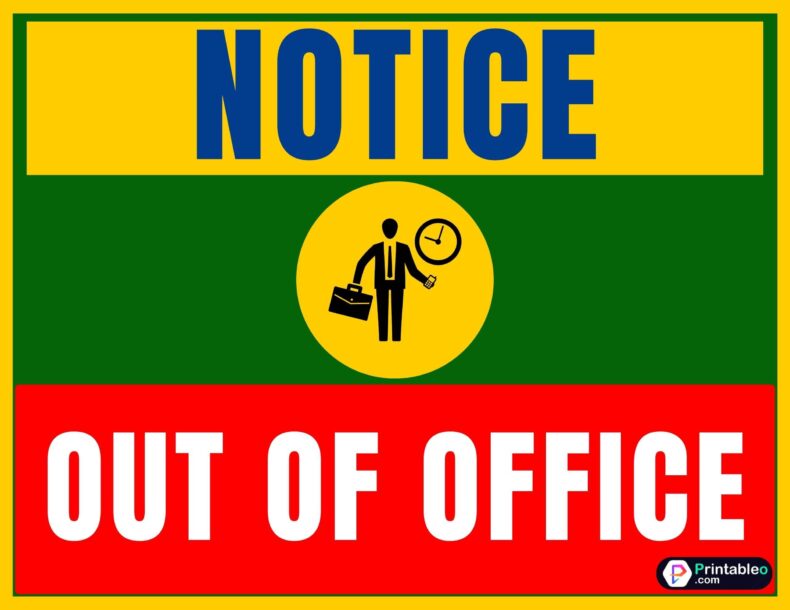 18. Out Of Office Desk Sign:
19. In Out Of Office Signs:
20. In Out Of Office Sign: