Thanksgiving is a widely celebrated national holiday held in countries like the United States, Canada, Liberia, the Philippines, etc. and takes place about a month after Halloween. It is a renowned festival that glorifies the people's thankfulness because of the previous year's harvest and other blessed inheritances.
Different work sectors, public places and private areas from the above mentioned countries celebrate Thanksgiving Day. Hence, they can use Thanksgiving signs to add to the décor and the celebratory ornamentations to enhance the occasional decorations.
Some places have Thanksgiving celebrations, some stay closed for the occasion, while most families enjoy having private gatherings. These places require decorations and party accessories, including banners, posters, flyers, invitation cards, and so on.
The below-listed collection of 35 Thanksgiving signs has varied messages and is suitable for every possible Thanksgiving day scenario! You can easily download them for use as you need, with the added advantage of being able to customize them any way you want.
1. Black and Orange Surname Thanksgiving Dinner Sign: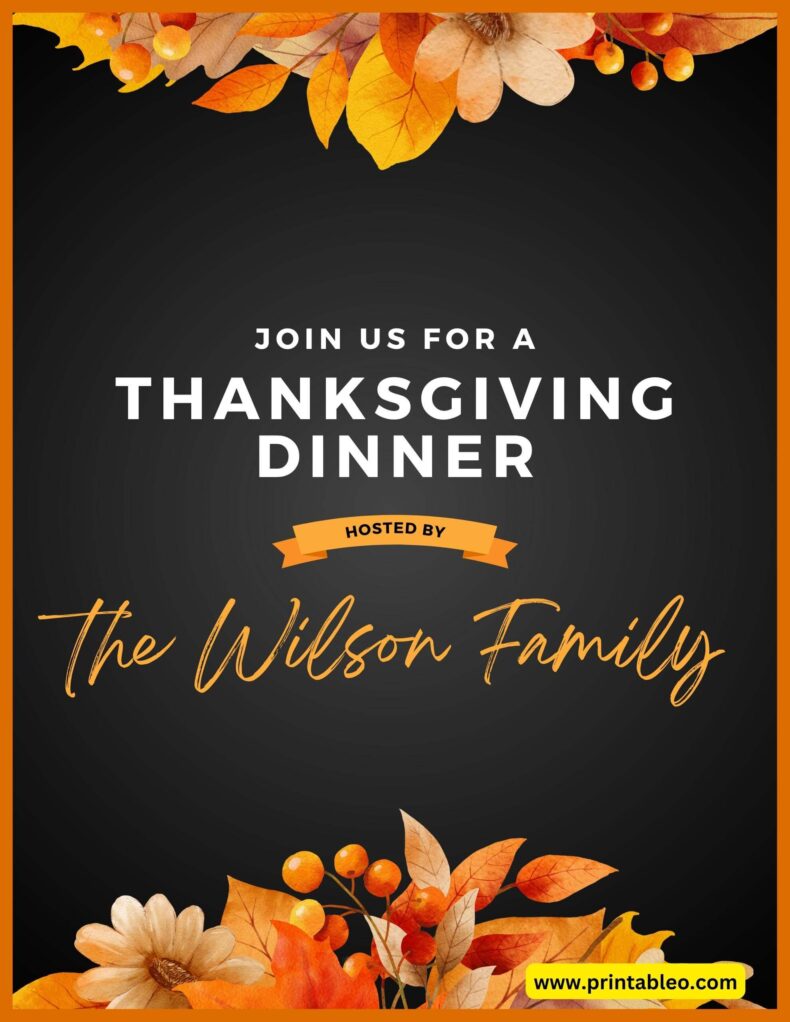 The Black And Orange Surname Thanksgiving Dinner sign is accurately made for a family gathering or a private hosting of a Thanksgiving party. The customizable surname area lets you invite people through the sign and greet them yourselves as the host.
This sign gives out a pretty vibe of autumn with the pumpkin-colored leaves used, which signifies the theme of Thanksgiving. The informal approach of invitation makes this sign suitable for every private Thanksgiving Day party and Thanksgiving family dinner.  
2. We Will Be Open On Thanksgiving Day Sign:
This sign is perfect for businesses, commercial areas and workplaces that can share the positive message stating 'Happy Thanksgiving' while informing folks about their availability on the said holiday. The We Will Be Open On Thanksgiving sign gets its job done very efficiently.
The graphical background of this sign is a vivid portrayal of the cultural significance of Thanksgiving Day. The pumpkins and the turkey depict the uniqueness of this day, and this sign successfully spreads the joy of the festive day.
3. Our Office Will Be Closed On Thanksgiving Day Signs:
This sign can be used as Thanksgiving décor in workplaces that won't be available this holiday. Most offices in the countries celebrating Thanksgiving grant leave to their employees on this day, though some commercial areas might be bound to stay open.
The above printable can be used as banners, posters, and flyers to enhance the mood of the cultural holiday with its Thanksgiving theme, which is vividly visible through the autumn-based graphics included in the sign.
4. Open For Thanksgiving Day Signs:
The Open For Thanksgiving Day sign listed above is appropriate for places with a fixed opening time, which is customizable after you download this printable. This sign can be made into posters or banners and used as Thanksgiving decoration.
5. We Are Open On Thanksgiving Day Sign:
6. We Will Be Open On Thanksgiving Day From A.M_ P.M_:
This sign on We Will Be Open On Thanksgiving Day From A.M._P.M. is perfect for day-based businesses with fixed working hours. The authorities of such properties can download this sign and create banners and posters according to their work schedule.
7. We Will Be Closed Thanksgiving Day Signs:
8. We Are Closed Thanksgiving Day Sign:
9. We Will Be Closed On Thanksgiving Day Sign PDF:
10. Closed For Thanksgiving Signs:
11. Thanksgiving Dinner Menu Signs:
The above printable sign is based on the Thanksgiving Dinner menu and is applicable for a private party or family gathering with a festive meal. The list is customizable and gives the feel of a vintage farmhouse-oriented Thanksgiving gathering through its retro look and textured animations.
12. You Are Invited To Thanksgiving Day Signs:
The You Are Invited To Thanksgiving Day sign has strong evidence of the Thanksgiving theme; hence it can be used as banners, posters, wall décor, invitation cards, and varied other items. It creates a positive vibe of celebrating the holiday while inviting people to share a meal, spreading harmony.
You can add further details to this sign with topics like the address of the venue, celebration timings, dress codes and other gathering-related instructions since all of the printables from this collection can be downloaded and customized to meet specific needs. 
13. Thanksgiving Dinner Invitation Hours Sign:
14. Thanksgiving Celebration Invitation Signs:
This simple Thanksgiving Celebration Invitation sign is wonderfully designed and can be used in multiple types of Thanksgiving festivities, from professional observances to small family gatherings. The invitation message is clear, and the decorative graphics add to the flavors of Thanksgiving Day.
15. Office Will Be Thanksgiving Day Sign:
16. Celebrating Hours Thanksgiving Day Sign: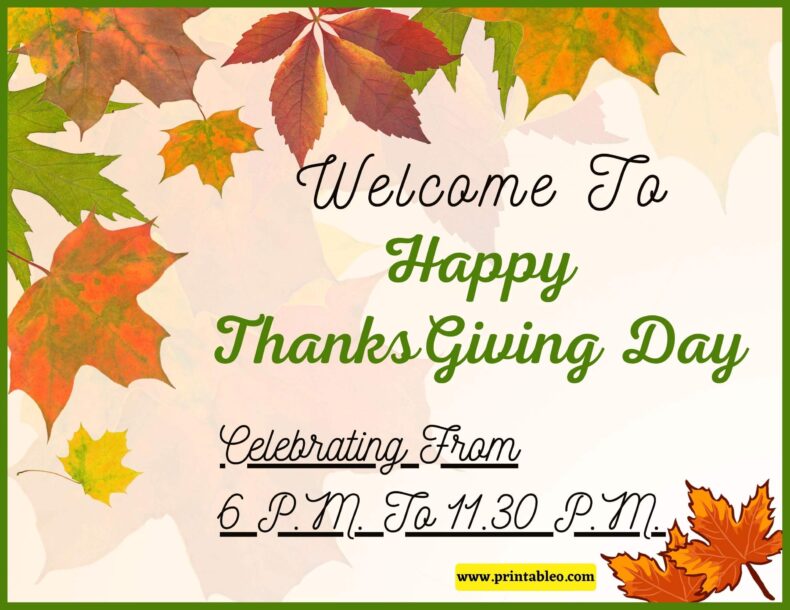 17. Happy Thanksgiving Hours Sign:
18. Happy Thanksgiving Day Hours Signs: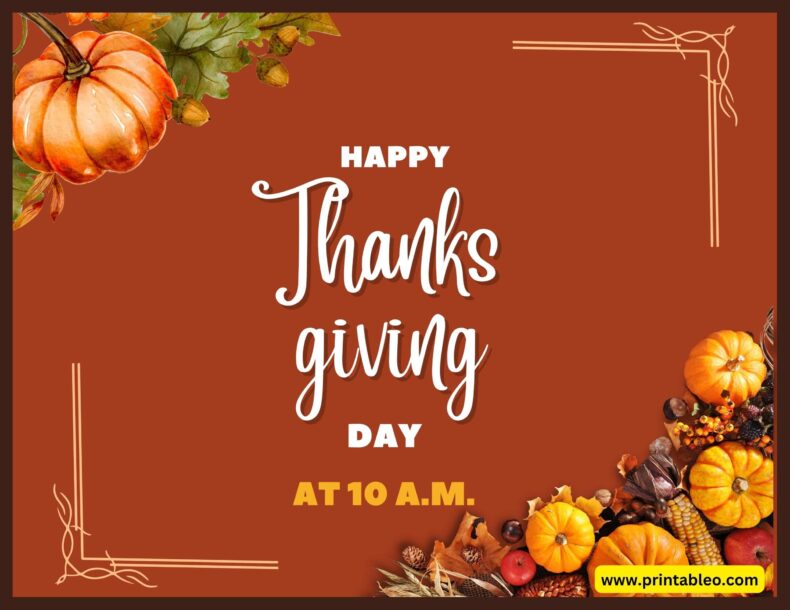 19. Happy Thanksgiving Hours Sign PDF: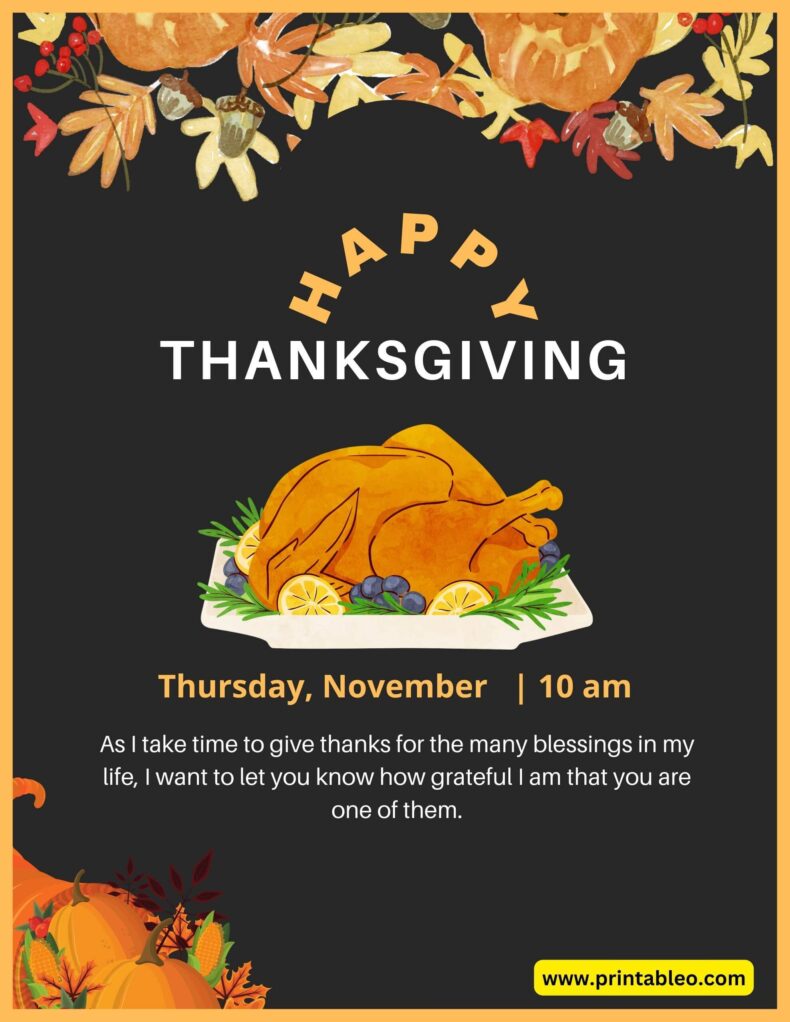 20. Happy Thanksgiving Wooden Sign:
This Happy Thanksgiving Wooden sign is great to be used as posters, invitation cards, banners, stickers, and even wall décor. It has a simple, aesthetic appearance with significant attention paid to the Thanksgiving day theme.
The chosen colors are very accurate and match the colors of autumn, making this sign a perfectly usable printable for several celebratory scenarios. Printables are a prevalent form of online content that helps design different festive necessities for every occasional need.
21. Happy Thanksgiving Sale Signs:
22. Happy Thanksgiving Event Sign:
23. Happy Thanksgiving Day Sign Template:
24. Happy Thanksgiving Day Signs:
25. Happy Thanksgiving Celebration Sign:
26. Happy Thanksgiving Day Signs:
This simple black-and-white happy Thanksgiving sign successfully sends Thanksgiving greetings uncomplicatedly. The bold and straightforward textual message makes this perfect for official gatherings where it can be used as banners and invitation cards.
27. Happy Thanksgiving Day Sign PDF: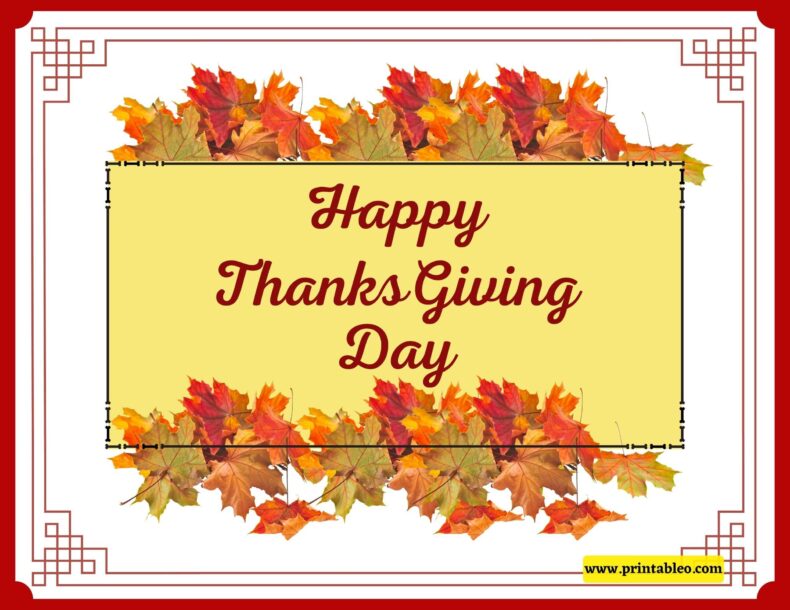 28. Creative Thanksgiving Day Sign:
29. Thanksgiving Porch Signs: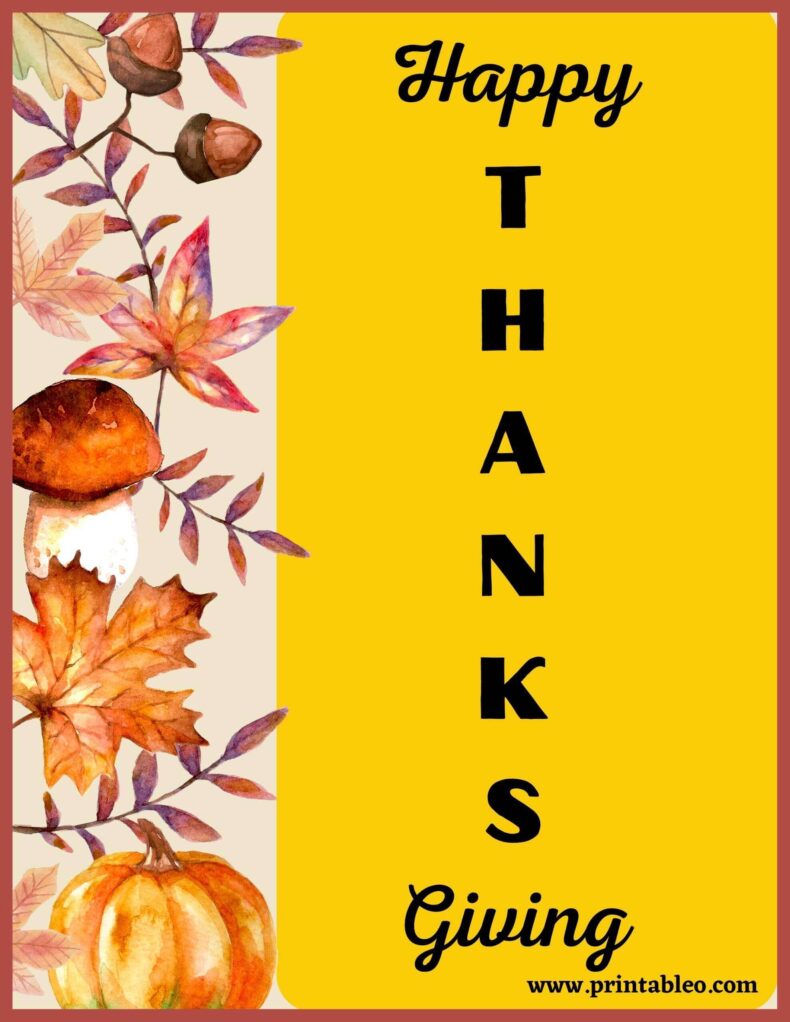 30. Thanksgiving Welcome Signs:
31. Thanksgiving Wood Signs:
32.Thanksgiving Yard Signs:
The above-listed wonderfully designed Happy Thanksgiving Yard sign has a beautiful aesthetic approach to spreading the message of this celebratory national holiday. Decorated with the perfect colors and elements of the Thanksgiving festivity theme, you can use the sign for varied purposes.
People can use this customizable printable to make simple yet visually desirable invitation cards, banners, posters, celebratory hangings, and stickers. It can be even further utilized by printing the sign on products like napkins, recyclable utensils and other urban party accessories.
33. Thanksgiving Door Signs: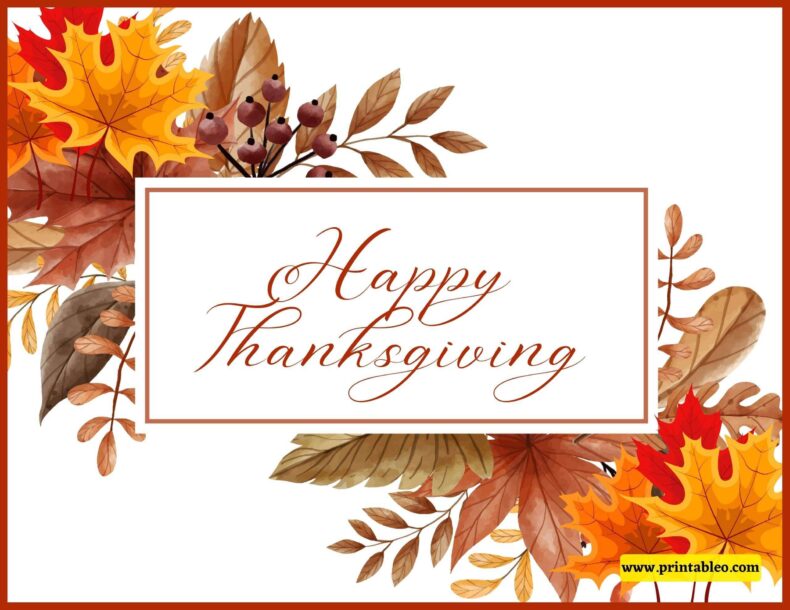 34. Black And White Thanksgiving Day Signs: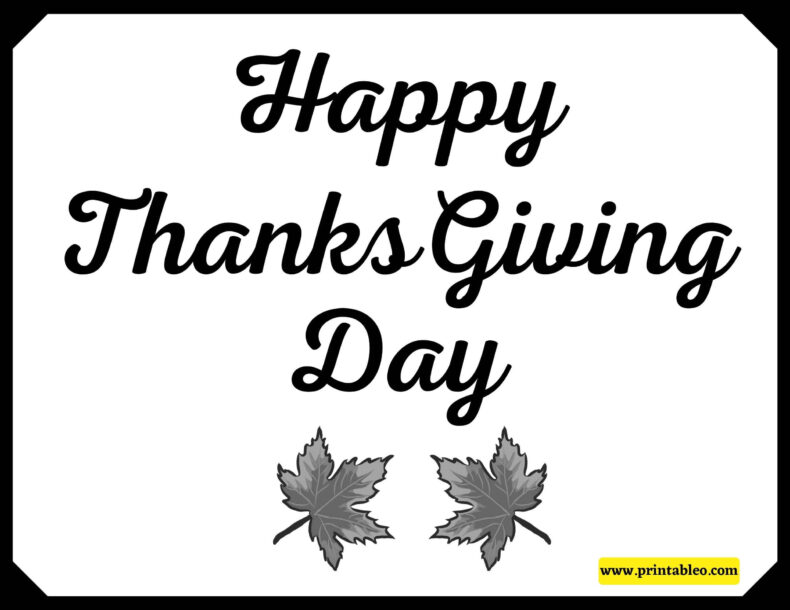 35. Printable Happy Thanksgiving Day Signs: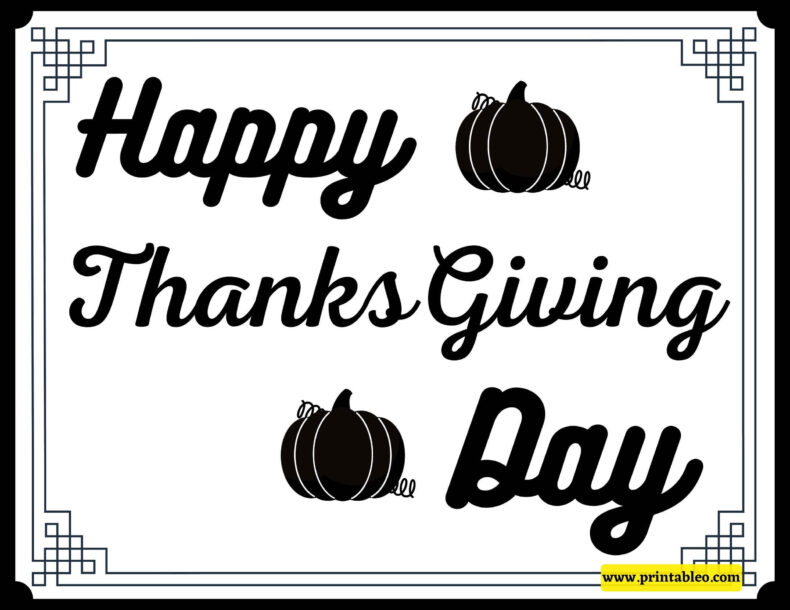 This black and white sign is visually attractive because of its varied font display with a bold appearance, presented alongside the subtle pumpkin symbol, which enhances the Thanksgiving vibes but very smoothly, without any unnecessary visuals.
Conclusion:
All the listed Thanksgiving Signs come in high-quality PDF format with customization facility. Feel free to download any listed Thanksgiving sing and use them in whatever manner you want.