Areas that encounter huge numbers of people visiting them on a daily basis are highly prone to damage and unhygienic conditions pretty quickly as many individuals access them, and such enormous quantities have successive issues with them. These places have urgent requirements to maintain the property regularly in a scheduled manner or when there is damage.
Ongoing maintenance work can be time-consuming and prevents people from accessing the area unless the work gets finished in order to maintain workflow and reduce the chances of unwanted health hazards or productivity issues that can arise if uncalled visitors enter the place. Hence, a simple printable on Maintenance Signs can be used to inform everyone.
Public places like recreational parks, museums, shopping malls, multiplexes, convenience stores, restaurants, roadways, bridges, highways, railway connectivity and other important service areas that are accessible to the common people have regular maintenance operations to resolve damage issues and keep the place usable.
This vivid compilation of 20+ Maintenance Signs is accurately useful for these areas, where they can inform everyone about the place undergoing maintenance services using a straightforward sign. You can make a variety of textual content using these printables, like posters, banners, stickers, signals, signboards, flyers and placards.
Also check:
1. Traffic Sign Maintenance:
The above-listed printable on Traffic Sign Maintenance is suitable for public areas that allow people to travel and commute from one place to another, including roads, bridges, highways, and lanes that have ongoing maintenance and renovation works to stabilize the conditions of the area and keep it accessible to the common people.
It uses dark and bold colors to attract the eyes of the people, along with a light-toned background that complements the textual and symbolic representations included in the design. The printable also portrays a graphical traffic cone symbol which helps in adding further clarity to the subject, allowing the people to stay aware and keep their distance from the work area.
2. Under Maintenance Sign: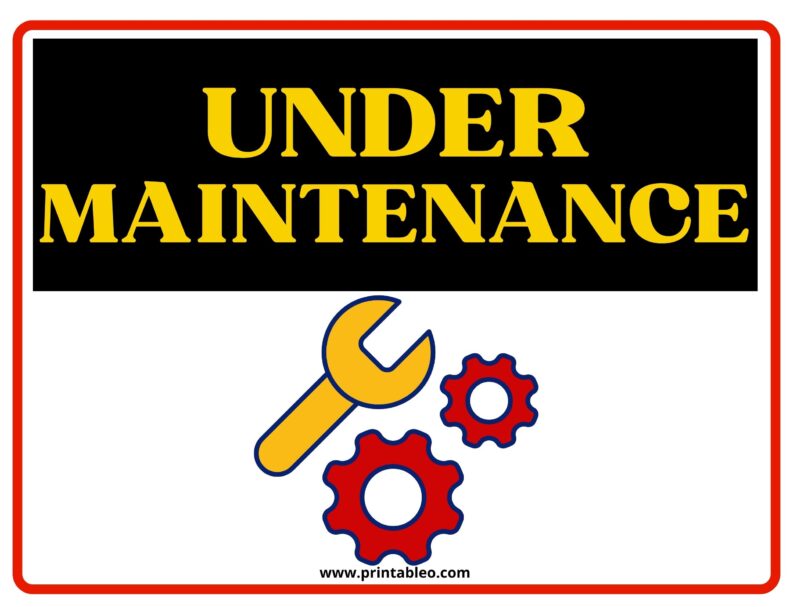 Most venues that acknowledge a huge number of visitors have to undergo regular maintenance services that are pre-scheduled or have to be implemented in order to renovate the property and cover up damages. Such areas can use this Under Maintenance Sign to warn the people visiting the premises about the current scenario.
The sign uses vibrant tones to convey the note, along with a bold and visible font style that can quickly attract the attention of the viewers. It also has animated implementations of nuts and screws that enhance the importance of the printable subject. You can download this sign with ease using the click-to-download feature of these printables.
3. Car Maintenance Signs:
4. Caution Sign Maintenance In Progress:
Conveying a cautionary message using a straightforward design, this uncomplicated printable on Caution Sign Maintenance In Progress can help the authorities to warn the people about the ongoing maintenance operations, allowing them to stay aware and keep their distance from the main work area, successfully getting the job done.
Several public sectors like official buildings, educational institutes, medical grounds, business hubs, and commercial sites also have maintenance services at times inside the premises; who can simply put up this printable as posters, banners, stickers, signals, signboards and flyers that are clearly understandable and readable for everyone.
5. Closed For Maintenance Sign: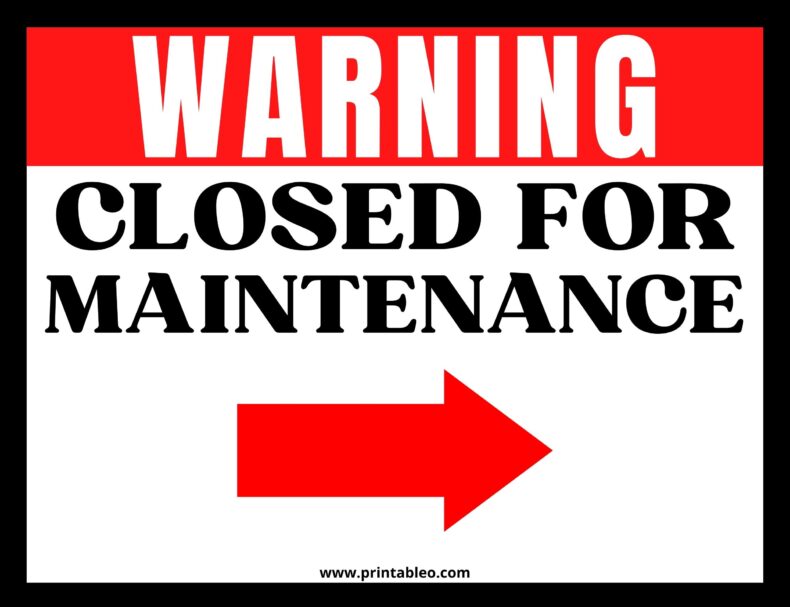 If an important venue has to be kept closed for maintenance services, the visitors need to stay informed about the situation in order to reduce chaos and unwanted visits. A clear sign that allows the people to know about the building's availability alongside conveying a subtle warning note can help to get the job successfully completed.
The Closed For Maintenance Sign comes in handy for these areas that have a similar situation of ongoing maintenance work. The uncomplicated approach of this printable makes it visually attractive, allowing people to understand the cause. This sign is applicable to a variety of venues and can be understood by people from every age group.
6. Elevator Under Maintenance Signage:
Buildings with multiple floors have escalators and lifts along with staircases to reduce hassle and improve productivity inside the premises. An out-of-order elevator can be frustrating when you are in a hurry, and we need to be made aware of the working status of the elevation services. These are the times when an informative sign is helpful.
The above printable has a bold yet simple design that uses bright colors to present the textual notes alongside an elaborate symbolic demonstration which makes the matter even more clear. This Elevator Under Maintenance Signage can be useful for making signboards, stickers, posters, banners and so on, which you can place near the elevator undergoing maintenance.
7. Highway Construction And Maintenance Signs: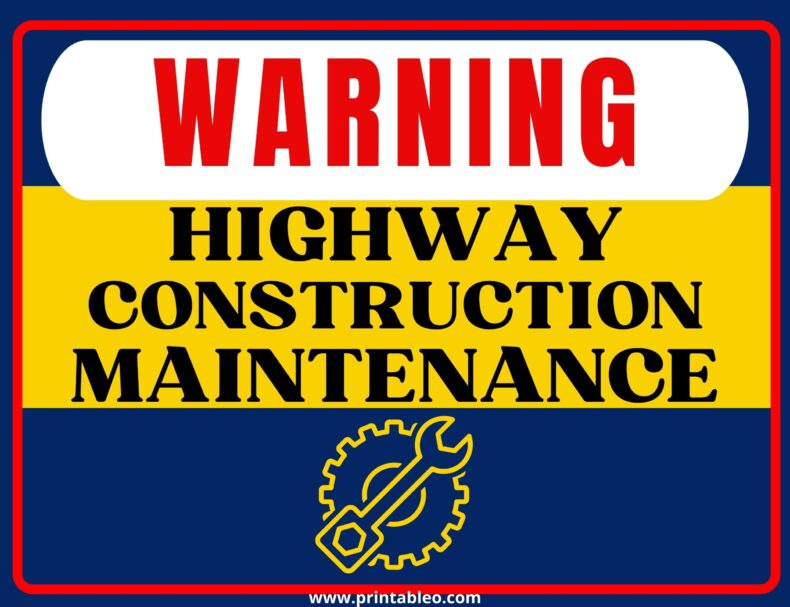 Most highways acknowledge heavy traffic flow, with several heavy-duty vehicles accessing them regularly. The highways have a higher speed limit and hence, any unwanted accidents occurring due to damaged or broken roads can lead to severe health hazards and even casualties. Thus, the highways require regular maintenance and renovation work.
This Highway Construction And Maintenance Sign is a printable design to help people understand the current conditions and act accordingly. You can make posters, banners, stickers, signals, signboards, flyers and banners from this printable design to spread the message in areas that have highway construction or maintenance work ongoing in them.
8. Highway Maintenance Signs:
9. Lift Under Maintenance Signage: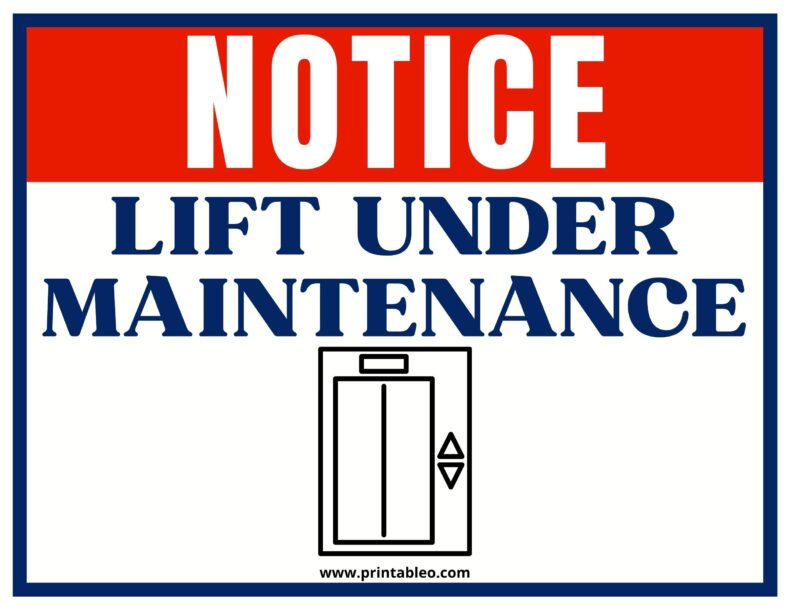 10. Machine Under Maintenance Sign:
Industrial sectors, commercial sites, official grounds, medical centers and several other venues have huge machinery in them to conduct the workload and balance productivity. An out-of-order machine can directly affect the profitability of the premises, causing chaos and commotion inside the property.
In order to keep the people informed about a maintenance operation that is ongoing to resolve the machine's work, you can post various informative contents that spread awareness note among the people effortlessly yet effectively. This Machine Under Maintenance Sign is a perfectly designed printable which is suitable for such situations.
11. Machine Under Maintenance Signs:
12. Maintenance Room Sign: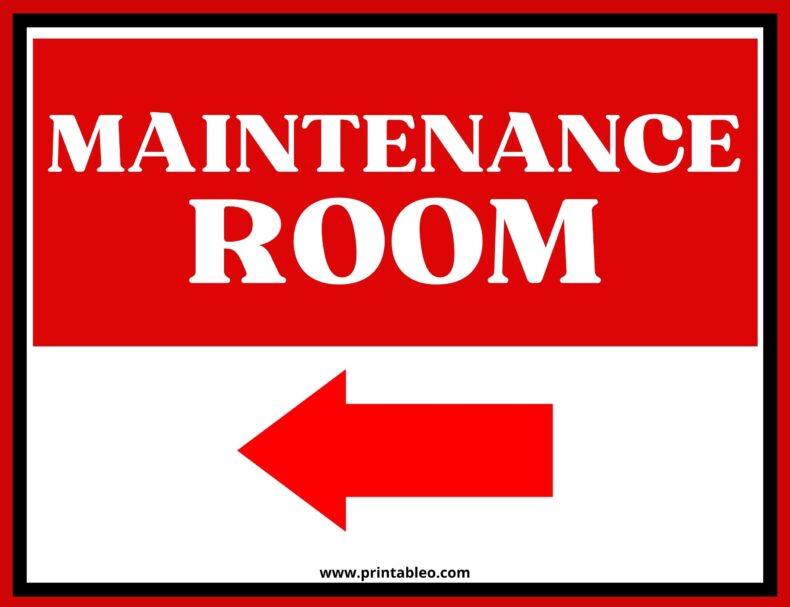 13. Maintenance Staff Only Sign:
When numerous people access an area, the important sections of the premises have to be kept distant from the common people so that they cannot access the private spaces. Mostly, these spaces are meant for the staff members and employees of the building, and allowing commoners inside that place can affect the ambiance and legal protocols.
The Maintenance Staff Only Sign gets the job of spreading awareness among the people perfectly done using its simple design. The bright and dark colors of the linguistic notes and graphical representations, along with a highly contrasting background, can easily attract the viewers, spreading the word among more people at the same time.
14. Notice-Maintenance Personnel Only Sign:
15. Pool Closed For Maintenance Signs: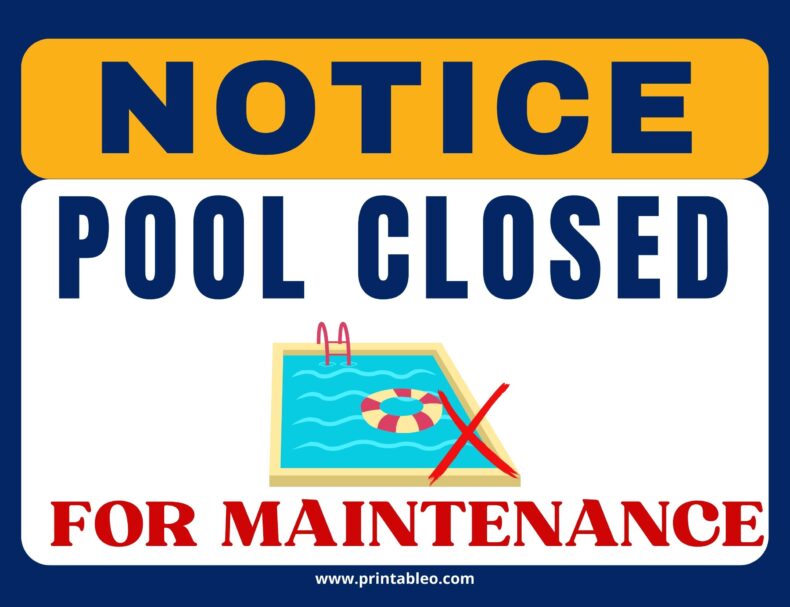 16. Pool Closed For Maintenance Sign:
17. Restricted Area Sign Maintenance Staff Only:
18. Restricted Area Signs Maintenance Staff Only:
19. Restroom Closed For Maintenance Sign: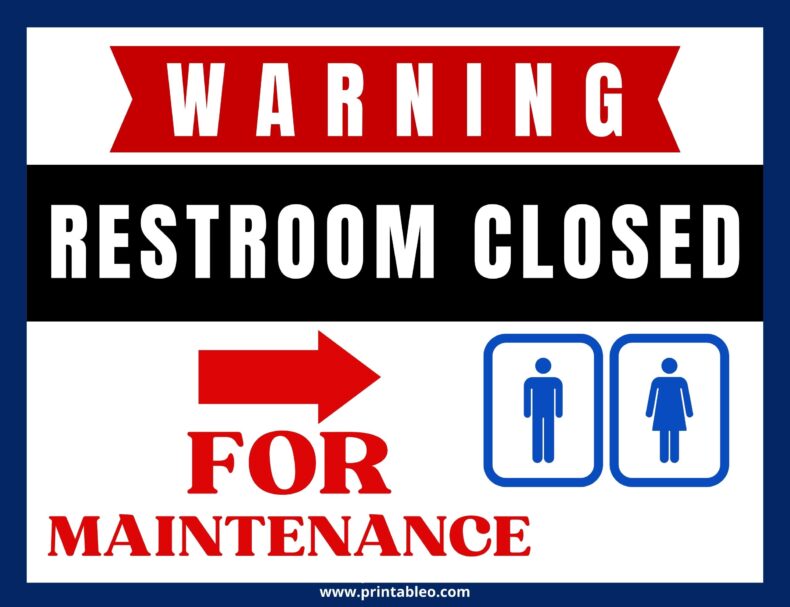 20. Road Maintenance Sign: