Bullying is a repetitive form of abuse faced by millions of individuals globally. Most bullying scenarios occur in educational sites and workplaces, though such incidents are visible in other places like neighborhoods and inside the home as well.
It is a serious form of abuse and can be mental, physical or even both. Hence, the places prone to such incidents have the urgency of putting up signs against bullying. Stop Bullying Signs can help people stay aware of this heinous activity and secure the premises from any such occurrences.
Most cases of bullying can lead to severe mental and physical damages, some of which affect the victim for their entire life. Such a serious issue needs to be prevented to ensure the involved people's safety and maintain a healthy atmosphere.
This compilation has a varied collection of instructive signs that warn people and prevent bullying under different circumstances in several work fields, be it educational or professional. The 15 signs enlisted below are for different uses, conveying the same motto of preventing bullying.
1. Stop Bullying Safe School Zone Sign:
The most common place where bullying occurs is in schools and colleges, where the students get victimized and bear the trauma for years. Excessive bullying can affect a student's mental and physical health at a delicate age; hence, it needs to be stopped.
The Stop Bullying sign above is appropriate for schools, as it mentions to ensure a Safe School Zone. The school administration can put up this sign to remind the students about maintaining a healthy moral character while promoting a safe space for their students.
2. Bullies Are All of The Above Sign:
This sign has a clear, graphical demonstration of bullying to clarify how bullies act. The elaborate animation helps the viewers to read the expressions and understand the cause. The inclusion of the animated representation also helps to build more empathy in the minds of the viewers.
3. Bully Free Zone Label:
The Bully Free Zone sign can be used to firmly inform the people about the unacceptability of bullying on the premises. This sign might be useful as stickers or posters in workplaces and educational sites to make sure the visiting individuals do not become a victim of the said abuse.
4. Bully Free Zone Sign: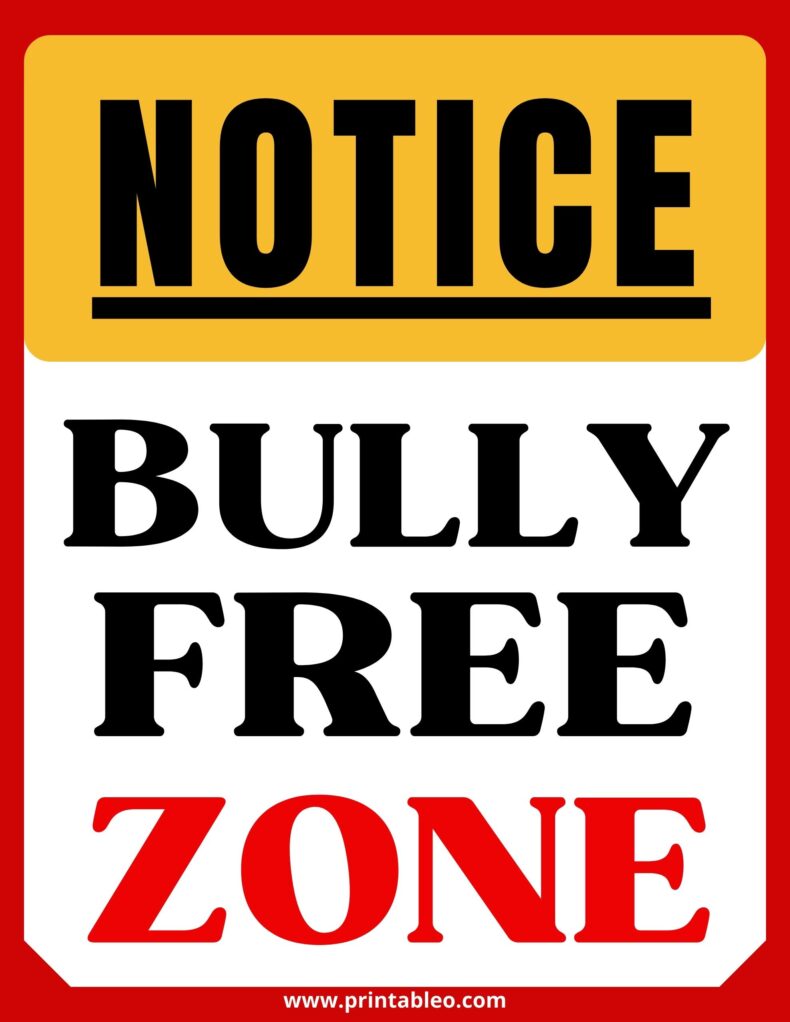 Putting up a notice that demonstrates a Bully Free Zone sign can be utilized to ensure the safety of the people alongside promoting the views of the authorities on bullying. It also digs a hint about the consequences of bullying to the people participating in such activities.
5. Bullying Is Against The Law Sign:
The Bullying Is Against Law sign helps portray the legal procedures against bullying and how it can affect the culprit. The sign can be used in bullying-prone areas to alert the people of the legal consequences of victimizing another individual through bullying.
Law enforcement against bullying has helped many areas overcome or reduce the said abuse. People are more likely to stop an action once they're aware of the criminal causes linked with it, and this is how the above sign can be very useful in spreading the correct message.
6. No Bullies Sign Template:
A person who is involved in bullying another individual is called a bully. The above sign can be useful to demonstrate how the premises is against such abusers and their actions. No bullies signs can be put up in workplaces to subtly spread the message against bullying.
7. No Bullies Sign:
8. No Bullies Warning Sign Template:
This high contrastive, subtle sign has a simple, symbolic message along with the textual warning. People can download these printable signs and use as per their requirements, and they can even customize the signs to add more specific instructions, if needed.
9. No Bully Label:
The No Bully Label has a graphic portrayal of intolerance towards such abuses. This sign has a clear message which is spread through its simple and quickly readable design. Posters, banners and stickers can be made out of this sign.
10. No Bully Zone Sign: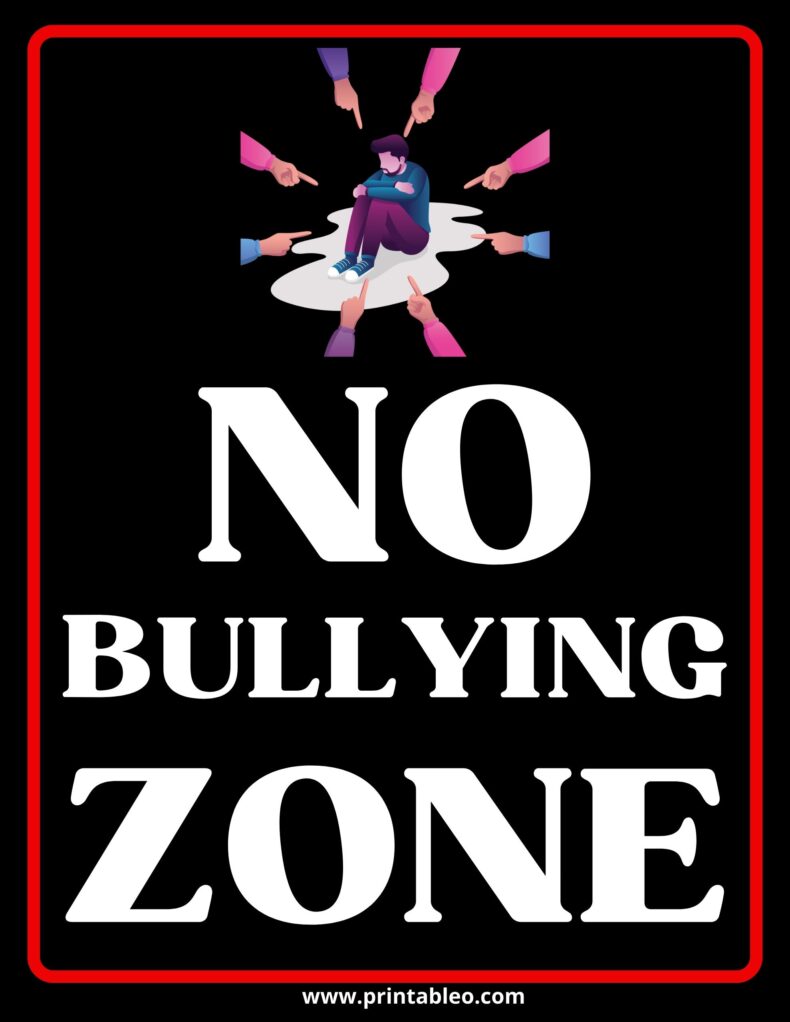 A person who gets bullied usually suffers a lot of mental instability and negative emotions, which is visible through the included animation in this sign. This No Bullying Zone sign might be useful to prevent abuses by inflicting empathy on people.
11. No Bully Zone Signs: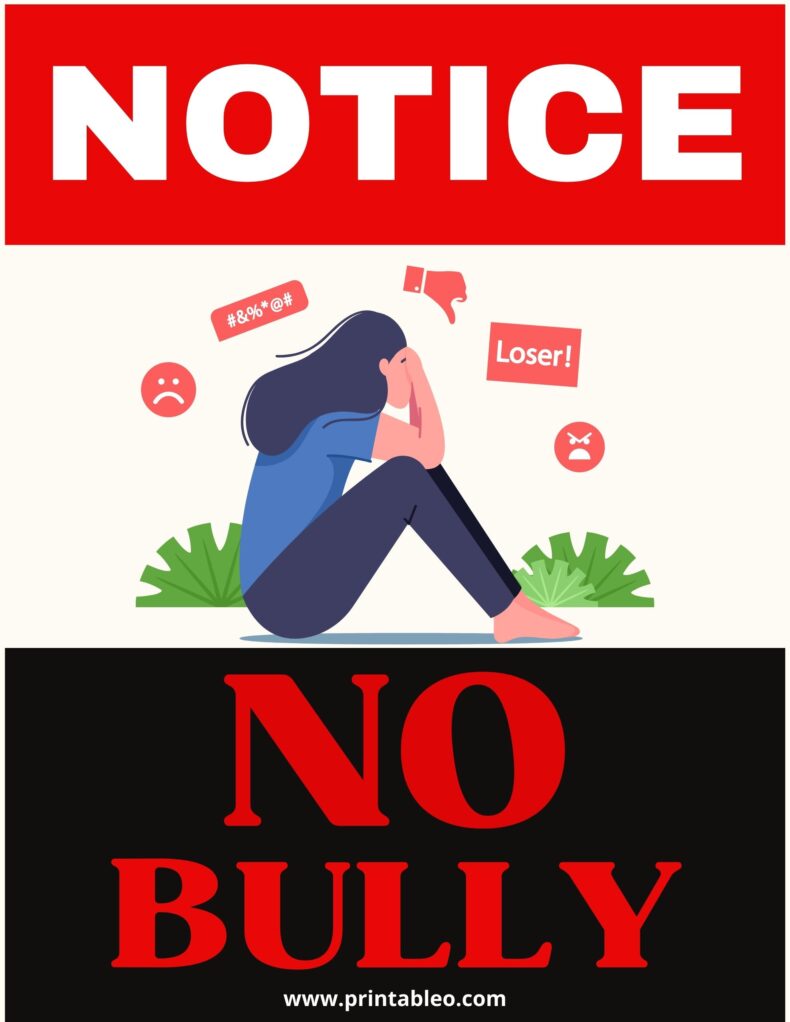 This No Bully Zone sign conveys a strong message through its design; it shows how bullying can affect an individual and tries to create sensibility amongst the viewers.
12. No Bullying Safe School Zone Sign: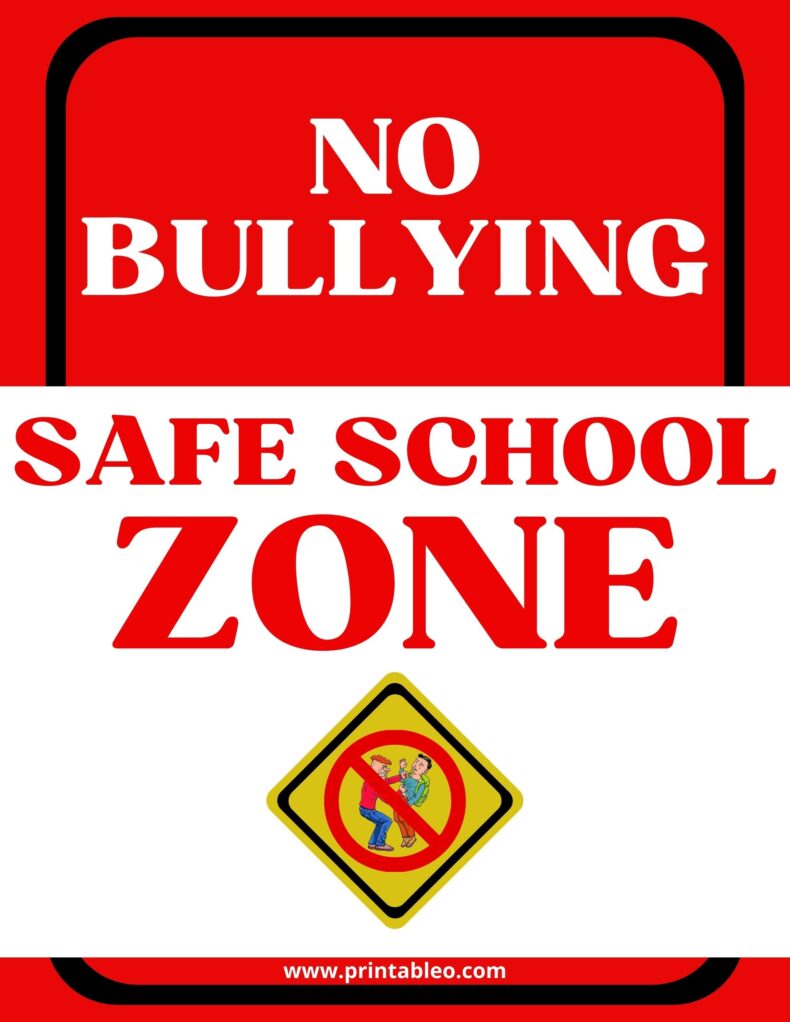 13. No Bullying Signs:
The sign vividly expresses the idea of the prevention of bullying through a smart and uncomplicated presentation. The overlapping of the letters and using a letter as a symbol depict a clever design that adds no excess content to the sign but successfully spreads the motto behind it.
14. Stop Bully Warning Sign:
Stop Bully Warning signs can be used to alert people about staying aware of never falling prey to bullies or being a part of the abusers. The speaker symbol establishes the seriousness of bullying and how strict the authorities are regarding intolerance towards such abuses.
15. Stop Bullying Now Sign:
This sign gives out a clear message against bullying while trying to add urgency toward ending the said act. The Stop Bullying Now sign stands up for the victims and alerts the abusers to put an end to their heinous acts immediately.
The above-listed pintables have varied outlooks based on their designs, content and specificness. You can easily download and customize them for use as posters, stickers, banners and notices in bullying-prone locations.
16. Stop The Bullying Sign:
17. Anti Bullying Zone Sign:
In order to bullying prevention, an anti-bullying zone sign could be a great instrument. It will remind people that bullying is a punishable offence.
18. Stop Cyber Bullying Sign:
In order to raise awareness against cyberbullying and spread positivity, posting cyber anti-bullying signs in social media campaigns could be a great way. Collectively we can spread a positive vibe and awareness in the community and make the internet bully free.
Not only this sign but all our listed Stop Bullying Signs can be equally qualified to be posted on the internet to raise anti-bullying awareness. You can use our 50+ No Smoking Signs & Symbols to spread awareness on anti smoking as well.
19. Black And White Stop Bullying Sign: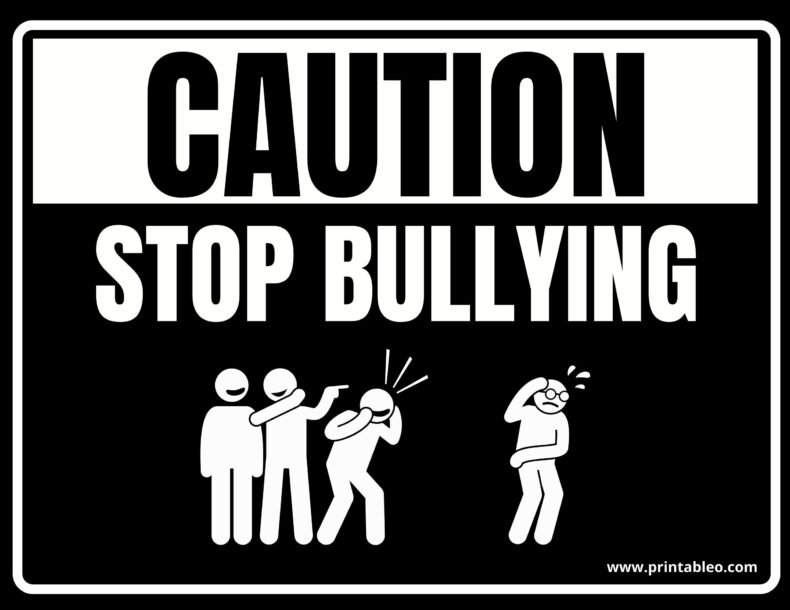 20. Printable Stop Bullying Signs:
All the listed printable Stop Bullying Signs are made with proper care and come in high quality PDF editable file. You can download any listed Stop Bullying Signs absolutely for free and make the necessary adjustment in terms of size, color combination and even can put a customize message in them to raise anti bullying awareness.