"Smoking is injurious to health', despite having this statutory warning on the tobacco products package itself, smokers don't or rather can't restrain themselves from this dangerous habit of smoking. Smoking does affect not only smokers but also the people around them. And the passive effect is even huge than the number of smokers.
Some people do it just for the sake of doing it; some can't really get rid of the habit. Whatever the deal, you may smoke when you are alone, but you should be cautious around people. But in most cases, smokers do not become aware of how dangerous the passive effect is, especially to children.
This is where the no smoking sign is absolutely critical to display. If you want anyone to restrain smoking in designated areas, you should use No smoking prohibited signs.
We have included more than 50+ printable No Smoking Signs in this list which are custom made and can be printed to use without having to make any changes.
1. Printable No Smoking Signs:
This Printable with a Caution, No Smoking Room Sign could be an ideal asset if you want anyone not to smoke in a room. It clearly conveys the message that no one is allowed to smoke inside the room.
2. No Smoking Safety Sign:
If safety is the primary goal, then one should display a warning no smoking sign to make people aware that for health safety cause, no one should use tobacco products in smoke-free designated areas.
This printable no-smoking sign is extremely useful to use on the walls or door of a building where kids have primary access.
3. No Smoking Signs:
4. Anti Smoking sign: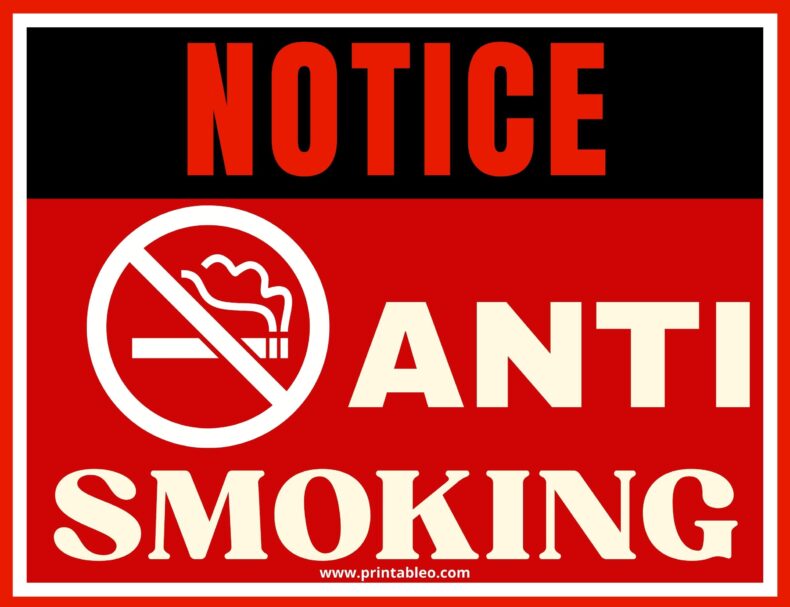 5. Anti Smoking zone sign:
General Guideline to Post No Smoking Signs at Your Business
Following regulations while posting no smoking signs is extremely critical. If you want people to abide by the no smoking sign rule, then make sure they are displayed at the entrance to the establishment as well as in the most prominent places where they are easily visible.
Do also check the state law if there is any particular rule regarding No smoking signage size. 14 inches wide by 10 inches tall is the standard sign size one can opt for unless they are being instructed otherwise. You can also display other sizes of signage according to the location.
Business entities should make sure the establishment is smoke-free zone by displaying anti-smoking rule sign in designated areas. Make sure to place them inside an enclosed space where there are a possibility customers or even employees may try to smoke. For inside the business establishment, printable no smoking signs would suffice the purpose but for outside use, make sure to have the sign displayed in an aluminum, plastic or tin container to survive in different weather conditions.
To apply the No smoking policy compliance, business owners should reinforce the business's smoking policy in a proper and structured manner. This policy also helps in regulating employees following the proper procedures when smoking. The main entrances and exits are the main two smoke-free property zone where custom signs could be displayed for compliance that the visitors and employees do not smoke in those areas. 
6. Black And White No Smoking Caution Signs: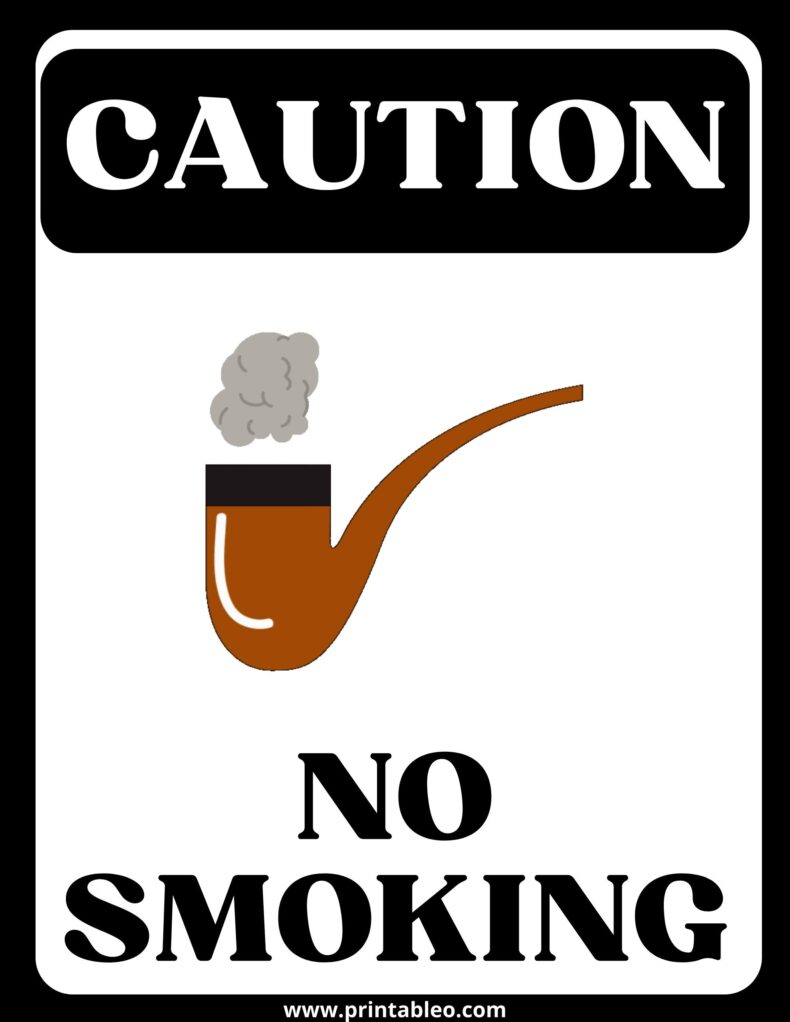 7. This Is a Smoke Free Facility Notice Sign: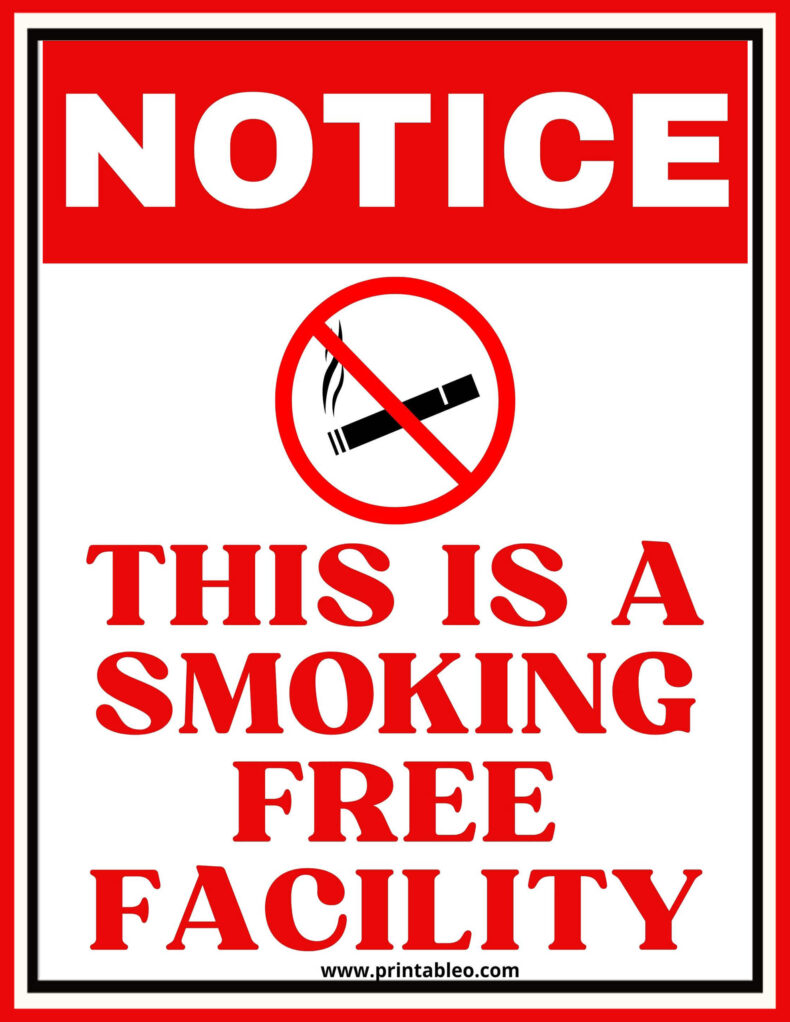 8. Danger No Smoking Signs:
9. Do Not Smoke Sign:
10. Gasoline No Smoking Danger Sign:
In some designated areas, smoking is extremely dangerous and can pose a huge threat. Gasoline is an object which is vulnerable to even a little fire flame. We all know there have been multiple gas station fire break out tragic incidents.
So it is absolutely necessary to post a no smoking danger sign in those designated vulnerable areas. Posing No smoking signs that indicate people are not allowed to light, Vape or smoke directly sends the message or restricts the area for possible danger.
11. No Smoking Area Sign: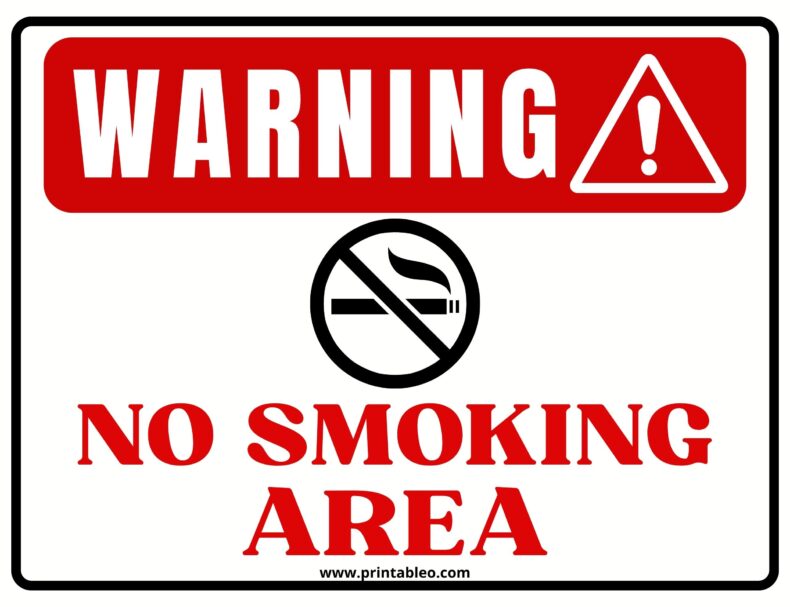 12. No Smoking Danger Sign:
13. No Smoking Fine Sign:
14. No Smoking Funny Sign:
15. No Smoking In This Area:
In order to make main entrances, exits, operable windows, designated areas, building facilities, community halls, stores, restaurants, etc., smoke free zone, visitors, trespassers and patrons should be notified clearly about the No smoking policy compliance. You can simply use this printable, ready-to-use no smoking in this area sign and make it absolutely clear smoking or vaping is not allowed here.
16. No Smoking Inside Sign:
17. Blue No Smoking Sign: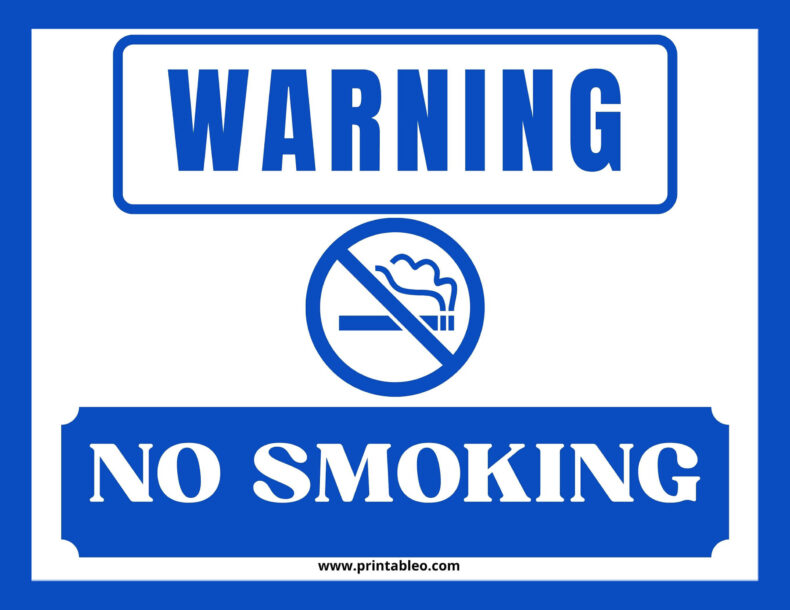 18. No Smoking No Vaping Sign:
19. No Smoking On Site Sign: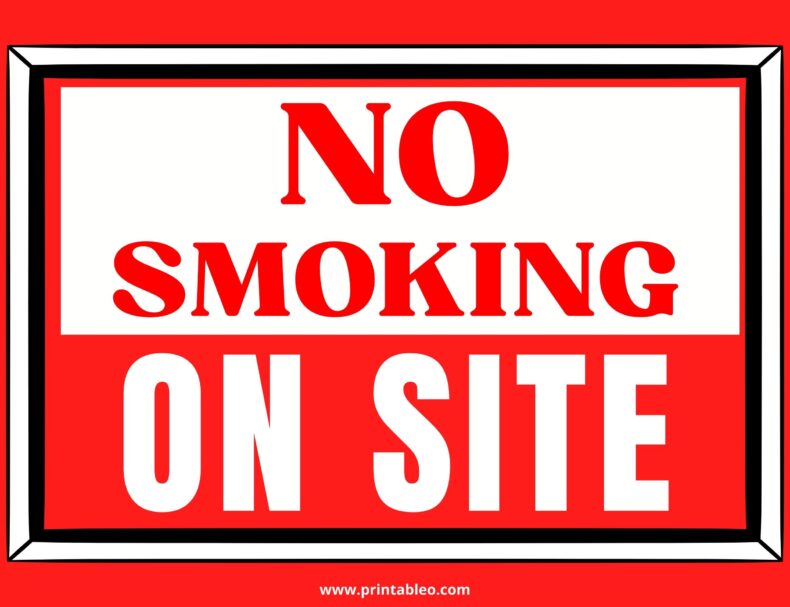 20. No Smoking Or Vaping Sign: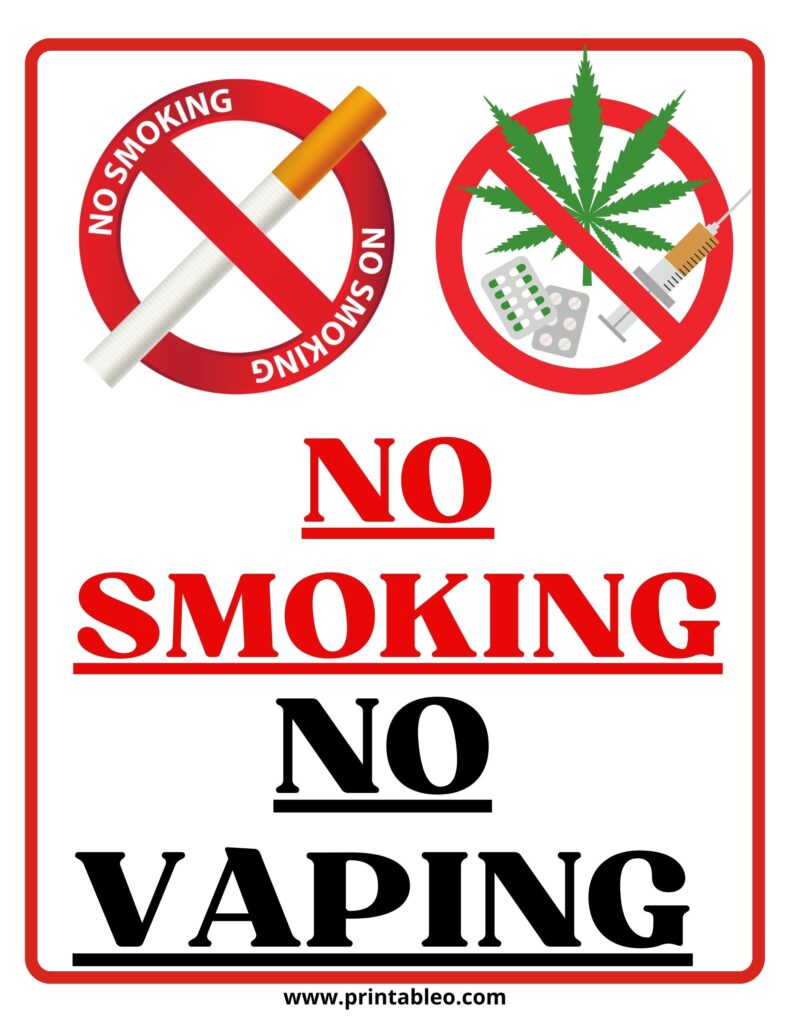 How to Use Our Printable No Smoking Signs
All our listed signs are print ready. Use either an inkjet or laser printer to print them in CYMK color mode. Using these no smoking signs, you can easily create a smoke-free environment. You can even customize these signs and laminate them for added durability. To use them, simply download the attached PDF files to your local computer. Print them out and there you are.
Once you have the printed files, assemble them with adhesive tape or superglue or simply hang them on doors or walls in any restaurants, offices, stores or any designated areas you need to.
21. No Smoking Notice Sign Printable:
22. This Is a Smoke Free Facility Sign:
23. No Smoking Warning Sign:
24. No Smoking Within 10 Feet Signs: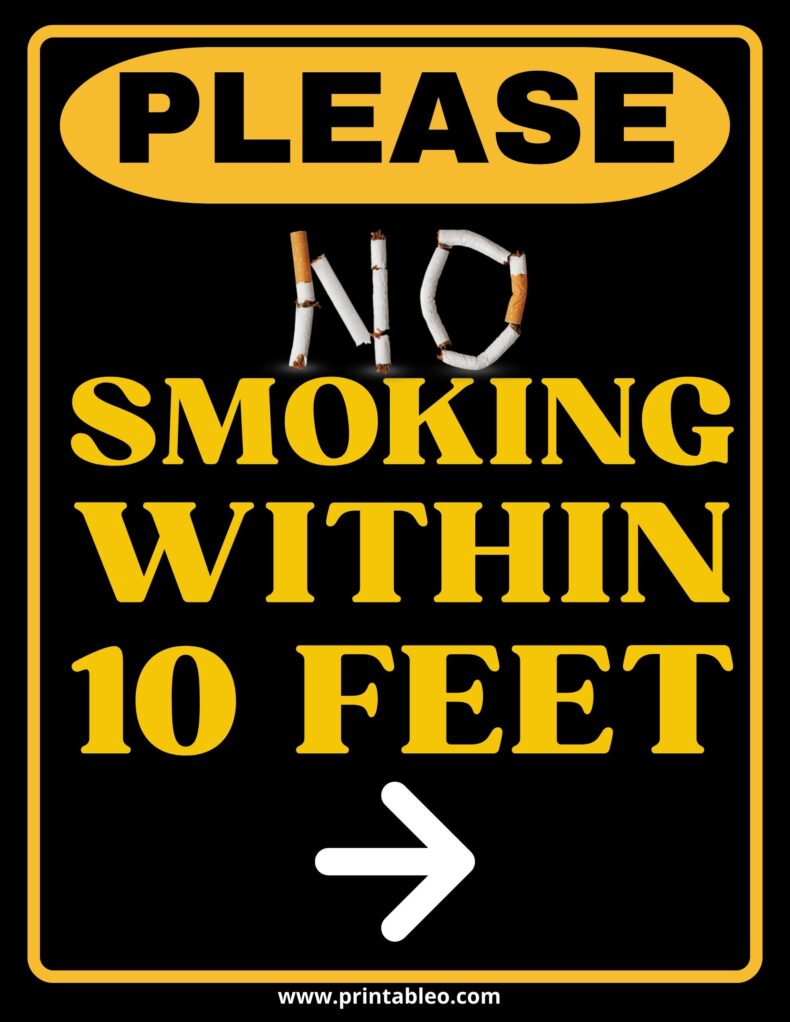 25. No Smoking Within 15 Feet Signs: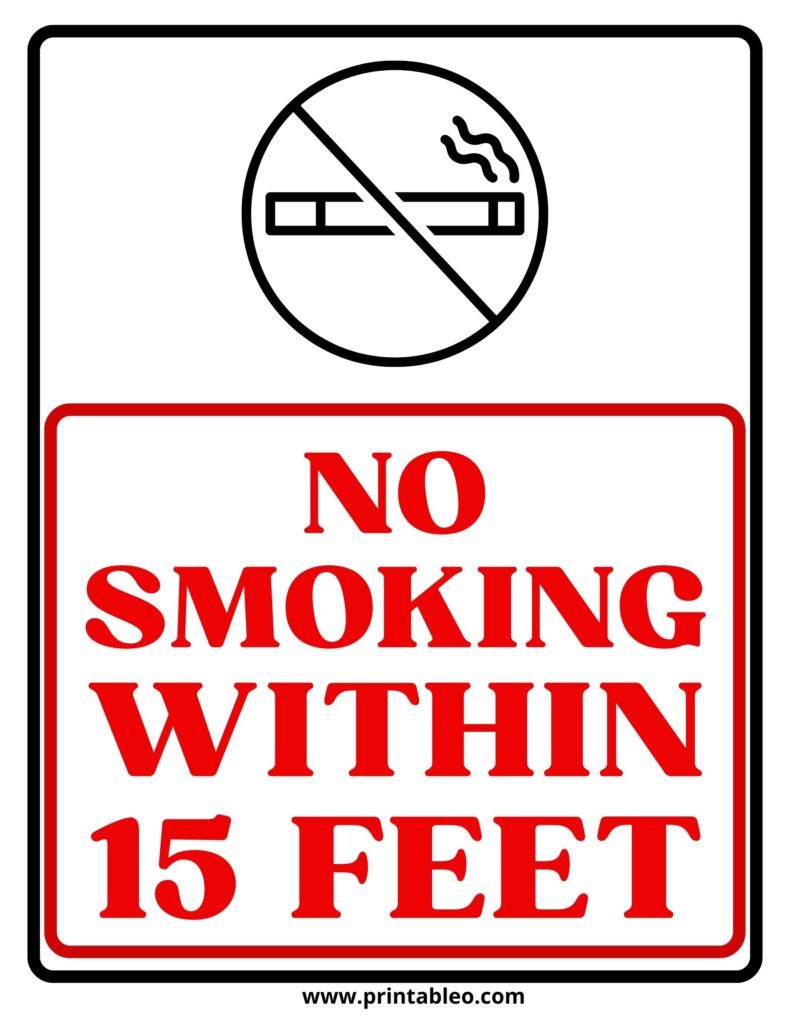 26. No Smoking Please Sign:
27. No Smoking Within 25 Feet Signs:
28. No Smoking Within 50 Feet Signs: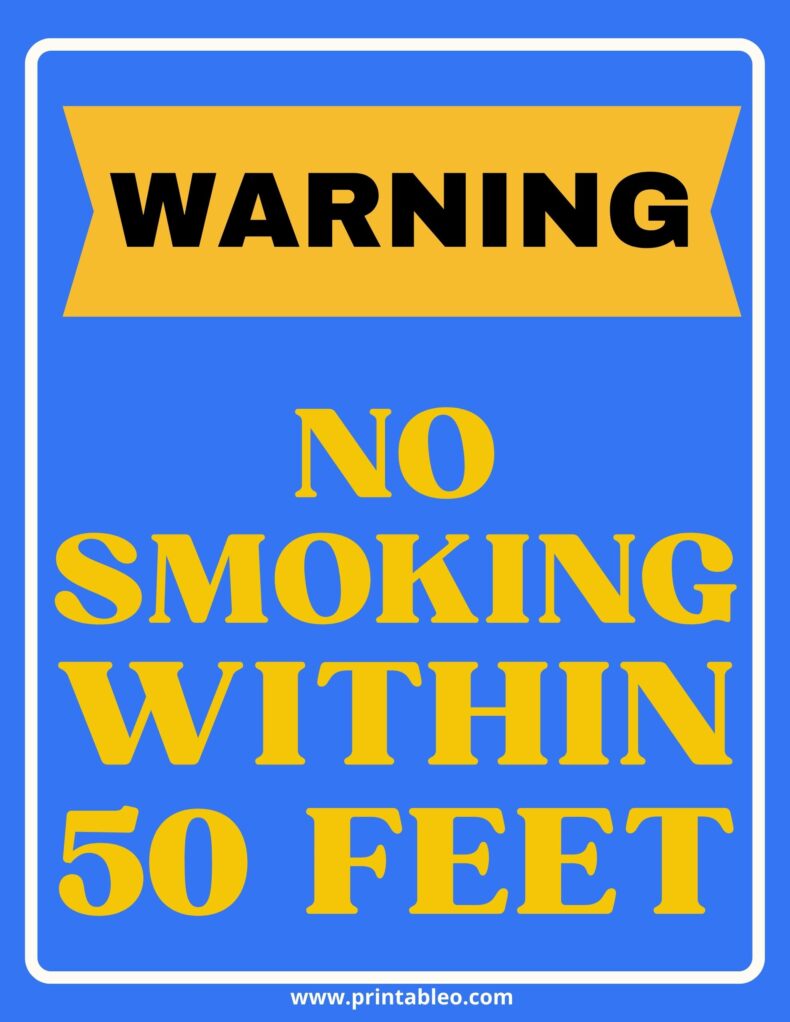 29. No Smoking Within 55 Feet Sign:
30. No Smoking Zone Sign: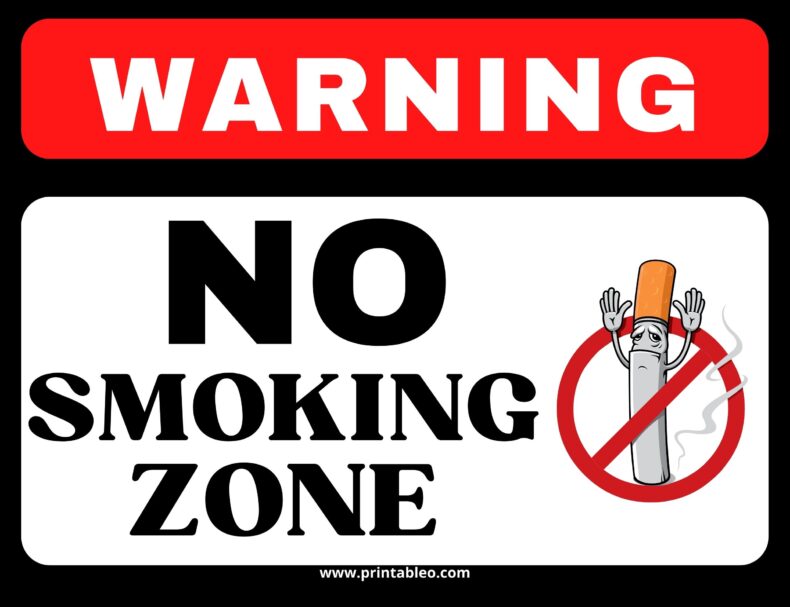 No Smoking sign is a great way to discourage people not to smoke in a particular area to keep your visitors and employees healthy. By displaying a no smoking zone sign, you can simply enforce state laws as well.
31. Danger Not Smoking sign Printable:
32. Please No Smoking Signs:
33. No Smoking Room Sign:
34. Propane No Smoking No Open Flames Danger Sign:
35. Propane No Smoking No Open Flames Danger Signs: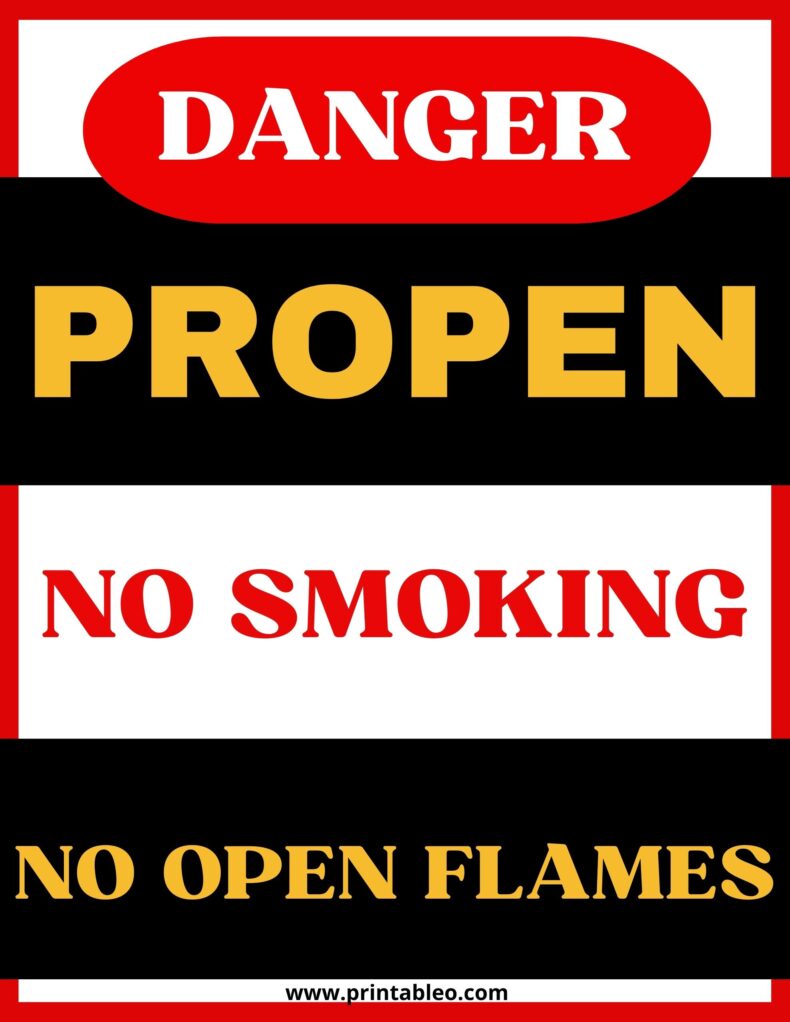 36. Quit Smoking Sign:
There are indeed many reasons why one should quit smoking, and healthy living would come at the top of the list for sure. Most smokers know smoking is actively or passively harming their health, but still, they can't get rid of the habit.
The Quit Smoking Signs can help right there. If you see a message every day that might keep hitting your subconscious mind, that can eventually help you quit smoking and start living a healthier life.
Use this free printable Quit Smoking signs to encourage people to give up the harmful smoking habit so that they can strengthen their health as well as stop affecting their surrounding people from smoking passive effect.
37. Sign To Stop Smoking:
38. Smoking zone sign:
39. Stop Smoking Sign:
40. Symbol No Smoking Sign:
41. Smoking Allowed Sign:
If you want to designate a specific area for smoking in your restaurant, office, store, etc., you can use this smoking allowed in this zone sign. Simply hang this printable sign on doors, walls, or operable windows so that smokers can see them clearly.
A smoking allowed zone sign is a great way to reduce smoking passive danger effect. When you have this separate area, you can ensure the non-smokers are safe from the passive smoking effect.
42. No Smoking In Building Signs:
43. No Smoking Symbols Sign:
44. No Tobacco sign:
45. No Smoking Within 20 Feet Signs: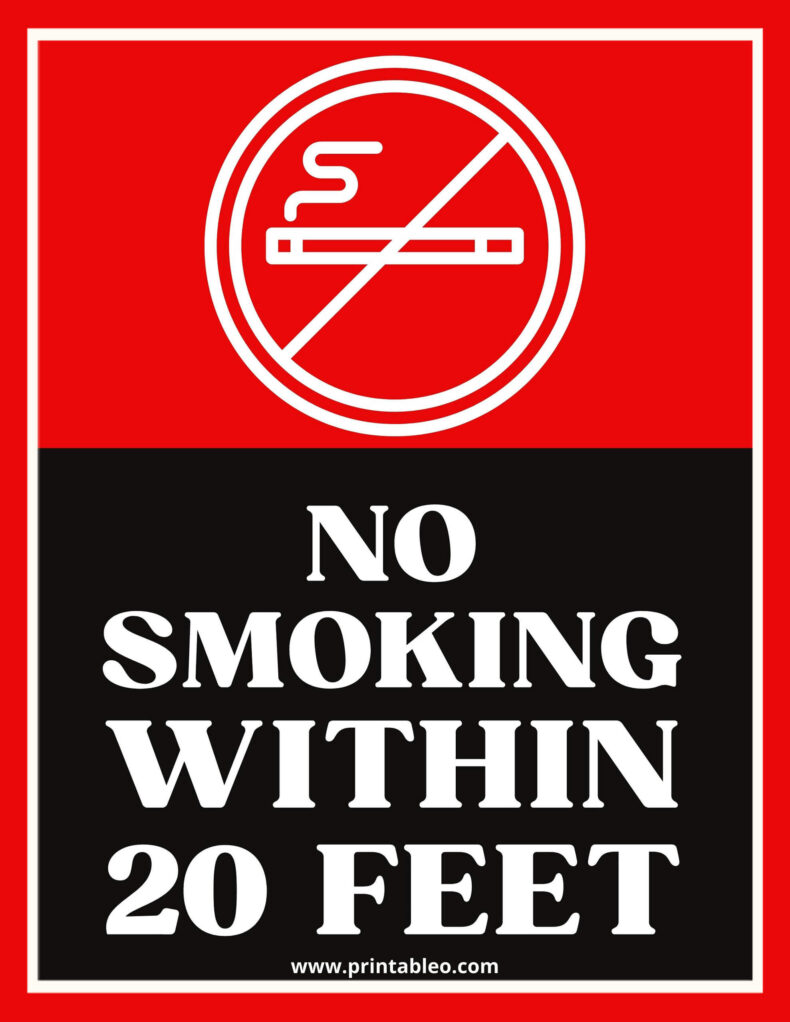 46. Smoking Area Signage:
47. Designated Smoking Area Sign:
48. Stop Smoking Signs: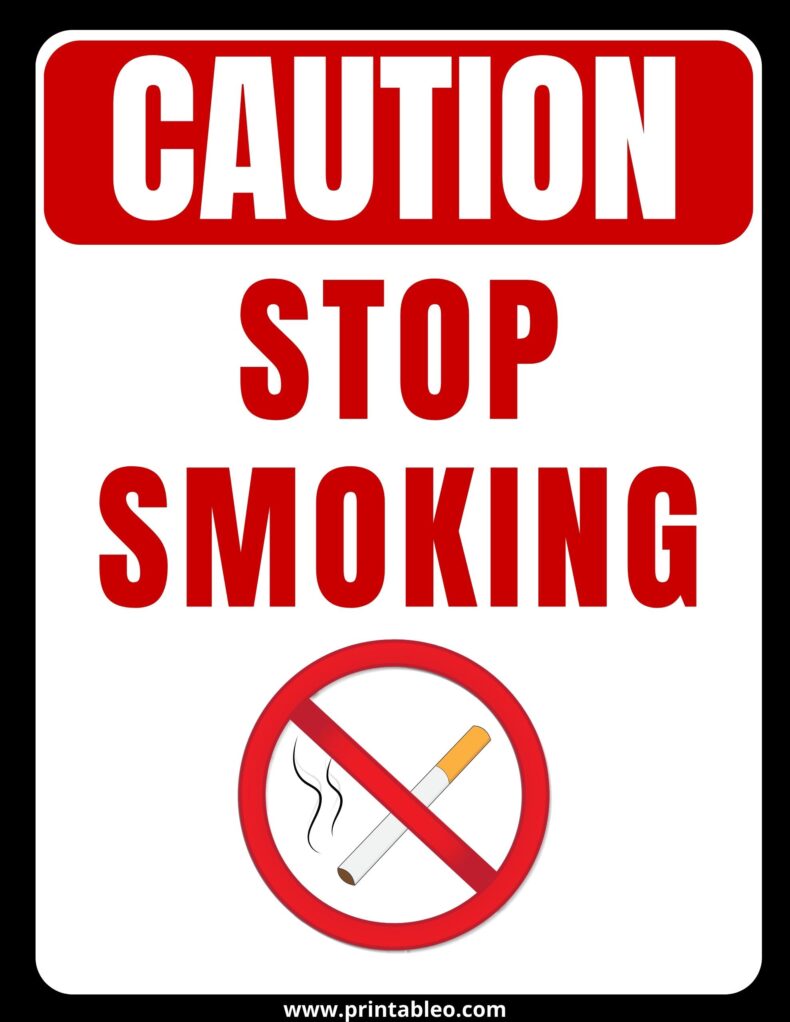 49. No Cigarette Signs:
50. Please No Smoking Signs:
51. No Smoking No Littering Sign: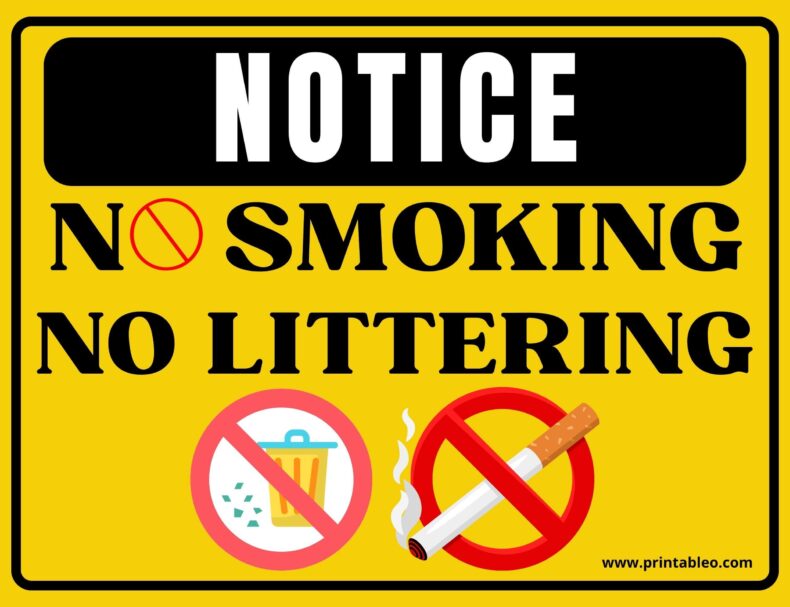 52. No Eating Drinking Or Smoking Sign: